JUSTIN: With two weeks until the opening of College Football season and three weeks until my fantasy football draft, I figure in the mean time we can all make fun of American Soccer. Ha ha ha!
It doesn't matter what country you come from, the words "American Soccer' have to make you laugh just because we suck so bad at Futbol!
HOG: What's really sad is that nowadays I think we do better in international soccer tournaments than in international basketball and baseball tournaments.
JUSTIN: You see in America, Soccer is usually a game for kids who are too small or too untalented to play baseball or football. I mean, hell, even HogWild played Little League baseball so that should tell something about the talent pool of kids left over to play soccer!

HOG: Hey!

It's true. The kids who play soccer are the hyperactive kids who need to run around aimlessly because their ADD won't let them play baseball. And they are too scrawny to play basketball or American football. Or they play soccer because the judge ordered them to stay off of the internet.

JUSTIN: But help is on the way for American Soccer because David Beckham and his plastic wife are coming to America to make Soccer relevant…I guess.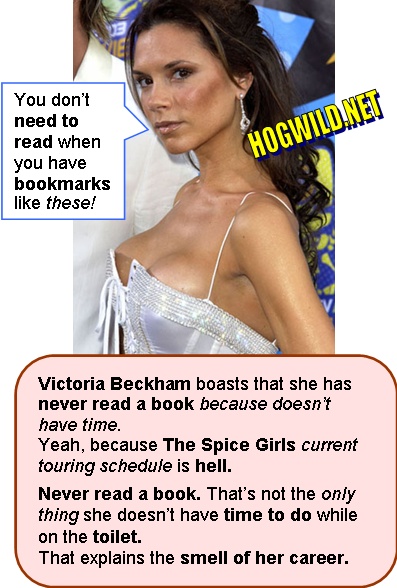 HOG: Victoria Beckham does look really plastic. Like an over-tanned hard plastic. And here I thought America was at least #1 at fake tans and fake boobies. But no, once again we get smacked down at a sport we used to dominate: the popular sport of Major League Skanks.
JUSTIN: After 15 years of playing against the world's best competition for Manchester United and Real Madrid, Beckham decided it was time to take his 32 year old ass across the pond and join the ranks of the MLS's L.A. Galaxy.
Widely considered one of the best players in the world during his prime, Beckham has finally started to succumb to injuries and the wear and tear of the game. So what better way to revitalize your career than to come to the States and play in an inferior league where he'll once again be a star?
This would be like if after Michael Jordan won his 6th basketball title he decided to move to Paris and play in the Pierre League just so he could experience the French Riviera!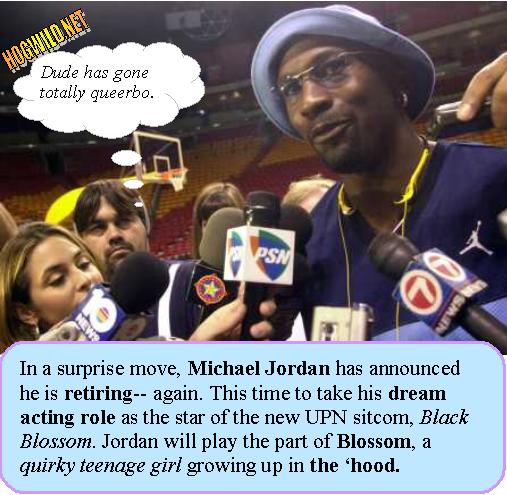 HOG: Or like if after Hulk Hogan won the Championship Belt he decided to switch to the World Wide Midget Wrestling Association.

Does that exist? Because that would be cool. I want to see midgets on steroids wearing face paint and little spandex one-piece outfits body slamming each other.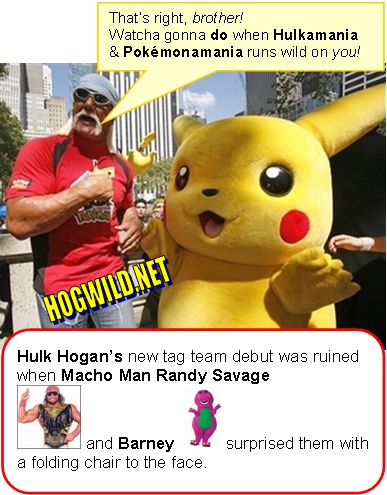 JUSTIN: Not that I begrudge David Beckham for his choice to switch leagues. He's had a brilliant career so far and if you're going to go out why not go out in Hollywood!
My only suggestion is that Posh Spice is starting to look more like Pixie Barbie so he should trade her in for a younger model. You see I'm thinking that since Keira Knightley and her little boobies were in Bend it like Beckham then perhaps she could "Bend over for Beckham" in real life. Because honestly who would you rather see a reality show about, a former Spice Girl or Keira Knightley?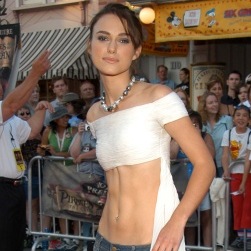 Hell I might even watch a MLS game if Double K was in the crowd cheering on Beckham…but I doubt it.

HOG: I can't believe that you are so superficial! The Beckhams have a solid relationship built on trust, love, and moisturizer creams.
David Beckham is not about to trade his wife for a new, younger more realistic-looking woman just because Victoria Beckham looks like a human mannequin.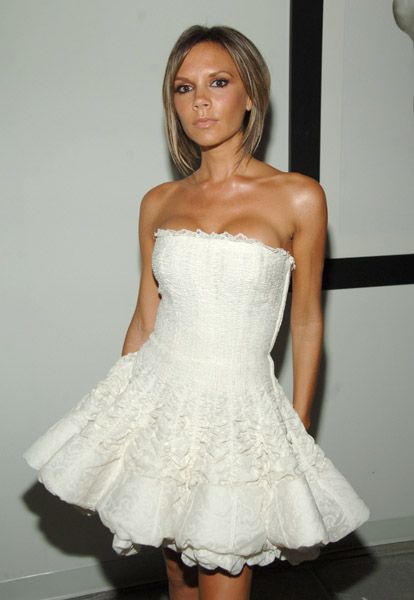 JUSTIN: I give it six months before she's filing for divorce and starting her Posh Spice Solo career.

HOG: I think David Beckham is exactly what American Soccer needs. A faded foreign-born superstar to play in Los Angeles. Because that strategy was so awesome for the NHL, right?
Soccer in America will always suck because there is not enough action. Here are America's most popular sports and why we love to watch:

NFL Football: violence, fighting, and scandal. And then there is the stuff the players do ON the field!

NBA Basketball: exciting competition between the bookies who are fixing the sport.

MLB Baseball: okay sure there are some players who are on steroids. But there are also lots of great players who are on human growth hormone and amphetamines.

NASCAR auto racing: features what Americans love best… advertising.

They need to "Americanize" soccer.

More scoring:

Ball goes in goal off of kick: 1 point

Ball goes in goal off of head-butt: 2 points

Ball goes in goal off of groin: 3 points + automatic entry into America's Funniest Home Videos.

More time-outs:

Americans love time-outs! So let's have a…

* Half-time time-out.

* Coach's 30 second time-out

* 2 minute warning

* 2 minute warning that the 2 minute warning is coming

* Referee time-out to review instant replay of coach's 30 second time-out

Allow use of hands:

But not to touch the ball. To hold the Tasers.

JUSTIN: Tasers? I think that they should just replace the old soccer ball with a giant Super ball like you used to get out of the gumball machines when you were a kid! Either that or since kids are the only ones who like playing soccer in the states we should just change it to CRAB SOCCER!!!
HOG: Crab Soccer rules! I know it's for kids, but we would play it in college. So it would be all us guys moving like crabs -- sitting on the floor and moving with our arms behind us and our legs in front of us. But to make it more g@y, I mean manly, we would allow (and encourage) head-locks, leg-locks, and atomic wedgies.
This is what the people want to see! Imagine America's finest athletes... 6'5" 275 pound men giving each other noogies and pulling their opponent's tighty-whitey underwear up over their shoulders until the underwear's elastic becomes their headband.
Justin this your best idea ever! I have to admit it's even better than my own ideas for new sports like Sumo Wrestler Chess and Bikini Babe Bologna Slap Fights!