JUSTIN: I love watching sports. I constantly obsess over stats and play fantasy baseball, football and basketball. In short, I'm a sports dork. But no matter how obsessed I am with sports I will never watch the ESPY Awards.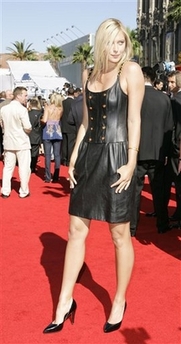 HOG: I will pretty much watch anything with Maria Sharapova in it. But um, who allowed her to leave the house dressed like a Medieval hooker?
JUSTIN: It's bad enough that we can't enjoy a game anymore without the six hour pre-game show, the idiotic half-time interviews and the stadium music drowning out the actual game. Now once a year we have to suffer through the sports version of the Oscars!

HOG: Why not have an awards show for Sports? They have Awards Shows for everything else! There's even an Awards Show for Video Games! My prediction – we will soon see the following Awards Shows:

1 – "The Forward Awards" for best emails sent. Categories include Chain Letters, Jokes, Pictures of Cats wearing silly outfits, and Best Appeal for Money from a man in Nigeria.

2 - "The Profile Awards" for outstanding pages on MySpace and Facebook. Categories:

* Profile With Rare and Outstanding Use of Spell Check
* World's Slowest Loading MySpace Profile Page Caused by Blinking Images, Embedded Videos and Music
* Hottest Chick who is a Real Chick and Not a Fake Chick for some Spam Company Trying to Get me to Sign up for a Sex Web Cam Site

* Hottest Chick who is a Fake Chick for some Spam Company Trying to Get me to Sign up for a Sex Web Cam Site but She's Still Hot So I Added her Anyway

3 – "The Celebrity Parents Awards" Categories:

* Outstanding Achievement in the Area of International Adoption

* Motherhood Award for Celeb Mom who has not had her private parts displayed on the internet for the entire year

* Outstanding Mom who did not "Outsource" her Breastfeeding to another Woman

* Best Relationship between Daughter and her New Step-Mother-Who-is-the-Same-Age

JUSTIN: Speaking of which, did we get invited to the Webby's this year?
HOG: No! It's an outrage! The entire Webby Awards is a sham! A sham I say! It's a sham until they award hogwild.net an award! Award me now!
Okay. I'm done.
JUSTIN: My first problem with the ESPY Awards is that there is no need for them. Because the only awards that mean anything in sports are called MVP's and Championships.

Do you honestly think Lebron James went home on Tuesday night thinking, "Man, we got our ass spanked in the NBA Finals and a German dude won the MVP, but you know what, this ESPY for Best NBA Player makes it all worth it!"

Somehow I doubt it.

HOG: True. But it's like when you lose on a Game Show. At least you get to go home with "these lovely parting gifts." Winning an ESPY is like receiving the home version of Jeopardy.
Here is college softball pitcher Taryne Mowatt accepting her ESPY Award for Best Female Athlete: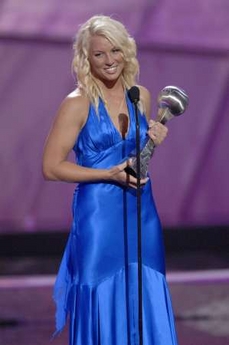 JUSTIN: The ESPYs are like the MTV Movie Awards because they're both worthless-ass trophies that pale in comparison to Oscars and Championship Rings. In the words of Tim Duncan, "Congratulations Lebron on your ESPY. Now if you'll excuse me I'm going to polish my championship trophy, bitch!" *

* Tim Duncan DID NOT actually say that.

HOG: Yeah, Tim Duncan doesn't talk trash. He's one of the best players ever but he is like a robot. Precise. Mechanical. No emotion. This is Tim Duncan talking trash:

(TIM DUNCAN ROBOT): I am… going to score… on you. My dribble will buckle your knee joints until you tear your meniscus. Now I will spin left and bank the basketball off of the backboard at a 45 degree angle, thus causing it to enter the basket, resulting in 2 more points for our team. Two more points for our team! Take that, opponent!

HA HA HA!

JUSTIN: Even the name for the show is stupid. I mean an ESPY sounds more like a Yugioh trading card power much less an award for athletic excellence.

HOG: Um, how in the hell do you know about Yugioh trading cards? I'm having scary images of you lurking in a playground wearing a trench coat and holding lollipops.

JUSTIN: Dude just the fact that you think I own a trench coat is scary.

And as much as I love watching Lebron James playing basketball, I don't really care to see him put on a wig and sing Bobby Brown's "My Prerogative." Sure it's funny but if I wanted to hear someone butcher 80's hit songs I'd go to a karaoke bar or just buy some crack and invite the real Bobby Brown to my house to sing it for me.

HOG: Whoa! Bobby Brown does personal concerts in exchange for crack?! That's not a bad deal! And if he works for drugs, then I imagine I can hire the late 80's pop sensation Rick Astley for a can of tuna fish.

JUSTIN: What's creepier: The fact that I know about Yugioh or that you know about Rick Astley?



HOG: Rick Astley rules!
JUSTIN: It's not that I don't think Lebron James putting on a wig and trying to bust a move isn't entertaining but I'd much rather watch him do it on Saturday Night Live where I don't have to sit through three hours of athletes thanking God for bullshit awards. "I prayed for a championship my entire life but since I play on a crappy team in a crummy town I just want to thank God for blessing me with this ESPY."
At least the Oscars have a bunch of hotties wearing low-cut see-through dresses to keep you going through three and a half hours of awards. All the ESPYs have are mannish female sports stars dressed up in cocktail dresses and walking around awkwardly in six inch heals and while that's highly entertaining it's about as sexy as a HogWild sex tape!
You'd think since they got Jimmy Kimmel to host the show they could have at least ended the show with GIRLS JUMPING ON A TRAMPOLINE!

HOG: Just for your information, I do NOT have a sex tape. But when I DO release my sex tape, er, I mean, brilliant marketing ploy, it will be hot! Mainly, because I won't be in it. It will be a bunch of super hot girls wearing nothing but aprons, barbecuing me steaks.
Besides, the girls at the ESPY Awards aren't all bad: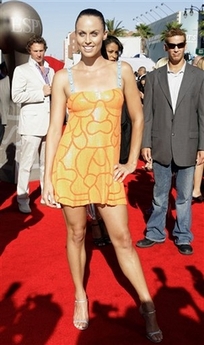 That's swimmer Amanda Beard. And here is Danica Patrick the race car driver: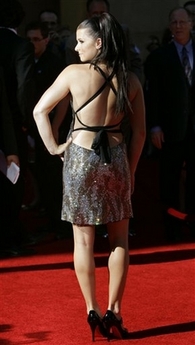 And look how great Venus Williams looks tonight: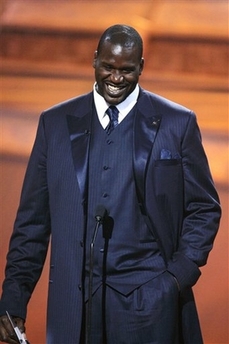 Oh wait, that Shaq. Sorry, I get them confused.
JUSTIN: Honestly between Baseball's All Star Game and the retarded-ass ESPYs I'm ready to get back to real sports where the games count and there's no 6 foot tall Trannies walking around in heels.

HOG: Yes, back to the REAL sports that they show on ESPN! Like Poker. And Rock, Paper, Scissors. And dudes eating hot dogs!