HOGWILD'S BOOTLEG HALLOWEEN COSTUME IDEAS
Armed with some HogWild creativity and a budget of about $7 you can have a kick-ass costume this Halloween! Go out for Halloween as...

A Certain Celebrity Duo
REQUIREMENTS:
* You are a girl
* You don't mind walking around with an ironing board

Dress in high heels and fishnet stockings. Constantly suck on a large lollipop or banana or pen!s.
Now create your pal:

With lipstick, draw a crooked smile on the ironing board and throw a wig on top of it. Call her Nicole Richie.


A Certain Famous Celebrity

REQUIREMENTS:
* 2 People
* Face paint
* Bottle of Jack Daniels
* One of them there little "Jew hats" (yarmulke)

Dress up as Braveheart, hold the bottle of Jack and bash the Jewish guy with the bottle over and over again, then apologize, then do it again! Hours of fun!



Teabag
REQUIREMENTS:
* 1 large garbage bag
* No gag reflex

Wear a large garbage bag over your body and attach the letter "T" in front. To complete the costume, have a male friend lower his b@lls into your mouth while you sleep.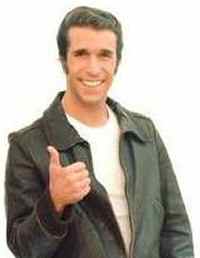 Old Testament God
REQUIREMENTS:
* Omnipotence

Smite at random.
Smite for fun.
Smite for smiting's sake.
Spread locusts.



New Testament God
REQUIREMENTS:
* Tolerance for everyone who is exactly like you

Forgive all.
Except Jews, Muslims, Gays, Communists, George Clooney, witches, left-handed people, Buddhists, Hindus, the roster of the 2001 Arizona Diamondbacks, and the woman who says, "You have no new voice mail messages" on your cell phone.
Smite them.




The Iraq War

REQUIREMENTS:
* None. Especially not a logical explanation.

Arrive at the costume party drunk and uninvited. Be an incoherent mess.
As you destroy everything in the host's house, tell them it's for their own good.




Hitler in a Sexy School Girl Dress, Lip-synching
REQUIREMENTS:
* Master marketing and propaganda

Horrify the other party guests by arriving as the most hated person in history... Britney Spears.




G@y Marriage
REQUIREMENTS:
* Shrunken gonads

Let your girlfriend convince you that you should wear matching costumes. So very, very g@y.



Lonely Horny Guy
REQUIREMENTS:
* Loneliness
* Horniness
* Guyness

This is a very popular costume. Luckily, you can make some quick changes on the fly to modify it to be Drunk Guy Who Hits on Your Girlfriend Who is Dressed as a Nurse.

Then you can change into your new costume: Guy Who Got His Ass Kicked by Boyfriend Dressed as a Pissed Off Boyfriend.



Kinda Clever but Not Really
REQUIREMENTS:
* Your most recent music purchase was not on LP
* You have no idea what an LP is

Wear a picture of yourself on the front of your shoulder. Then on your chest, put up pictures of 8 of your friends.
Blast an annoying song from a boom box.
Wear some cheap flashing plastic jewelry that blinks.
Every time someone says something to you about your costume, tell them to leave a comment on the space on your back.

Donít forget to list your dating status and zodiac sign somewhere on your costume.
Be sure to move really SLOW.
Walk up to people and without any prompting tell them how many friends you have. Then give them a personality quiz and tell them to send it to all their friends in 48 hours for good luck.
Tell a long pointless story about your day to anyone who will listen.

Offensive Current Events Tragedy #1
REQUIREMENTS:
* Total lack of social grace
* Complete disregard for getting laid

Wear a cardboard airplane around your waist and a Yankees hat. Walk into walls.




Offensive Current Events Tragedy #2
REQUIREMENTS:
* Not caring that 37 other dudes will be rocking this same outfit

Wear a khaki shirt and khaki shorts. Keep giving everybody you see the thumbs up. Have a stingray hanging out of your chest.



Offensive to Middle America
REQUIREMENTS:
* No conscience

Wear a helmet.
Wear Velcro sneakers.
Eat an ice cream cone.
Let tongue flop from mouth.
Wear President Bush mask.