It's time to start thinking about Halloween! And the most fun thing about Halloween are hot chicks in sexy costumes!
So I went over to halloweenexpress to give you a review of the hottest new costumes! And also a warning as to which costumes you should NOT wear.
First of all, halloweenexpress has an amazing selection. Anything you can imagine. Let's start with some of their hot Halloween costumes that I recommend for you girls: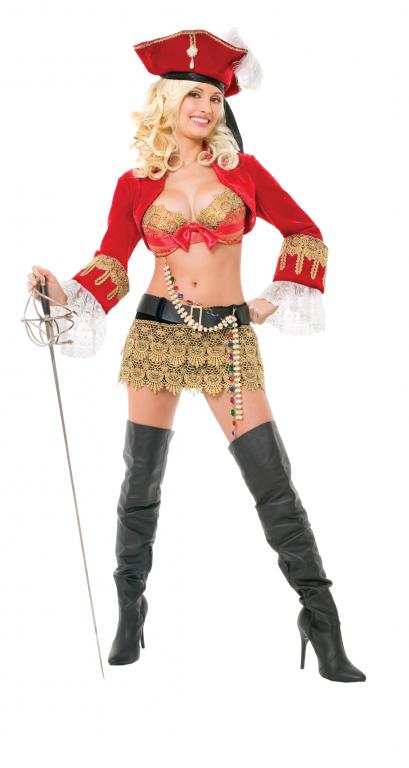 COSTUME: SEXY PIRATE
HOTNESS LEVEL: 8
FLIRTY COMMENT YOU CAN SAY TO GUYS: Ahoy matey! I see you lookin' at me treasure chest!
STUPID COMMENT YOU CAN EXPECT TO HEAR FROM GUYS: Aaaarg! I'd like to plunder yer booty!
You definitely need a hot body to wear this costume. So you may want to choose something more modest if your pirate ship has a big portside.
And I would say keep away from wearing a black eye-patch. You're not gonna wanna hear drunk guys' vulgar theories as to how you lost your eye.

COSTUME: SEXY STEWARDESS
HOTNESS LEVEL: 7
FLIRTY COMMENT YOU CAN SAY TO GUYS: Sir? Before we take-off, I'll need to check that you are in the upright position.
STUPID COMMENT YOU CAN EXPECT TO HEAR FROM GUYS: Hey babe! Wanna join the mile-high club?
Why don't they make stewardesses like this anymore? Flying is the most miserable form of travel (besides riding the Old Hound Bus). The least they could do is give us some beautiful flight attendants!

COSTUME: SEXY SUPERHERO
HOTNESS LEVEL: 8
FLIRTY COMMENT YOU CAN SAY TO GUYS: My superpower is that I have x-ray vision... and I must say I'm impressed.
STUPID COMMENT YOU CAN EXPECT TO HEAR FROM GUYS: Hey there Superhero! You'd better watch out because I've got a stick of Kryptonite! ... in my pants! HA HA HA!
This costume is PDH (Pretty Damn Hot) even though it looks like a bootleg Robin costume from Batman, it's still sexy. And girls, when you dress as a superhero it gives you a great excuse to approach guys dressed as criminals. Just say, "I've heard you've been bad! And it's my job to protect the citizens of Gotham from bad boys like you!"
Did I mention that you can purchase any and all of these costumes at halloweenexpress? Because you can. And they're paying me to say that.
I'll get back to the hot chick costumes in a second, but first I must address some other costume ideas...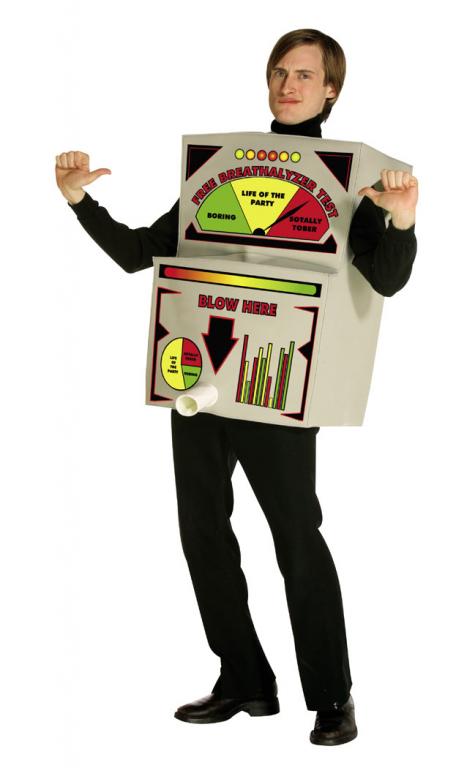 Are you obnoxious? Need everyone to look at you? Then dude, this is the costume for you!
As you can see, the Breathalyzer blow tube is conveniently located in the crotch area ensuring that drunken sluts will put their faces around your waist.
The risk is that some dude's drunk girlfriend does this... and then her big bad boyfriend gets in your face, twists your costume around and tells you to "blow it out your @ss!"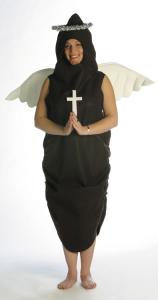 COSTUME: HOLY SH!T
HOTNESS LEVEL: 0
FLIRTY COMMENT YOU CAN SAY TO GUYS: It's okay for you to treat me like crap!
STUPID COMMENT YOU CAN EXPECT TO HEAR FROM GUYS: You look like sh!t!
Why! Why would any girl want to dress up like poop? Sure, it's kinda funny. Poop with wings and a halo = Holy Sh!t... but only 2 kinds of girls would dress like this:
1) ugly obese girl who has already given up on mating
2) the mentally retarded girl who thinks she is a bird. Yeah, a turd bird.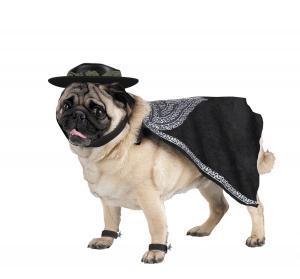 COSTUME: PUG ZORRO
CUTENESS LEVEL: 7
Basically, if you put a hat on a dog it will look cute. People love to torture, er, dress up their pets. I don't know why. You'd think with so many of our modern options for entertainment, people would lose interest in putting animals in human clothes. Cable Television, the Internet, Satellite Radio are all NOTHING compared to power of puppies in people-clothes.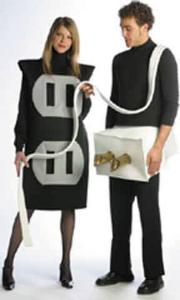 This is so g@y. If you must dress with matching outfits, for the love of breakfast, please don't dress up as an outlet and a plug.
If you do, then Mr. Plug, you should jump into a bathtub and electrocute yourself. And Ms. Socket, I hope someone sticks a fork in you.
GOOFY-@SS COSTUMES FOR GUYS THAT I SUGGEST YOU DON'T GET: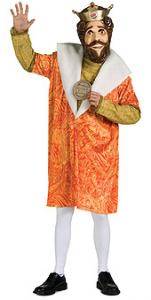 Dressing up as Burger King? Not cool. Unless you are trying to attract young boys.
Because it's not going to work when you approach girls with cheesy lines like, "Hey baby, with me you can have it your way, right away!" or, "Would you like to taste my Happy Meal? It's already Super Sized!"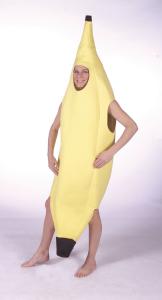 Before I even get started on the myriad reasons that you as a straight man would NOT want to dress like a fruit..
NOTE TO SELF: Yes! I worked in the word "myriad"! Bonus!
... let's just think of logistics here. How the hell are you gonna sit down? How are you gonna talk to girls while wearing a bright-@ss yellow suit? How is it gonna look when you are standing at the urinal in a banana costume?

This is the Hugh Hefner costume. I STRONGLY suggest that you do NOT wear this costume if you are going out this Halloween without women. Wearing the Playboy get-up with no chicks is the most pathetic thing on Earth.
Because at least the 75 morons who are alone but dressed as p!mps can say, "I'm standing here by myself because my b!tches is out workin' the streets!"
So no, don't wear this costume unless you will be surrounded by 3 hot chicks at all times. In which case, why the hell would you be leaving the house anyway?!
3 Horrible Choices: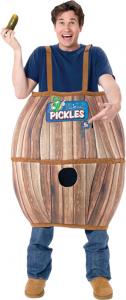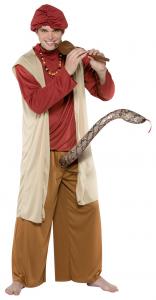 Why is it that all goofy-@ss guy costumes revolve around the groinage area?
No, nobody wants to taste you pickle.
No, nobody wants to charm your snake.
And No, nobody cares if you are "hung like a horse" when in bed you are probably better known as "the pony express."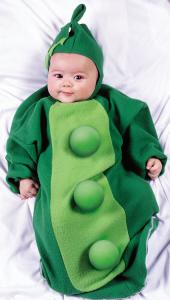 The fine folks at halloweenexpress (did I mention them yet?) also carry baby costumes. As you can see, babies are really cute in pea pods.
Babies are also cute in bear costumes and in monkey costumes and just about anything you put them in -- a baby will be cute. That's like, their job.
Babies have no other function besides looking cute.
They don't re-pave the driveway. They don't earn money. They rarely take out the trash... they just kinda sit there and do cute stuff.
So if you want to show off your baby this Halloween, this is a fun way to do it. But really, do you need a costume for that? You could throw a baby in a potato sack and it would look cute.
Now back to the sexy costumes for women:

COSTUME: SEXY BOOT CAMP DRILL SERGEANT
HOTNESS LEVEL: 8
FLIRTY COMMENT YOU CAN SAY TO GUYS: Hey, maggot! Drop and give me 20!
STUPID COMMENT YOU CAN EXPECT TO HEAR FROM GUYS: I'd sure like to drill you, sergeant!
Halloween is great because it's a day where you girls get to act more aggressively. And wearing a drill sergeant's outfit is a great excuse to boss guys around by shouting, "Attention Private! I want your Privates standing at Attention!"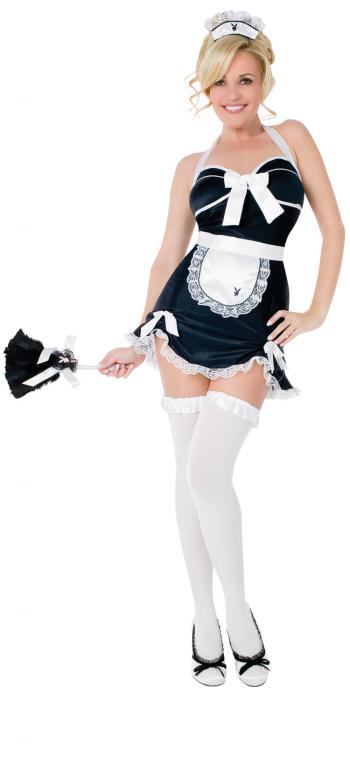 COSTUME: SEXY FRENCH MAID
HOTNESS LEVEL: 9
FLIRTY COMMENT YOU CAN SAY TO GUYS: Oh you dirty boy! Do you need me to clean you up?
STUPID COMMENT YOU CAN EXPECT TO HEAR FROM GUYS: Hey maid! Nice feather duster! Can you help me out? I seem to have some dust on my b@lls!
To which YOU say: "Your b@lls are dusty because they haven't been used in years!"
This costume is part of the Playboy series. Something about a woman doing housework is so hot! Now before you girls start crying that I'm sexist, don't you find it hot when you see guys doing physical labor? A muscular man glistening with sweat, lifting heavy things? Oh, you do? So you're sexist, too!
See guys, you should dress as a construction worker, fireman, or a soldier. That's much more appealing to women than you running around as a banana.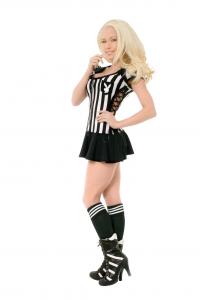 COSTUME: SEXY REFEREE
HOTNESS LEVEL: 8
FLIRTY COMMENT YOU CAN SAY TO GUYS: Approaching a guy dressed as an athlete: "Excuse me, but I'm going to have to check you for illegal substances."
Or... put his arms around you and then blow your whistle, "Illegal use of hands! That's a 10 spanking penalty!" Then whack him on the behind.
STUPID COMMENT YOU CAN EXPECT TO HEAR FROM GUYS: I admit it. I was high-sticking. Now you'll have to put me inside your penalty box.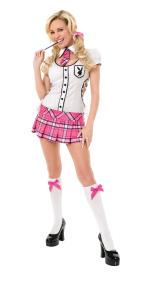 COSTUME: SEXY SCHOOL GIRL
HOTNESS LEVEL: 9
FLIRTY COMMENT YOU CAN SAY TO GUYS: Hey, would you be willing to help me with my homework? It's for my anatomy class.
STUPID COMMENT YOU CAN EXPECT TO HEAR FROM GUYS: Hey school girl! I'd sure like to teach you a thing or two!
This costume is a classic. Did I mention that you can find this at halloweenexpress? Because you can! And some orders qualify for free shipping!
Okay, I've saved the best for last. My most favorite costume in the whole entire world.
COSTUME: NAUGHTY NURSE
HOTNESS LEVEL: 1.5 Million
FLIRTY COMMENT YOU CAN SAY TO GUYS: I seem to have misplaced my thermometer. Would you happen to have one?
STUPID COMMENT YOU CAN EXPECT TO HEAR FROM GUYS: Are you the head nurse? Huh, huh. Uh, huh huh huh.
The Naughty Nurse:


I have had the pleasure of a girl dressing for me like this and let me say it is the BEST THING EVER!
Soooo hot! While we were "having fun" her little nurse hat fell off... I stopped everything and insisted she put it back on.
Sure she was p!ssed, but whatever, it was my moment!
It was the greatest thing ever... until my naughty nurse was like, "Do you have health insurance?"
I was like, "Huh? No."
Then she kicked me out and mumbled something about how I should find a girlfriend in Canada."