It's March Madness time in the Sports World, so that means it's
March MILF Madness
time in the
HogWild
World!
We start with the Top 16 hot celebrity moms. Here are the brackets: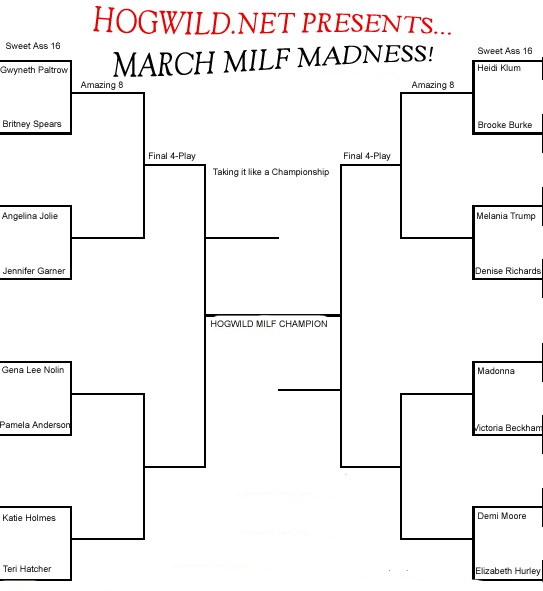 For the Sweet Ass 16 Round, I opened the voting to you. Everyone who receives my newsletter got a chance to vote and voice their opinion.
* 1st MILF Match-up: Gwyneth Paltrow vs. Britney Spears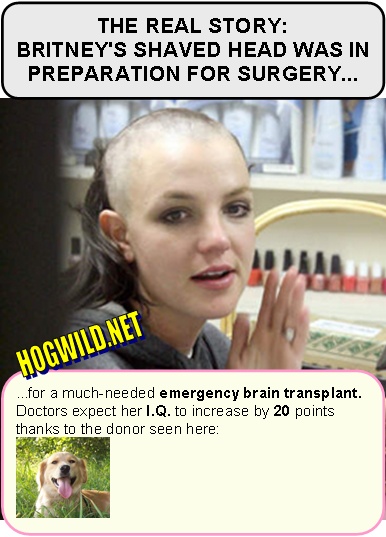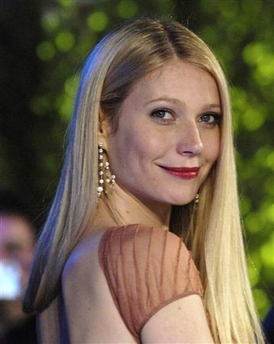 STATS:
Gwyneth Paltrow
Born: 1972
# of Children: 2
Best Attribute: Face
Britney Spears
Born: 1981
# of Children: 2
Best Attribute: Boobies
Here are some of your best comments:
Walt: Britney Spears should NOT win because with no hair, she looks like my friend Adam Hoffer. And I definitely do not want to bang my friend Adam Hoffer.
Gary: Britney wins because she's most likely drinking and with drugs in her system... She's kind of like a self-taking roofie and we all know she puts out with losers, so we all have a shot.
Claudia: Gwyneth Paltrow is still beautiful while Britney Spears has melted into a bug-eyed squealing pig.
Jessica: Britney Spears is so gross. Remember when she kissed Madonna? Now she's so ugly, she couldn't even get a girl-on-girl kiss from Rosie O'Donnell.
Krez96: If I had a choice of who to slamdance with, I have to choose Britney. Gwyneth Paltrow is nice but you still want to say you slept with Britney Spears. Plus she's crazy and crazy b!tches are the best in bed.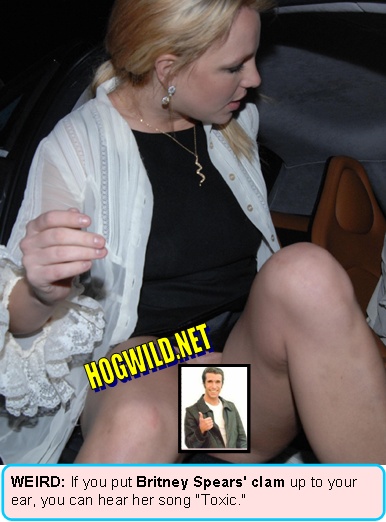 Personally, I'd go with Gwyneth. Because out of the two, she's the one who is least likely to bite off a piece of my ear during sex.
Your votes have been counted and it was a close one! 109 - 103 in favor of...
Britney Spears! Britney advances to the next round of the Amazing 8!
* 2nd MILF Match-up: Angelina Jolie vs. Jennifer Garner
It's a battle of the bombshell brunettes!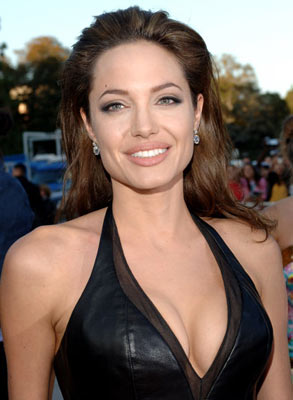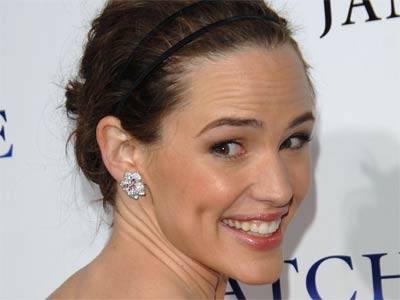 STATS:
Angelina Jolie
Born: 1975
# of Children: 4 (1 from her own hoo-ha)
Best Attribute: her heart (HA HA HA!)
Worst Attribute: semi-erased tattoos
Jennifer Garner
Born: 1972
# of Children: 1
Best Attribute: face
Worst Attribute: Ben Affleck
Here's what you had to say:
Carl: Jennifer Garner is beautiful but if I had to choose I have to go with Angelina because of those lips. Just so long as she uses those lips for everything except talking about saving the world.
Fred: That's a tough one. Angelina Jolie is still pretty f*cking hot. Choosing a college took me less time than making this decision. Hmm... I'm going with Jennifer Garner because she didn't mount Billy Bob Thornton.

Coolchick97: Both are beautiful women. I think Angelina Jolie is really sexy because she is a strong woman and also very pretty. Jennifer Garner has natural beauty but she doesn't compare to Angelina. Plus, Angelina scooped Brad Pitt! Brad Pitt beats Ben Affleck any day!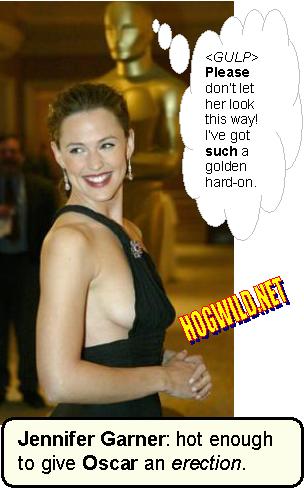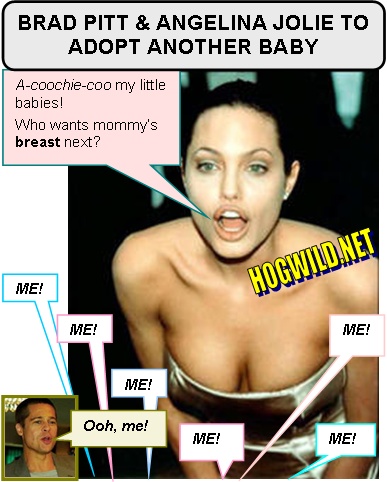 My vote goes to Angelina Jolie -- just barely. She is gorgeous, super hot, but probably really annoying with her save-the-world mentality. Jennifer Garner is super pretty. Jennifer Garner is the good girl I want as my girlfriend but Angelina Jolie really puts the ILF in MILF.
Your votes: 122 - 90 in favor of...
Angelina Jolie!
* 3rd MILF Match-up: Gena Lee Nolin vs. Pamela Anderson
It's a battle of past Playboy Playmates, Beached Baywatch Boobies, and Sex Tape Stars!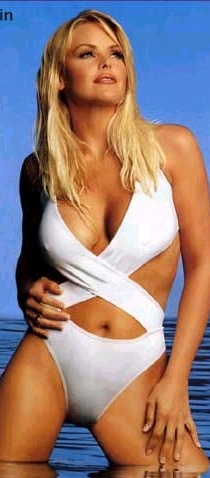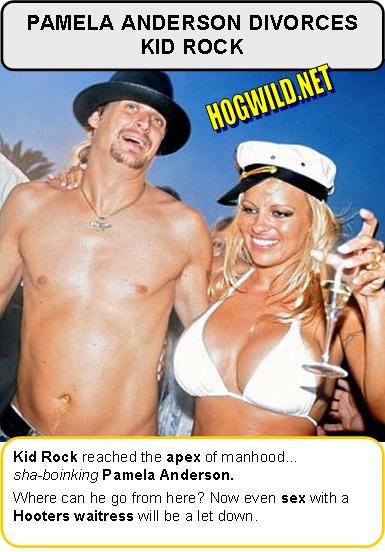 STATS:
Gena Lee Nolin
Born: 1971
# of Children: 2
Best Attribute: big foobies (fake boobies)

Pamela Anderson
Born: 1967
# of Children: 2
Best Attribute: huge-a-normous foobies
Here's what you had to say:
Melinda: Pamela Anderson looks terrible now. She looks she got stung in the upper lip by a swarm of bees.
NatureJoe: Gena Lee Nolin is less famous but more hot. Plus she was one of Barker's Beauties on The Price is Right. Surviving Bob Barker AND David Hasselhoff makes her hotter. Plus Pamela is probably all stretched out from Tommy Lee.
Playa666: Pamela Anderson is still hot! Even though she's dirty from Kid Rock, I'd still hit that.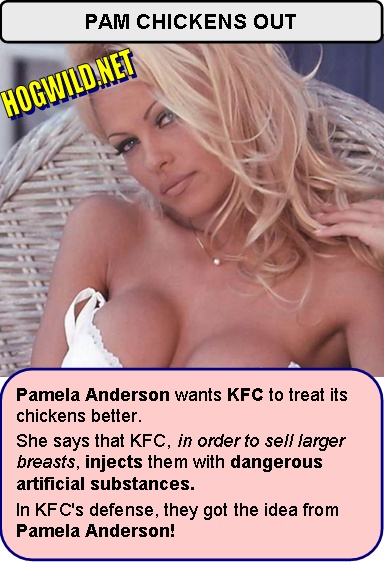 Pamela Anderson has an awesome personality. She makes fun of her own persona. She's cool. But she's also 95% synthetic polymers. Gena Lee Nolin is also plastic-like. I think it's a toss-up. So I go with Pamela Anderson for "historical purposes." There's lots of bragging rights in shagging Pamela Anderson. Even if she's post-prime.
Your votes: 147 - 65 in favor of...
Pamela Anderson!
And the last match-up for now...
* 4th MILF Match-up: Katie Holmes vs. Teri Hatcher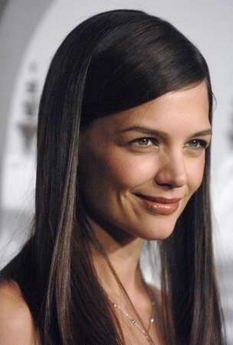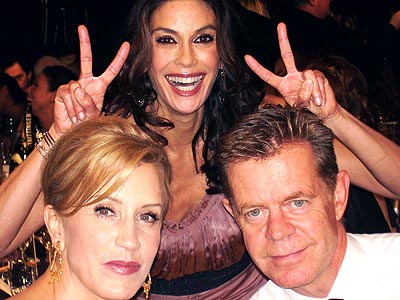 Katie Holmes
Born: 1978
# of Children: 1
Best Attribute: weak-willed

Teri Hatcher
Born: 1964
# of Children: 1
Best Attribute: feisty
Wendy: Teri Hatcher is b!tch. How can any guy find her attractive? Katie Holmes is pretty. Brainwashed but pretty.
GregSt: Katie Holmes is the submissive type and Teri Hatcher is the opposite. I happen to like a wild girl so I vote for Teri Hatcher.
Gerard: Katie Holmes in a heartbeat. One of Teri Hatcher's nostrils is retarded. One is smaller than the other. She was bangin' on Seinfeld but not anymore.
I say Katie Holmes may be married to a homosexual man, but Teri Hatcher LOOKS like a homosexual man.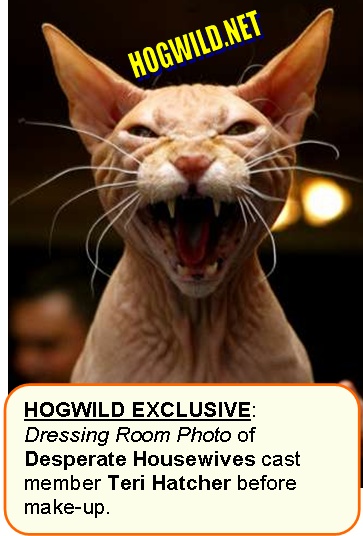 Your votes: 131-81 for...
Katie Holmes!
Stay tuned to HOGWILD.NET for the next 4 March MILF Madness Match-ups to find out which MILFs advance to the Amazing 8!