It's almost
Earth Day
, so you know what that means...
hot chicks in bikinis!
Hot chicks in bikinis?
Yeah, I had no idea that these two things were related either, but like, they are. Every year there is a Miss Earth Competition to promote environmental awareness.
Awesome!
Because the recent tsunamis and wacky weather fluctuations didn't clue me in that we should do something about the environment... but now that bikini girls are holding signs... I'm a believer!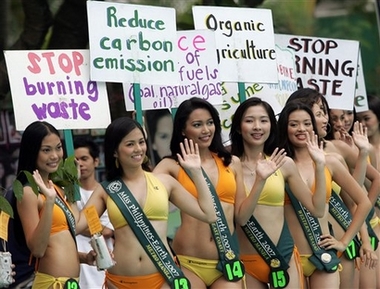 I think no matter what bikini girls told me to do, there is a good chance that I would do it. Those girls could be holding up signs with slogans like, "Make Love, Not Wigwams" and I would be like, "Stop the craziness! No more wigwams! Wigwams are destroying the planet!!!"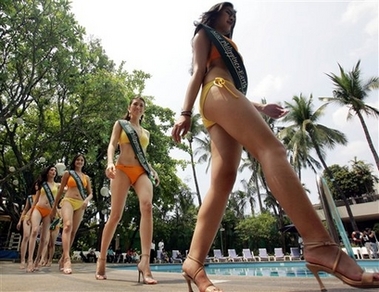 So these bikini pictures are of hot Philippino girls vying to be Miss Earth Philippines. The winner goes on to participate in the Miss Earth competition.
So along with their message of "Look at me, I'm hot" the girls are bringing a message of "Look at me, I'm hot because of overproduction of greenhouse gases and the destruction of the rainforests."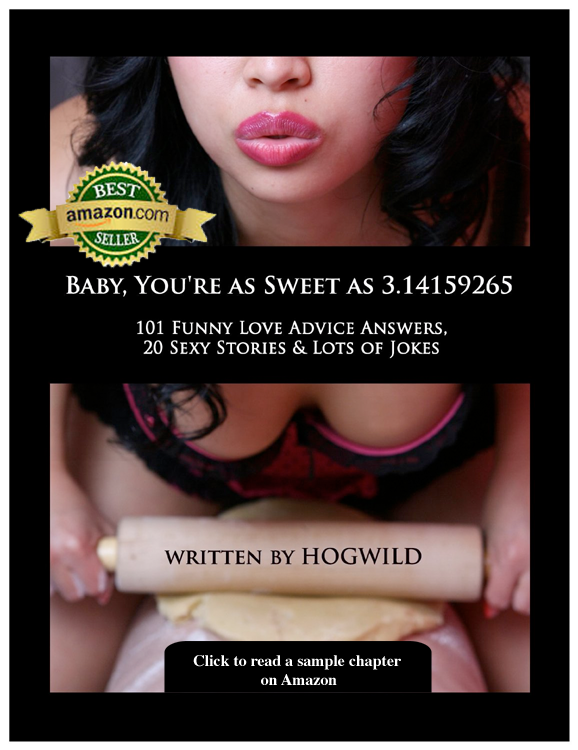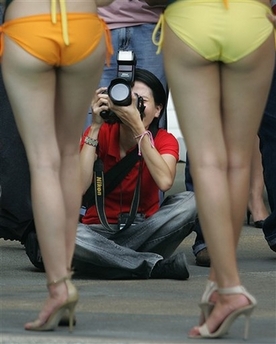 As you can see, those are butts. Butts produce greenhouse gases that contribute to global warming. But not those butts. Those are hot Philippino butts.
TIP FOR GIRLS: See those high heels shoes? High heel shoes are the greatest invention ever for your butt. Wearing high heels makes your legs appear more toned and it makes your butt look more shapely. How do I know this? Because I used to walk around in my mom's high heel shoes when I was 6 years old. Then my father saw this, screamed, and forced me to arm wrestle alligators for the next 12 days without sleep. It worked. Ever since, I have never worn alligator pumps again.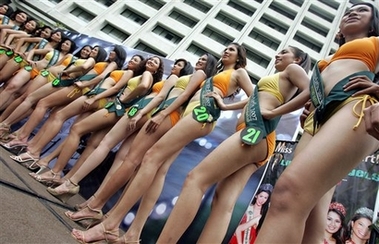 Just as a reminder, those girls are hot. And they mean business. They want you to know that we all live together on this planet and that we need to really pay attention to the hotness of their legs... I mean, to the environment.