The Miss Universe beauty pageant. It's the Olympics of hot women. Women from every country (except super-uptight-religious countries) show off their ample skill sets. Oh how I love to bury my face in between ample skill sets!
Let's take a look at a select few of these hot girls and discuss.
NOTE: By discuss, I mean drool.
Here is my favorite girl, Miss Estonia, Viktoria Azovskaja:
Holy crap! This is the kind of girl that makes me want to kill myself. Guys, you know what I'm talking about. Girls, you may not know this... but when you look REALLY good, looking all hot walking down the street, we get angry and want to stab ourselves in the face.
Us guys get angry when we see a super hot chick. Don't believe me? Watch. Next time a super hot bim walks down the street, the guy will have an angry reaction like:
"Daaaaamn!'
or
"F*CK!!!!!"
or
"Just kill me now."
Below is Miss Puerto Rico, Uma Blasini. Why is she in a pirate costume?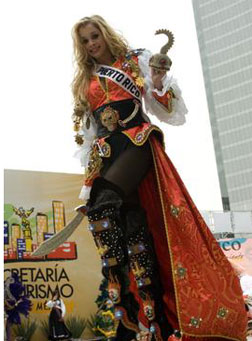 I guess Puerto Rico has a history of pirates and stuff. No other country in the pageant is glorifying their criminal past. You don't see Miss Australia with a ball and chain. You don't see Miss China sitting at a computer making illegal copies of Windows Vista.
But even still, she's hot. Arrrrrg! I'd like to see her Treasure Chest! I'd like to sink me cannon balls into her portside!
HA HA HA! Okay, sorry. Let's continue:
This is Miss Mexico, Rosa Maria Ojeda Cuen. Oh my freakin' Gaaaawd! She's hotter than tequila tamales in Tabasco sauce!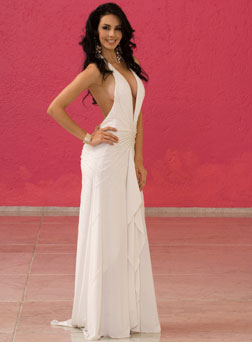 Rosa Maria Ojeda Cuen is giving me a stiffy that's longer than her name!
NOTE: Just kidding. My jammy is like the bus the retards take to school.
Next up, Miss Poland, Dorata Gawron: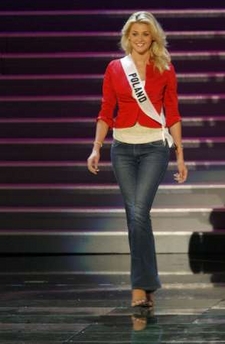 Whoa. Miss Poland is hot and she's not even trying. I'm not German, but right now I'm thinking of invading Poland.
HA HA HA! Okay, sorry. Let's continue:
Below is Miss USA, Rachel Smith. She is wearing her "National Costume."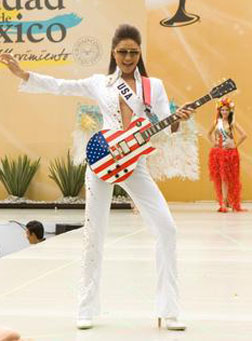 Every other country's National Costume features native flowers or fruit or something, but we've got Rock 'n Roll! Woo-hoo!
NOTE: America's National Costume can be purchased in Wal-Mart and was manufactured in China.
Next is Miss Serbia, Teodora Marcic: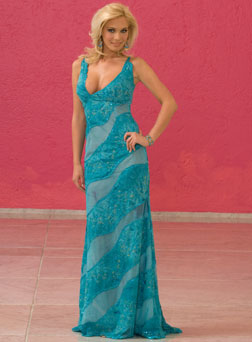 She just might have the biggest babongaz in the competition. I want Miss Serbia to win just so she can turn to the runner-up and shout, "You Got Serbed!"
HA HA HA! Okay, sorry. Let's continue:
This is Miss Venezuela, Ly Jonaitis: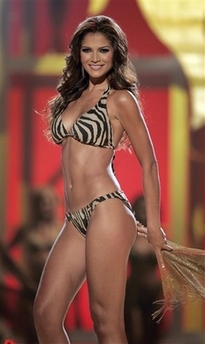 I like a girl with a nice butt. Butts are important. One time I was with this girl with NO butt. Flat as a brick wall. I was boinking this girl from behind and I BRUISED MY HIP!
And here is Miss Estonia, Victoria Azovskaja. Again. Whoa.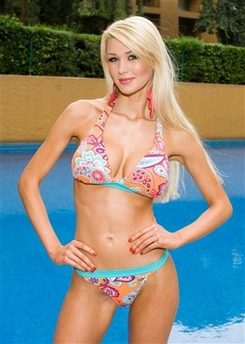 The face of an angel. The body of a hot body. She looks so pure like a vanilla milkshake. Boy do I like vanilla milkshakes.
This is Miss Israel, Sharon Kenett. What's weird is that she's wearing white doves!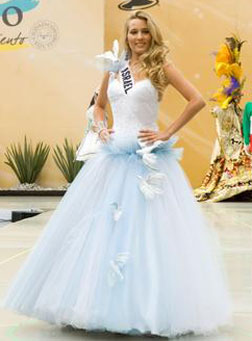 Since when is Israel at peace? They should set up the Miss Universe Competition so that Miss Palestine and Miss Israel have to wear the same dress... at the same time. Then... cat fight!!!
Okay, now it's Miss Honduras, Wendy Salgado: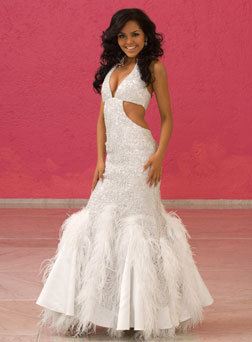 I give her the cutie-pie award. She's so cute it makes my brain want to explode. She's like a combination of fluffy panda bear and a puppy wearing a hat.
Now we have Miss Guatemala, Alida Boer. What the heck is this costume?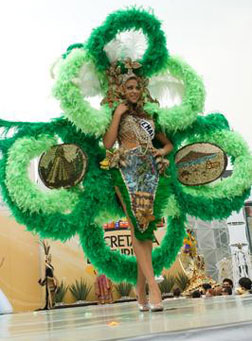 Maybe she really like Christmas wreaths?
And here is Miss Greece, Doukissa Nomikou: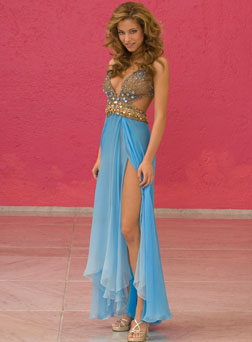 I want to kiss up and down her leg until my lips fall off.
Next up is Miss El Salvador, Lisette Rodriguez.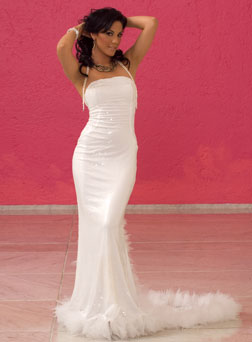 Wow! She's got more curves than a very curvy road! Or something.
Next we have Miss Dominican Republic, Massiel Taveras wearing dolphins on her head.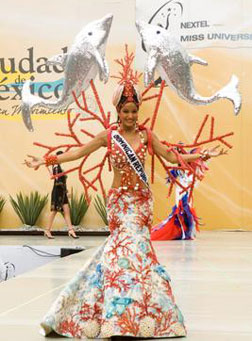 Okay, the Dominican Republic is famous for its beautiful coasts. But that doesn't mean that you should make this poor girl wear ocean-life as a hat! This would be like if Miss USA was forced wear on her head a Starbucks cup full of hot coffee!
And her we have Miss Denmark, Zaklina Sojic: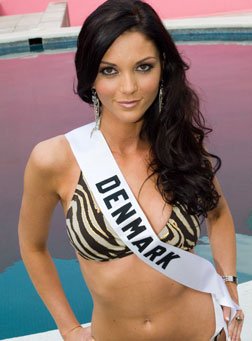 Her face is so beautiful, it makes a rainbow look like Rosie O'Donnell.
And now we have Miss Brazil, Natalia Gumaraes: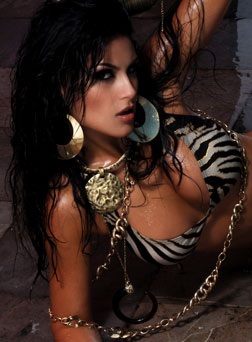 Didn't I see her in an Iron Maiden video in 1986?
Below is Miss Bolivia, Jessica Jordan Burton.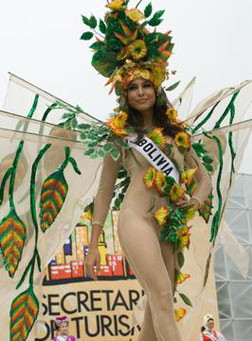 No. You're not the first guy to think up, "Hey I wouldn't mind deflowering HER... heh heh heh."
And here is my vote for most beautiful dress: Miss Aruba, Carolina Raven: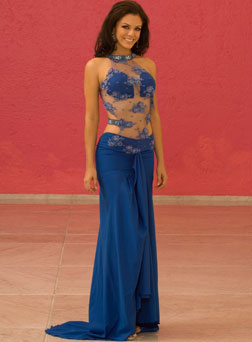 Looks like 2 seashells floating in the ocean. And here she is again in a bikini. She's looking off into the distance... at me. Thinking, "Wow. Look at that HogWild guy. He's so incredibly handsome and awesome. I wish he would let me bake for him."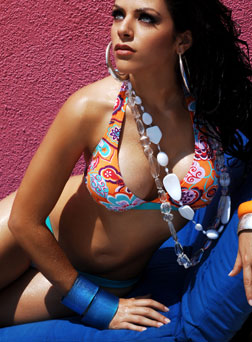 NOTE: I know and you know that she's not thinking that but you know what? SHUT UP!
Next up is Miss Angola, Micaela Reis: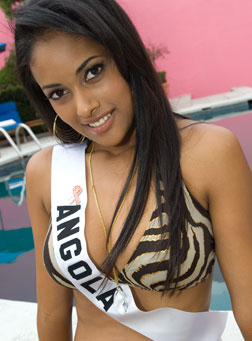 1 word: "YOWZA!" Look at those squeeze'ums!
In conclusion, I would like say that calling a beauty pageant "Miss Universe" is a bit presumptuous. Because who are we to say that there isn't life on another planet? It would be cool if aliens landed on Earth because they wanted to participate in our contest! In the future, we will see this: