JUSTIN: You know how when you break up with a crazy girlfriend because it's just too hard and no matter what you do to try and work things out, you know it's doomed?

HOG: Yes.

JUSTIN: And then out of no where you see her at a bar 6 months later and she's been working out, looks fantastic and you end up getting back together with her even though you know that it's still probably going to end poorly?

HOG: Yes.

JUSTIN: Well that's what if feels like to cheer for the Dallas Cowboys. But you know what? I don't give a damn because this time we're going to make it work!

HOG: HA HA HA! Well, I did it because the sex was amazing. What's your excuse? The Cowboys haven't given you a football org@sm since 1995!

Then again, in my lifetime, my Jets have never given me a football org@sm... Damn, I'm a Super Bowl virgin!

JUSTIN: This year, the Cowboys have all the pieces in place to make a run for the Super Bowl. The only question is: Can they avoid injuries and Terrell Owens' mouth?

HOG: I like Terrell Owens. He brings a certain professionalism to the NFL. The professionalism of Professional Wrestling.
Even if you're not that into football, it's entertaining to see what Terrell Owens will do next… will he spit on an opponent? Will he do a touchdown dirty dance with a cheerleader? Who knows? Maybe in his first game he will pull down his pants and take a dump on the field. It's this kind of spontaneity that fans enjoy.

JUSTIN: We've got high hopes in Big D this year. Speaking of D's have you noticed that since we changed coaches we went from a D-Cup to a B-Cup in the B!tch T!ts department! Fantastic isn't it!

HOG: Yes. Congratulations. Now that Bill Parcells has retired, the Dallas Cowboys cheerleaders once again have bigger breasts than the coach.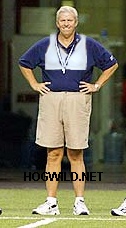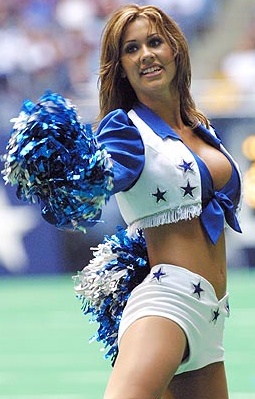 JUSTIN: We're definitely going to win it all this year if….

We can get past the New England Patriots! They're stocked at receiver for the first time since HogWild was 30 (1996) and still have one of the best defenses in the NFL.

HOG: Why do you keep trying to say that I'm like 100 years old? You're older than me! And besides, who cares?! As long as my jammy works I don't care how old I am. And if there comes a time when my romance-pole doesn't work, I'm gonna prop it up on little crutches and FORCE it to work like it's a child in a Chinese toy factory.

JUSTIN: Hell even Tom Brady is feeling more like an NFL player now that he's due to have an illegitimate kid!

HOG: Yeah, the NFL standard contract requires players to have at least one of the following within their 1st 5 years:

- child out of wedlock

- felony drug possession

- attempted murder

JUSTIN: Speaking of illegitimate kids, Denver's starting running back Travis Henry has 9 kids by 9 different mothers! CONDOMS...they are called CONDOMS Travis!
HOG: Daaaaaaamn! Now there's a running back who really knows how to find the holes and run right through them.

JUSTIN: If Randy Moss can stay healthy and Tom Brady doesn't get too distracted the Patriots could be back in the Super Bowl if…

They can get by the Indianapolis Colts! The Colts finally got over the hump and won it all last year but now they face the same problem that every team faces after winning the Super Bowl, free agency.
Every coach wants to stock their team with players that know how to win and what better way to do that than by raiding the champs cupboard! Still the Colts have a high-powered offense led by the best quarterback in the league, Peyton Manning.
So they're still the odds-on favorite to win it all but only if…

They can get past the San Diego Chargers! Led by the MVP LaDainian Tomlinson, the Chargers are a smart pick to win the Super Bowl. They've got all the pieces. The only problem is that their coach is a weenie.
Poor Norv Turner has led two teams, the Washington Redskins and Oakland Raiders, to crappy endings but hopes that this year with better talent he'll be able to get over the hump and win a championship!

HOG: I hate crappy endings. Here's a disturbing thought: You know how there are Asian massage parlors that specialize in "Happy Endings"? What if there are Asian bowel massage parlors for constipated people that specialize in "Crappy Endings"?

JUSTIN: Lastly, the dark horse of this year's championship run is not the Bears. Rex Grossman will never win a Super Bowl even if the '85 Bears came back in top form to cover his ass.

And It's not the Saints either because a tougher schedule this year is going to expose Cinderella for the one-night-stand she really was.

JUSTIN: No, this year's dark horse is none other than the J-E-T-S! With a revamped defense and Eric Mangini at the reins look out as the Jets get 4 easy wins against Buffalo and Miami and then split with the Patriots. That's five wins right there and with smart coaching and Chad Pennington they're due for at least 4-5 more which guarantees them a wild card spot, at least!

So take a minute while HogWild goes ape sh!t and get ready to see the J-E-T-S in the AFC championship! I'm calling it.
HOG: J!-E!-T!-S! JETS! JETS! JETS! Woo-hoo! Yeah! Woo! Hoo!
NOTE: That was me going ape sh!t.

JUSTIN: Finally, while the Jets are good they're still not as good as the Cowboys so I have a little wager for you, HogWild. If the Cowboys beat the Jets on Thanksgiving, you have to grow a mustache (with no beard) and wear it for an entire week and post the pictures of it here on hogwild.net
HOG: What?! How about if my Jets beat your Cowboys you have to sleep with a woman who has a moustache. Your wife shouldn't mind. Because technically it's not cheating if the girl is ugly and you don't enjoy it.

JUSTIN: I'll take that bet because the Jets have about as much chance of beating the Cowboys as Travis Henry has wearing a condom the next time he has sex!