Professional Dating Advice videos that will help you get the awesome relationship you deserve!

Expert Dating Advice
Funny MySpace Pictures
Funny Rants / Dirty Jokes
Comedy Videos
News
Dating Advice Man
Cartoons Twisted Humor
Chats
Games
Comedy Shows
Contact/Email Me
Free Newsletter
Links
Dating Advice Videos

Subscribe in a reader
Professional Dating Advice
Crazy T-Shirts
100% Free Dating Site
Dating Advice
Hog's Deals & Discounts
Poop Jokes






Why I Hate St. Patrick's Day in New York City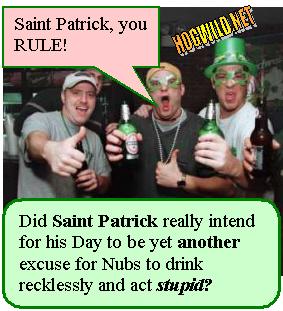 by me, HogWild
Why I Hate St. Patrick's Day in New York City

Because it's become an excuse for idiots of every kind to come into Manhattan and get drunk by 11 am.

That's fine. But it's idiots who don't know how to drink.
Schedule of a typical moron on St. Patrick's Day:

9 am: Mom leaves the house to go to her job. Moron goes back to sleep because he has no job.
11 am: Time to start the day! It's St. Patrick's Day! Gel hair into same douche-bag style that all his friends have. Find "I'm not Irish, but kiss me anyway" t-shirt.
1 pm: Moron bar hops
2 pm: Moron is totally wasted
2:01 pm: Moron is puking in a mailbox
2:02 pm: Moron is hitting on every woman in sight
4:00 pm: Realizing that no woman wants a pathetic guy with puke-breath, Moron gets violent and starts picking fights by calling out to every short guy, "Hey look! It's a leprechaun!"
6:03 pm: Moron is slumped on the curb with his nose bashed in. His friends rush to him, cell phones in hand, to snap pictures. They laugh. They leave.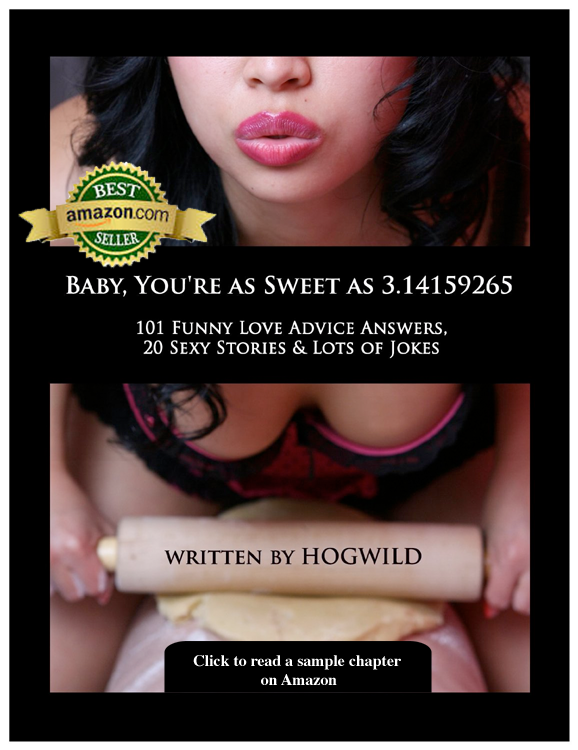 St. Patrick's Day is a day for Irish pride. That's cool. If I was Irish, I'd be pissed off that all these non-Irish idiots are using my holiday as an excuse to be drunk and obnoxious while wearing my country's colors.

You don't see the Irish dressing up as Italians on Columbus Day with Super Mario and Luigi moustaches. So why is it okay for non-Irish people to wear green hats and shamrocks?

It would be cool to join the celebration as a show of support -- but we all know it's only in support of drinking.

Soon every ethnicity's special day will be taken over by drunken idiots. I never want to see a bunch of drunk white guys screaming while dressed up as dragons on Chinese New Year.

It's cool to celebrate. It's not cool to be a drunken douche-bag. Stop puking on people. Stop picking fights.

I hate that on St. Patrick's Day in New York City, the ratio of guys to girls in the bars is 8,000 - 1. Because the girls stay home. They know it's the night of 10,000 Drunk Douche Bags. The only girls out partying are the total sluts. And sluts are cool, but they can only handle 9 or 10 guys at a time. What about the rest of us?!

I don't like that certain people need an "excuse" to get drunk. If you wanna get drunk, do it! Celebrate because it's a Tuesday! You don't need to hijack someone else's holiday.

MORON: Today I'm Irish!
ME: So you support the unification of Ireland?
MORON: I like beer!
ME: So do you prefer Samuel Beckett and Seamus Heaney?
MORON: Did you just ask if I prefer semen? No, I have to say I still prefer beer!

I'm all for drunken stupidity, just don't hijack someone else's special day to do it.

You wouldn't like it if on July 4th, all sorts of German people came to America painting their faces red, white, and blue shouting "I love McDonald's!" as they guzzled beer and wore t-shirts with a picture of Uncle Sam pointing and shouting, "I want YOU... to kiss my fat American ass!"

So stop with the underhand Irish boxing stance. Stop shouting at girls on the street, "Kiss me lucky charms... they're magically delicious!"

Stop screaming at girls, "Show me your shamrocks!"

Stop shouting, "Who's your paddy?!"

Stop saying, "Kiss me, I'm part Irish. Now guess which part."

You're an idiot. At no other time can people get away with pretending to be another ethnicity...

You don't see people dressing up as Jews during Hanukah saying stupid stuff like, "Hey baby, wanna take my dreidel for a spin?"

And people don't dress up on Canada Day wearing a shirt with a Maple Leaf on it screaming, "Kiss me, I'm Canadian, ay!" Or "I'm a Canadian hockey lover who wants to high stick it in your penalty box!"

Why don't we turn every holiday into a stupid get-drunk fest?

On Earth Day, morons will get drunk screaming, "Mother Nature is a MILF!" And drunk idiots will pick up girls with lines like, "Is it global warming or are you totally hot?"

April Fool's Day would be great. That would be the one day girls get to pick up guys. Guys would love it. Then the girl gets undressed and shouts, "April Fool's! That wasn't my cell phone you felt in my pocket! It's my pen!s! And it's a big one!"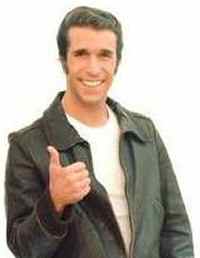 Get my HogWild Funny Rants & Funny Pictures in your Email!
Check out my Hot Deals & Discounts
More Funny HogWild Rants and Jokes

Now see my Dating Coach advice and videos!





Now go watch my Expert Dating Advice videos!

Watch my helpful and hilarious Expert Dating Advice videos!





Get Instant Access to over 300 helpful + hilarious dating advice videos you can't find anywhere else! *** Join the HogWild Relationship Revolution! *** Dating Advice! Expert dating advice videos, your dating advice questions answered by HogWild!

Professional Dating Advice videos that will help you get the awesome relationship you deserve!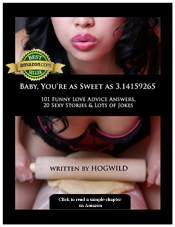 Expert Dating Advice Videos by me -- HogWild -- professional dating advice: helpful and hilarious.