EVAN: Investing in stocks is similar to gambling. Wait……listen I said similar not the same.
HOG: Yeah they SHOULD make the Stock Market more like gambling! Set up Stock Market Casinos. You bet, um, I mean, invest in companies while hot bims in cocktail dresses serve you martinis.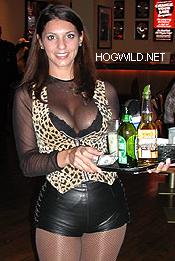 ME: Dude, let's discuss short term, small cap investment options at the all-you-can-eat buffet.
YOU: This is serious business! You have to concentrate on potential returns versus the risk factor of – OH MY GOD! How does that stripper make her tassels swing like that?!!
EVAN: There are three types of investors: bulls, bears and pigs. I'm sure you have all heard the saying bulls make money, bears make money and pigs get slaughtered. No matter what type of investor you are you have to know when to buy and when to sell.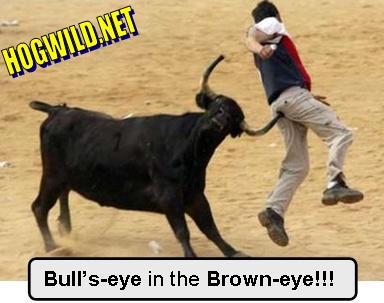 HOG: What about rats? Like the guy who told on Marta Stewart? Or was he a pig because he squealed? And what is Martha? A snake? I also heard some stocks are dogs. Rats, Bulls, Pigs, Dogs. This is more confusing than the Chinese Calendar.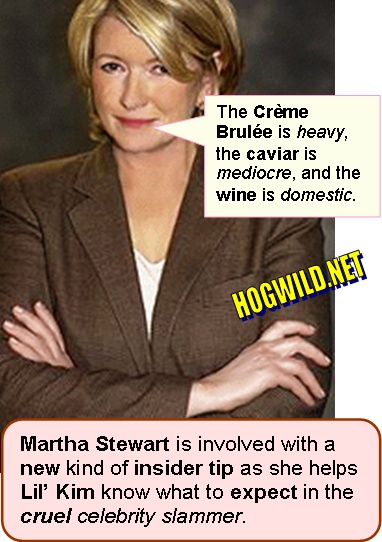 EVAN: Martha and her broker were pigs because they sold their stock based on insider info so they can make even more money. That's just plain greed. He was also a rat because he ratted on Martha to save his own ass. There are also stocks that are called dogs. They are stocks that don't increase and move on a horizontal basis.
So the question of the day is: How do I know when to sell?
HOG: SELL HIGH!! In other words, if Whitney Houston was a stock, you'd sell sell sell!!
EVAN: Yes sell high, but if you wait until Whitney is that high she'll come down off her high....I'm mean your stock might lose value. Depending on the company in which you own this can vary but let me take you back in history…
HOG: Oh cool! A time machine! Can we go back to the Dinosaurs? I want to see how big their poop was! If you can't do that, then how about 1986? It may be my only chance to see the Mets win the World Series again.
EVAN: History is a very important key to success in the stock market and life in general. It guides you in the path not to take.
In the mid to late 1990's there were companies being bought at outrageous prices. This is what we called the tech crash.
People were buying companies based on future expectations and not actual earnings. These companies were being bought so quickly that people wanted to "get in on the deal and not lose out".
Understood. Not everybody lost money just a lot of people. Stockbrokers and advisers were telling their clients to hold and not sell their huge gains or if the stock was a loser they were told to hold because it will rebound.
HOG: Do you think Axl Rose will rebound? He's supposed to making a new Guns N Roses CD.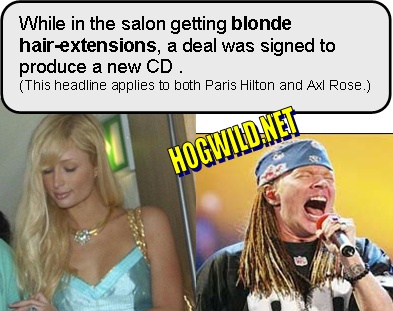 EVAN: Really?!?!?!!? He'll probably rebound, he makes great music. Wait what were we talking about?
In high school I was told history was important because if you don't know it you are doomed to repeat it.
HOG: In high school I was told that Jennifer Fletcham was a huge slut. Not sure if that's gonna be on the test, though.
EVAN: And this is why this discussion is very important. Getting back to the present and where I said investing is similar to gambling. Now unless you have a gambling problem or you have no will power, when you go to a casino you should always have a plan.
For example you would say to yourself, "If I lose $1000 I'm done."
I usually don't agree with most brokers however, this time, we are on the same page. The most common saying is if you lose 7 to 8% suck it up and admit you did wrong. For most stocks, when they lose that much, it will take them months to regain that territory again. You are better off taking your loss and finding a better gain somewhere else.
HOG: Yeah, it's like if you are in a bad relationship. A lot of people try to "stick it out" hoping it will get better even though the stock they picked is a dud. But at a certain point you need to cut your losses and send her a text message telling her that you're breaking up.
EVAN: Excellent point. Most people give their time and energy into picking a stock and when it doesn't work out they try to hold on even though it is a dud.
Dude, that's the most informal way to break up with a chick. You should always call her! Just call her real early in the morning when you know she isn't going to pick up and leave a message.
There is no specific number I can give to sell. It all depends on the stock and your portfolio, but, when you do have a winner you should either take some off the top -- meaning sell a certain percentage of your position -- or sell it all and don't look back.
HOG: Yeah, it's like if you're in a relationship where the sex is hot but you know it's not going anywhere… at a certain point, you have to cut if off and not look back. You will find another hot piece of stock.

EVAN: Yes, if the stock isn't going anywhere sell your position or a certain percentage of your position depending on the amount lost and find a new company to invest your money.
Now, if the sex isn't good anymore, you should find someone else first before you cut your original girl, just in case the economy is rough and there is nothing out there.