Watch my Dating Advice Video or read my dating advice below:
Hey HogWild,
How do I tell someone I am not interested?
This guy likes me and asked me out but I have been avoiding giving him an answer because I don't know how to turn him down without being mean. What should I do?
-K in Arizona
Hog's Relationship Advice:
Be direct. Be firm. Let him know there is no hope that he will ever date you.
Because if a guy has even the slightest amount of hope that you might change your mind, he will persist.
YOU: I don't want to date you.
HIM: Ever?
YOU: Ever ever.
HIM: Ever ever EVER?
YOU: Ever ever ever ever ever forever.
HIM: Until Infinity?
YOU: Double-infinity plus one.
HIM: ... are you... SURE?
This sounds mean, but it's actually the nice thing to do.
Because he may be hurt in the short-term, but it will force him to move on and that's good for him in the long-run.
THINGS THAT HURT IN THE SHORT-TERM BUT ARE GOOD IN THE LONG-RUN
- your vaccination shots
- saving money
- studying for your Final Exams instead of partying all night spending your money on vaccination shots of tequila
The mean thing would be to let him maybe possibly think that he might have a chance with you. Because then he will keep trying and he will be stuck on you like chewed-up gum under a desk.
NOTE TO GUYS: Don't be like chewed-up gum! Be like a fresh piece of spearmint. Look crispy, smell great, and soon she'll be playing with you inside her mouth! Awww! HA HA HA!
You gotta go with classics here. You gotta drop the F bomb on him. "Friend."
Or you can say something like, "I'm really flattered that you'd like to go out with me. I think you're a good guy, it's just that I'm not attracted to you in that way. I hope you understand. I hope you don't hate me but I want to be fair to you and let you know because I can't change the way I feel."
OR
Say something like, "Listen zit-donkey, your breath stinks, your face makes mothers clutch their babies, and you're about as intelligent as a wet mop."
Once you turn him down, he will either have trouble looking you in the eye because he feels embarrassed or he will mask his hurt with anger.
If he gets embarrassed, say, "I'm sorry. I still want to be your friend if you're OK with that. I'm sure there are girls who have liked you but you only liked them as a friend. Chemistry is something that's out of our control."
OR
Say, "I'm sorry that you are a zit-donkey. I still want to be your friend if you're OK with that, zit-donkey. I'm sure there are girls who have liked you even though you're a zit-donkey. Chemistry is something that's out of our control. We can't control that I am a HUMAN female while you are a DONKEY full of zits."
In reality, he COULD make himself more attractive to you but it's not your job to teach him how. That's MY job! HA HA!
But you're doing the right thing by being honest about your feelings with him. Wouldn't it be much worse for you to agree to a date and get his hopes up and make him spend time and money when you will never give him what he wants?
THINGS GUYS WANT
- sex
- a wonderfully fulfilling relationship with a woman based on trust and understanding
- big beautiful televisions
- a wonderfully fulfilling relationship with their television without being interrupted by that woman... unless it's for sex. Then it's back to the television!
NOTE TO SELF: When I'm President of the World, I'm going to give every woman an unlimited supply of huge flat screen televisions. So whenever she has to turn down a guy, she can at least console him by giving him a television instead! That way he doesn't go home empty-handed!
If this dude gets angry, realize it's only because he feels hurt. If he calls you a name or yells at you just look at him in a sad way. Speak quietly, "I'm sorry you're upset. Again I think you're a good person and I know you will have no trouble getting a girlfriend. It's just that we're not compatible. Because you are stupid zit-donkey."
BAD NAMES A GUY WILL CALL YOU WHEN HE FEELS REJECTED BY YOU
- biznatch
- ho's bag
- skank
- spunk pig
- Queenie Meanie!
But there is no reason for him to get upset if you handle the situation with gentle tact and let him walk away without hurting his ego too much.
The only time he would be right to call you a name is if you were maybe a tiny bit impolite with him like...
HIM: I'd love to take you out sometime. What do you say?
YOU: I would LOVE to go out with you... once every other male human is DEAD and every cucumber is rotten and all my fingers are broken! HA HA! OWNED, b!tch! Reeeeeeeeeeeeeeee-jected! You're like the devil with no bullets -- because you've got NO SHOT in HELL! HA HA!
Now, the other thing he might do after you turn him down is to ask you a million questions as to WHY you are not attracted to him.
If I were you, I would NOT get into this discussion because he's too emotionally involved and he will take your answers as criticisms.
You can simply say, "Aren't there girls who you like as friends but YOU wouldn't want to date?"
He might then say, "Yeah, but they're ugly!"
Then you say, "______" (Nothing. Just tighten your lips, raise your eyebrows and look away.)
Then if he persists with questions, say, "I'd rather not talk about this any more. Nothing will change. We're just not compatible like that. You're a good guy and I know you can understand that there are some things we just can't do anything about -- like who we are attracted to. I wish it was different but that's just how it is."
NOTE TO GUYS: Again, you CAN make yourself more attractive to a girl but I'm telling her to say this because she has to let him down easy.
So don't engage in a whole discussion about WHY you don't like him because he will try to use logic to change your mind because guys assume that girls think like they do.
If heis being super annoying and wants to know why you don't like him, then begin listing adjectives describing why he sucks. And just for fun, list them in alphabetical order!
Tell him he's...
- awful
- boring
- cowardly
- dumb
- effeminate
- freakin'
- grossly
- hideous
- immature
- jerky
- kinda
- lame
- moronic
- nimrodic
- ohhhhhhh-so
- pukey
- quacky
- runty
- stinky... and a
- totally
- ugly
- vomitacious
- whiny
- x-tremely
- yucky
- zit-donkey!!!
Then give him a television.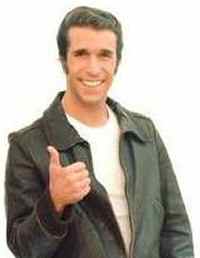 * Watch my dating advice videos or improve your dating with dating coach HogWild.
* Ask YOUR Relationship / Dating Question!
* More HogWild Dating Advice
Subscribe in a reader Share on Facebook
HOGWILD.NET Expert Dating Advice + Dating Advice. expert dating advice every day
Discover all the compatible singles who match you