Relationship Advice: Give your Partner the Benefit of the Doubt
by me, HogWild
When you really love someone, they're going to hurt you. But not on purpose!
It's like your heart is made of glass and their words are diamonds. Diamonds are beautiful but if they drop those diamond words, they might scratch your heart of glass!
Or their words are a lit candle and your heart is made of paper.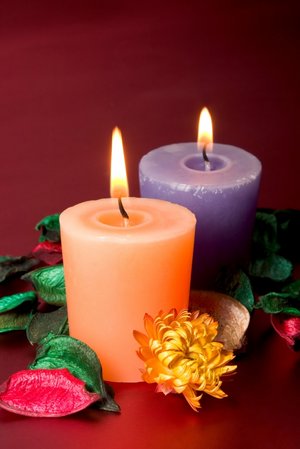 The candle is flickering romantically but they drop it and give you heartburn. Er. Yeah!
When you love someone so much, their every word and every action can affect you so deeply.
CHEESY GUY: My actions will certainly affect you... deeply. And by actions I mean THRUSTING actions. And by deeply, I mean deep in your heart. As I push into your vagina and past your other internal organs!
And THINK... what YOU say and do affects them deeply, too!
Don't think your big guy is so tough to not feel pain from your words. Don't think your independent woman doesn't feel hurt by your inconsiderate actions.
THE GIRL: I hate you!
THE GUY ON THE OUTSIDE: Whatever.
THE GUY ON THE INSIDE: <crying> Why? I try to be good! You're never satisfied!
THE GUY ON THE OUTSIDE: Suck my balls!
THE GUY ON THE INSIDE: Because if you suck my balls at least I'll know you still love me! Boo-hoo!
Be careful with your words. Be gentle with your actions.
That said, it's inevitable that you two will unintentionally hurt each others' feelings. A lazy moment, a flare of the temper, the wrong word choice... these can all lead to hurt feelings.
And then the hurt person might try to hold in their anger or pain. And then they hurt the other person back. And it gets worse and worse.
Here's how to handle it:
1 - If your partner hurts your feelings, IMMEDIATELY say, "Hey, that hurts."
That's it. Say it NOW. In the moment. Not a week later. NOW. Let them know EXACTLY why. Your partner is not a magical mind reader. Grow up. In a MATURE loving relationship you MUST communicate. Love is not about mind reading and "just knowing." Love is about HONESTY. TELL THEM when it hurts. Right away!
HER: Ya know, it really hurts me when you call me a bitch.
HIM: Well, I'm sorry but I said it because I was feeling hurt when you compared my penis to a radish.
HER: I didn't mean that it's small! I meant that I'm like a bunny rabbit who wants to nibble on it all day!
HIM: Well, you could have said carrot.
HER: Yes, a big carrot! Not one of those little baby carrots.
HIM: OK, I guess I should have given you the benefit of the doubt. And I'm sorry for thinking to myself that your labia look like the mud flaps on a truck.
2 - If your partner has hurt your feelings, think to yourself...
This is taken from my Premium Members section where I post my new videos.
Here are some more tips, but only Premium Members get the entire video + access to over 500 full dating and relationship videos in the Video Vault!
- Being a strong couple is all about being an individual AND an advocate for your beloved. It's about aligning your hopes, dreams, and goals.
- If your loved one hurts your feelings, it's natural to get angry. The way to calm down to prevent an argument from escalating is to...
Only Premium Members have access to this Video!
1 - Learn more about the Premium Membership
or
2 - You realize you've been making the same mistakes or not knowing what to say or do all these years! You can get a one-month subscription for the price of a night at a bar. To you, the cost is worth it since it will actually help you get what you want. Join Now!
Need one-on-one coaching? Contact
Dating Coach
HogWild for help!
Latest HogWild Dating Advice


Click here to Get Greater Dating Confidence + Increase your Relationship Skills

Become a paid member and you get INSTANT access to over 500 dating advice videos that will help you answer such questions as...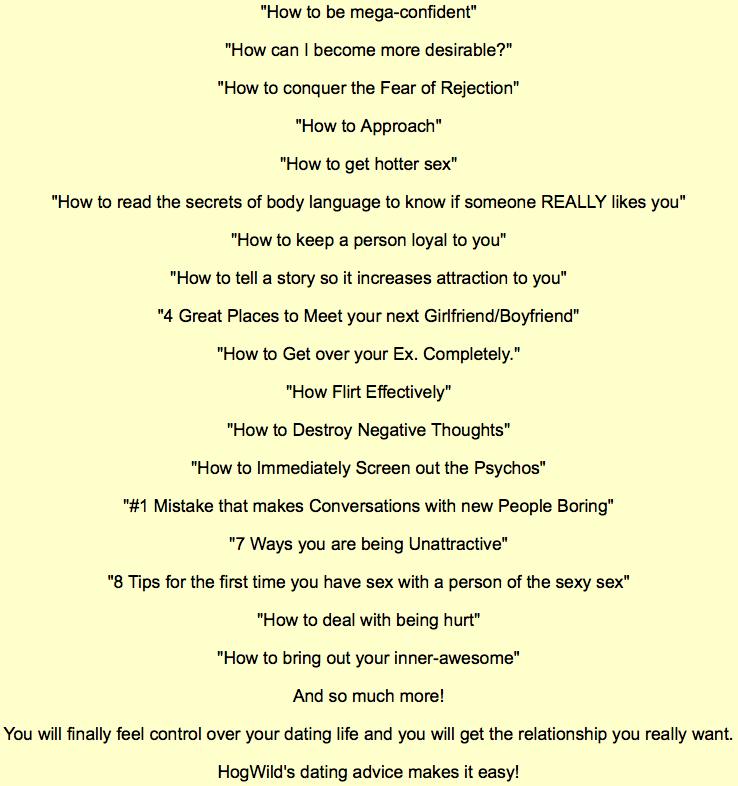 Become a member and get INSTANT access to the videos that will change your love life forever!
***






This article is for people who need help with:
relationship problems
how to save your marriage
how to save marriage
can I save my marriage
stop divorce
how to save relationship
improve marriage
save your marriage
troubled marriage
improve relationship
how to improve marriage
how to stay married
how to keep husband happy
how to keep wife happy
how to improve relationship
marriage advice
relationship advice