JUSTIN: It's over. Brett Favre has finally been traded and the biggest soap opera of the NFL Season is over. However now that Favre's been traded to the New York Jets, let's look at how this will affect the Jets and the Packers.
HOG: I can't talk for Packers fans, but as a Jets fan I know how this affects us. It gives us hope. Evil tortuous hope. Just when we were ready to have a relaxed season of low expectations, now us New Yorkers have to get our hopes up only to have them inevitably squashed like a huge roach is squashed in our apartment by the stampede of rats.

JUSTIN: The good news for Jets fans is that after an aggressive off season in which the Jets acquired two front line offensive linemen in Alan Faneca and Damien Woody to go along with defensive lineman Kris Jenkins the team looks like it's ready to compete in the AFC East once more.

HOG: As a Jets fan, I can tell you that the Jets are doomed. Someone will get hurt or the coach will get abducted by Mexican banditos, or some groupie ho will infect the entire team with crotch rot.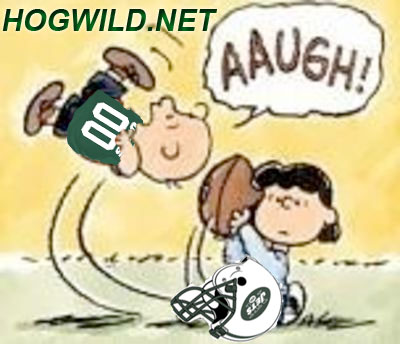 JUSTIN: The bad news is that the Patriots are still going to stomp their ass and the entire season is riding on Brett Favre. This is really scary because anyone who watched Favre last season knows that whenever he gets into trouble he has had a bad habit of throwing jump balls 40 yards down the field.
HOG: Favre can throw 40 yards down the field?! That's awesome! NY Jets quarterbacks have their strongest passes when they suffer concussions and pass out.
JUSTIN: In Green Bay, Brett Favre could get away with those kind of throws because he had above average receivers and a running game that could keep him out of trouble. In New York, Favre will only have Jerricho Cotchery and an aging Laveranues Coles to go along with a running game that will feature Thomas Jones and Jesse Chatman. Yikes!
Basically what I'm saying is that New Yorkers should prepare themselves to go ape sh!t crazy every time Favre panics and throws an interception forty yards down the field.

HOG: If Favre likes to throw jump balls, then the NY Jets should trade for high jumping players on the NY Knicks! Combining the Knicks and Jets would form a NY Super Power of Suckiness. I'm pretty sure your Dallas Cowboys have won more Championships than the Knicks and Jets put together.
I bet that the NY Jets could beat the NY Knicks at basketball. That's not saying too much since the Knicks could probably be overtaken by All-Stars of Middle School 183 in Croatia.

JUSTIN:
Fun Fact: Actually dude, in Croatia and the rest of the world we name our middle schools instead of giving them numbers.
HOG: Whatever man! I'm a proud survivor of P.S. 187 in the Bronx. Muuuuuurdah!
Let me guess the names of your public schools in Texas... There's Ronald Reagan Middle School, YEEEEEEE-HA! Elementary, and George W. Bush High School for the Mentally Challenged.

JUSTIN: On the other side of the ball, there are the Green Bay Packers coming off a season where they made it all the way to the NFC Championship game only to lose the game after you guessed it, Favre carelessly lofted a jump ball down the field that was intercepted by the Giants in Overtime.

Let's pause for a second as that last sentence sinks in and Jets fans everywhere throw up. He-he.
HOG: Let's pause again as Cowboys fans everyone recall that those same Giants went on to crush the Cowboys. And then let's hit rewind and watch you losing our bet again!


HOG: Look, Brett Favre can't be any worse than what the Jets have now. I love Chad Pennington but the guy is permanently injured so his throws are as a hard as post-orgasmic wiener soaking in a tub full of cold water.
Brett Favre at his current age of 62 1/2 is still better than 75% of the other quarterbacks in the NFL. Plus the Jets don't have to pay his full salary since he started receiving Social Security benefits.

JUSTIN: Ha ha! You said you love Chad.
Favre said his goodbyes and the Packers have prepared themselves for life after the Legend with Aaron Rodgers. Rodgers hasn't played much in the NFL, but looked poised in the pocket when he played against Dallas after Favre went down with an injury.
Still it's going to be a different story for Rodgers this year when he's trying to fill Brett Favre's shoes and facing teams that have had an entire week to prepare for him. Luckily the Packers are still a strong team but should Rodgers falter coming out of the gate it wont be long before the XXXXXXXXXL Brett Favre jerseys start popping up in the stands at Lambeau field.

HOG: Are you saying that the people of Green Bay, Wisconsin are very very large? Don't you live in TEXAS, which is the largest state by land ass? I have to stand up to defend the fine folks over in Green Bay! They're doing the best they can! All they have to eat is cheese and beer! And 7 months a year they can't leave the house to exercise because of snow blizzards. It's not their fault!

JUSTIN: Actually I was talking about the size of the Women in Wisconsin...I'm kidding!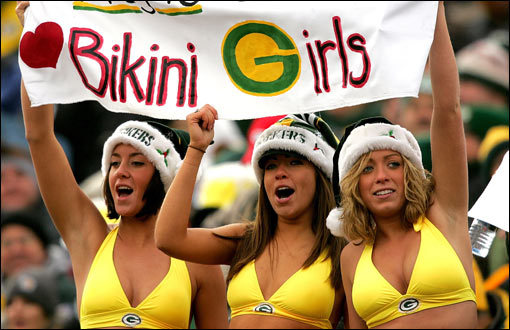 JUSTIN: See, I told you I was kidding.

For the Packers, the NFC North is still weak as ever and with their strong running game and stingy defense they should win their division easily. Of course none of that will make any difference when Dallas whips their ass in the playoffs, but then again in 16 years with Brett Farve at the helm the Packers only won 1 Super Bowl so at least Aaron has 15 more years to get his sh!t together.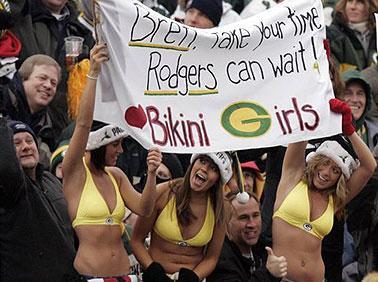 HOG: One Super Bowl victory in 16 years?! That's the same number of Super Bowl victories the entire Jets Franchise has in the last FOURTY-EIGHT years! Woo-hoo! It's B! R! E! T! T! It's BRETT'S BRETT'S NEW YORK JETS! JETS! JETS!


JUSTIN: In the end, I think that the Jets have an easy enough schedule to win at least 9-10 games this year, but in the power packed AFC that still might not be enough to make the playoffs. The question is, how long does Brett Favre intend to keep playing and how long will it take before the Jets do the same thing as the Packers and send his ass packing in order to make room for a younger quarterback?

HOG: I say it will take one week. Brett Favre is on the cover of Madden. He's cursed! (For those who don't know, players who have been on the cover of the Madden football video game have suffered injuries or bad seasons the next year.) Actually, I don't think Favre will get hurt. His Madden Curse has already happened. He's been traded to the Jets!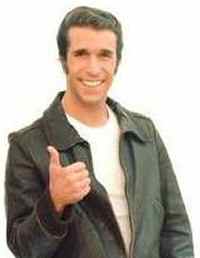 Want a kick-ass comedy show for your college or party? Email me for details.