JUSTIN: 7 Reasons to get excited about College Football in 2008:

7. Saturday Afternoons - Any sports fan knows, that once College football ends, that there is absolutely nothing to watch as far as sports go on Saturday afternoons. Don't get me wrong, I love baseball, but when you play 162 games nobody gives a crap about game number 116 on Saturday afternoon in July.
Personally I'd rather watch infomercials about the Perfect Push Up invented by a former Navy Seal!

HOG: Dude, baseball is a great sport to watch on a Saturday. OK, well, it's not as much fun for YOU to watch since your Texas Rangers are routinely mathematically eliminated by the 10th game of the pre-season.
JUSTIN: You're just mad because the Yankees are out of the playoffs and the Mets bullpen is shakier than Michael J. Fox after a double espresso.

HOG: Wow. For that one, Satan is fluffing pillows for you.
JUSTIN:
6. Cinderella Teams - Every year College Football has a rags to riches story where a recently unknown team comes out of nowhere to invade the Bowl Championship Series and challenge one of the major colleges.
Last year it was Hawaii who promptly got their ass handed to them by Georgia in the Sugar Bowl but the year before it was an underrated Boise State team that used every play in the book to upset Oklahoma in the Fiesta Bowl. Who will it be this year?
Who knows but I can tell you for sure that it won't be the Florida International Golden Panthers who finally ended a 2 year 23 game losing streak last year with a 38-19 victory over North Texas.

HOG: And that's why I DON'T like college football. Who cares about the Florida International House of Golden Pancakes?

But I will say that college teams have some fantastic names:

* Grand Canyon University Antelopes
* Blackburn College Battlin' Beavers

How did they come up with this name? Was the Dean brainstorming for team names while at the local strip club on mud wrestling night?

* University of Arkansas-Monticello Boll Weevils

What's a Boll Weevil? I don't know. But it sounds cute.

* Wayland Baptist University Flying Queens

Oh boy.

* Virginia Polytechnic Institute and State University Gobblers

I would love to be a newspaper headline writer when this team comes into town against the University of South Carolina Gamecocks.

* Webster University Gorloks
* Earlham College Hustlin' Quakers
* Tufts University Jumbos
* Southern Arkansas University Muleriders

Muleriders? Riding a mule neither strikes fear into the hearts of opponents nor does it hint at athletic ability. I'd rather be a Hustlin' Flying Gorlock.

* University of Alaska-Fairbanks Nanooks
* State University of New York – College of Environmental Science and Forestry Stumpies
* Trinity Christian College Trolls
* New York University Violets

There's a good idea. Put your school in the Village in NYC — one of the gayest neighborhoods in the world — and then name your team after a pretty lavender flower.

* Arkansas Tech University Wonder Boys
* University of Akron Zips

But the best names are out in California:

* University of California-Irvine Anteaters
* California State University-Long Beach Dirtbags Baseball Team
* University of California-Santa Cruz Banana Slugs

What the heck is a Banana Slug? I'm not sure. But when I drop my pants in front of a girl I'd rather she shout out Banana Slug than Stumpie!
JUSTIN: My God, you must've worn Google out researching all of those names!

5. Bowl Game 0rgy - Sure the NFL settles its Championship on the field but best part about College Football is that you get 32 Bowl games in 18 days. It's an 0rgy…huh huh 0rgy…of college football games so to speak and what's even better is that there's a whopping 6 bowl games to watch on New Years day while you're hung over from partying on New Years Eve!

HOG: Decisions, decisions. Should I watch the Tostitos Doritos Beef Jerky Bowl or the Firestone Tire Cadillac Tampax Bowl?


JUSTIN:
4. Undefeated- Last year the New England Patriots put together a team for the ages and didn't lose a game until the team that won't be mentioned beat them in the Super Bowl.
Only the 1972 Miami Dolphins have ever gone undefeated in the NFL but in the NCAA where there are a 119 teams competing for one title you pretty much have to go undefeated to even have a chance.

HOG: The team that won't be mentioned is of course the New York Giants. The same team that defeated your Dallas Cowbabies leading to your pathetic stint as a cheerleader.

JUSTIN: You go too far!

3. Rivalries - Texas vs. Texas A& M, Ohio State vs. Michigan, UCLA vs. USC... These teams really don't like each other and when they play it shows.
Whether you're in the stands or on the field, losing against your most bitter rival is like losing a member of your family. You cry for a couple of days, you feel like a piece of yourself is missing and you tend to drink more than usual. OK, maybe I'm taking this too seriously but you have to admit that College football really does have the best rivalries in all of sports.

HOG: Sports are important but not as important as a family member. I'd say it's a tie. Visit Grandma in the hospital or watch Yankees-Red Sox. Hmm... They'd better have a TV in her room!

JUSTIN: I can tell you the outcome of that game already...the Red Sox are going to win. The Yankees are running around the baseball diamond right now with a big ass fork sticking out of their backs because they're finished!

2. Ridiculously talented players - About 95% of the players in college football won't make it to the NFL. I know because I was one of them, but that's why college football is so much fun to watch because the players that are good enough to make it to the next level absolutely DESTROY everyone else on the field.
Every week you can turn on the television and watch the next Reggie Bush or Darren McFadden go ape-sh!t crazy against a defense that puts up about as much resistance as Paris Hilton's panties.

HOG: In defense of Paris Hilton's panties, they can't really do too much to resist the onslaught of random c*ck when they're sitting neatly folded in her drawer unworn.


JUSTIN:
1. Cheerleaders - Duh.
Sure the cheerleaders in the pros dress sluttier and are one step away from being erotic dancers, but there's just something about seeing a college girl in a cheerleading outfit that gets every red blooded male's juices pumping. They've been gone for 8 months but now I'm happy to say the girls are back! Enjoy!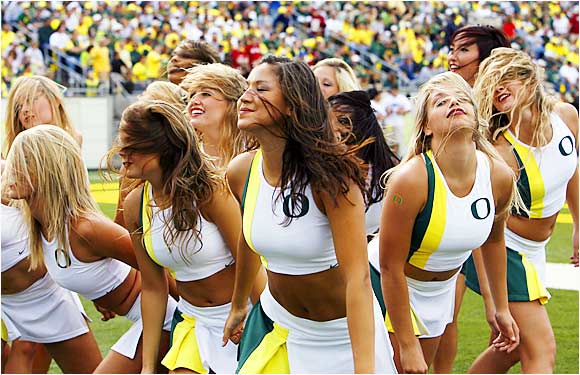 HOG: You're damn right! The Pro cheerleaders are doing it for money. The college cheerleaders are doing it for the pure love of shakin' boobies! And I'd sure like to push my face in between THOSE Jumbo Boll Weevils!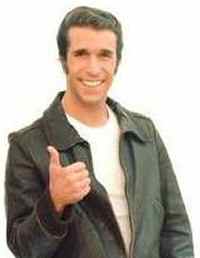 Want a kick-ass comedy show for your college or party? Email me for details.