Giant Pandas have all you idiots brainwashed. And to be outsmarted by a Giant Panda is damn embarrassing because Giant Pandas are among the lowest in the league in I.Q. points.
Stupidest on the Planet:
3 - Earthworms
2 - Garden snails
1 - Giant Pandas / Britney Spears (tie)
Just because a certain animal is endangered does not mean that we are supposed to save it. Haven't you idiots heard of Darwinism? If we save every stupid creature on Earth, then pretty soon the world will be cluttered with retarded animals running into each other while hurling their poop and rooting for the Red Sox.
And worst of all, you morons who want to save the Giant Panda don't give a damn about any other of the endangered species. What about the African Wild Dog?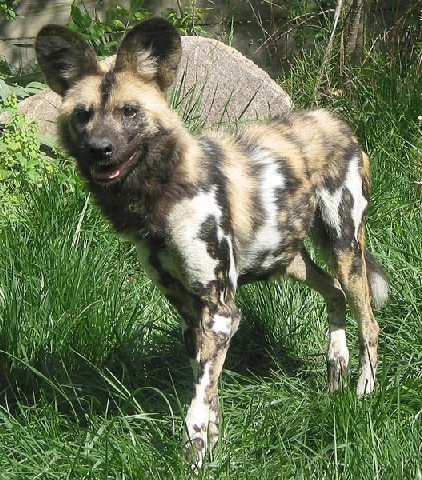 There used to be half a million of these animals but now there are only 3,000 left. Why is no one crying for them?
Because they are ugly.
People only care about the Giant Pandas because they are "cute." But I'm here to tell you that they are not cute. They are Panda BEARS. Why do you think at the zoo, they are behind a moat and fence. Because if you jump in there, do you really think they are going to want to snuggle? Or -- are they more likely to claw the skin off your face and use it to wipe their cute Panda asses.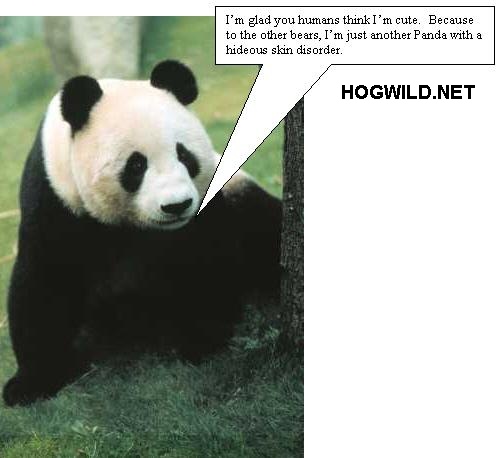 Worst of all, I don't know if you've ever seen a Panda in real life... but they don't DO anything. They are lazy bastards. They lay around all day getting fat. Which is amazing since they only eat bamboo.
That's right. This animal is so dumb it only knows how to eat 1 thing. And it's extra-stupid because how the hell is a 250 pound bear supposed to get all its nutrition from a single plant? They can't. Pandas are too stupid to know how to eat.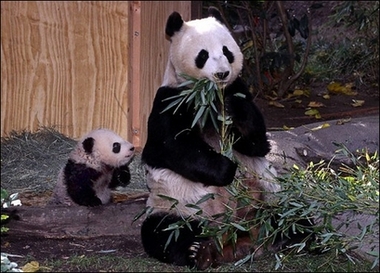 And you know what else they are too stupid to figure out?
How to have sex.
Us humans are FORCING these animals to mate. They don't even WANT to continue their species.
And in the rare instance they do sha-boink, it's only lasts 30 seconds. How do you feel about the Giant Panda NOW, ladies?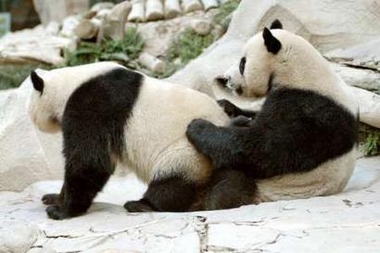 The female pandas are no better. In fact, they are even stupider than the males. The mother panda typically has two babies. Then she ABANDONS one of them. And it DIES.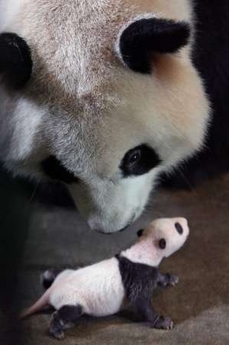 Now she has one remaining baby. The daddy Panda takes no part in raising the kids because he's a worthless drunk. So now mama Panda is a single mother and she leaves her tiny Panda cub ALONE for HOURS at a time while she goes out shopping.
How much sympathy do you have for the Giant Pandas now?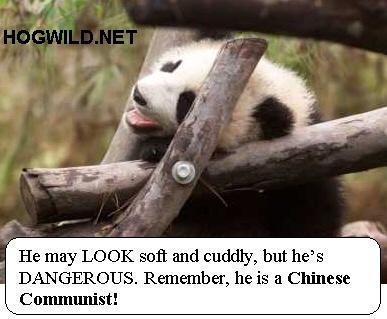 Plus, if you're anti-zoo then you CAN'T be pro-Panda. Why?
Because, sure, for the smarter animals the zoo is like a boring jail. But for the Giant Pandas, it's a posh rehabilitation center where we cater to their every whim and protect them from their own fat stupidity.
In the wild, how the hell would a Giant Panda find the 100s of pounds of bamboo they need? They wouldn't! And they don't! That's why they are going extinct! If your stupid ass only ate celery, you'd be eating all day, too.
Plus, Pandas need to be in captivity to protect them from predators. In nature, Giant Pandas live in a green forest full of crunchy bamboo yet they are huge beasts colored black and white. They have the worst camouflage system ever.
If we keep them alive, Giant Pandas will only evolve to become less camouflaged. The next generation of Giant Pandas will be decorated with a bulls-eye pattern on their fur while wearing shiny platinum necklaces and a miner's helmet with a bright blinking light on top while farting out rainbows to the tune of a trumpet fanfare.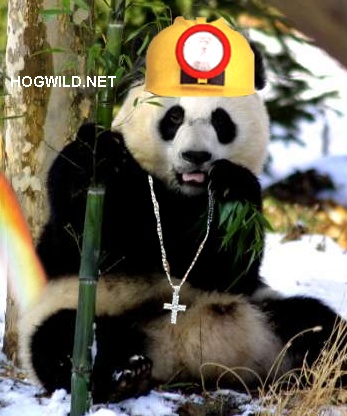 And they're not gonna get any smarter, either. Pandas will go from eating bamboo to poison ivy and then they'll be forwarding email personality quizzes to each other.
So... in conclusion... I'd like to say, "Screw Pandas!"
Because not even pandas... are screwing pandas.