Hog's mom approves of this article.
It was the greatest upset in the History of the World.
Woo-hoo! Despite all odds, my New York Giants whooped ass! They stood up to Goliath! They took down the undefeated team of the decade. They crushed the dynasty. Even if you're not a Giants fan, you saw an amazing game! The only bad part of the game was the half-time show featuring geriatric rockers Tom Petty & The Pacemakers.
Now, I love Tom Petty. Last Dance with Mary Jane.... but the poor guy is old. He has no energy left. When he sang, "I won't back down" I thought he might fall down. Tom Petty won't back down because he knows he won't be able to get back up. Again, I love Tom Petty. But he's not a good choice for a Super Bowl Half Time Show. You need a rockin' kick-@ss band! Gimme Linkin' Park, or Green Day, or Hinder.
HA HA HA! Just kidding. Hinder kicks as much @ss as a 1-legged chicken.
The singing of the National Anthem is a great Super Bowl tradition meant to honor American Idol, er, American Servicemen and women. Yeah right. It's a crappy way for FOX to promote their crappy sitcom about a dorky black guy, a surly Brit and a drunk, horny old woman.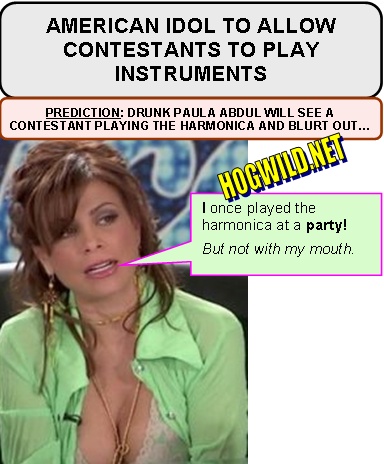 This year they had former American Idol winner Jordin Sparks. I thought she did a great job. Now, I know this is going to sound mean but that's because it is... Jordin Sparks has huge fat arms that look like turkey legs. That poor woman has turkey legs for arms! Look at them: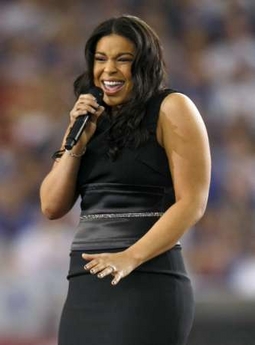 Look, Jordin Sparks is pretty and she has a great voice. And I know lots of women have difficulties with their weight... what I'm saying is that she doesn't work 9-5. All she does is sing songs. She probably has more time than the average woman to hit the gym. And she has a pretty face... I have a very creative way for Ms. Sparks to tone up and build some muscles in her arms.
MY SPECIAL HOGWILD WORK-OUT PLAN TO TONE JORDIN SPARKS' ARMS
1 - Start with your right arm. With your right hand, make the shape of the letter "C"
2 - With your left hand, unzip my pants.
3 - Stroke my romance-pole paying close attention to your form. Be certain to work your wrist, forearm and tricep.
4 - Repeat furiously.
My Super Bowl experience was amazing. See, I had booked this trip to Florida not realizing it was during the Super Bowl. But even still, I booked the trip way before I knew my New York Giants would be in it. And who would expect them to beat all the odds? So I was really worried that I'd end up in some crappy sports bar in Florida watching the game with people who are ambivalent... but no!
My friend has a friend who has this AMAZING set-up in South Beach. So I find myself heading to the outdoor courtyard of a luxury tower to watch the Super Bowl with a hundreds of people laying out on the grass looking up at a humongous screen in 75 degree weather. And I met a new girl who is a friend of my friends down here. She's really pretty and knows about football! Super cool girl. And I we're hitting it off!
Oh, and they provided free alcohol.
I'm not going to do a run-down of the commercials because they're commercials. I don't understand why people get excited for advertisements. There are plenty of other places to find comedy other than a 30 second advertisement for a crappy beer that tastes like New Jersey tap water and is weaker than Paris Hilton's will-power to turn down random man-meat.
So I'm watching the game. I'm loving it! Cheering for the Giants with my friends! I'm really into the game! Now it was outdoors. Laying in the grass. So let's get comfortable! I lay down. What's better than that?! Watching my team winning the Super Bowl, sipping some adult beverages with my friends. But that's when I was attacked by EEEEEEEE-VIL!!!!
My total 100% focus is on the game. That's when I feel something warm spraying on my arm. What the hell? I look and it's a dog! A dog is peeing on my arm!
WHAT THE F*CK!!!! A stupid little Chihuahua is marking territory on me! I was too freakin' shocked to even be angry. I look at the dog's owner. A young woman. I just look at her. She's like, "I'm sorry!" and she giggles. She doesn't even get up. She's sitting there drinking and laughing. I can't believe this sh!t! I've never been so close to wanting to squeeze an animal to death. I wanted to stomp on that stupid dog like a roach. Stupid b!tch! Not the dog, the woman! Because you know what?
It's not the dog's fault. Who the hell let's an untrained puppy off the leash around 100's of people? She didn't even reprimand the dog. She couldn't be bothered to stand up to show any real concern. She's like, "Hey, it happens."
NO! It doesn't "happen." You are an irresponsible wh0re-monger. I hope you get sodomized by a bull and get AIDS-herpe-warts on your face.
Your dog just peed on me! Offer to wash my shirt! Offer to wipe off my arm! Something! And this stupid wh0re-box keeps drinking. I wanted to offer her my own special drink where I p!ss in her cup. Serve her a rum & urine.
Man, for revenge wanted to R. Kelly that b!tch. And despite me announcing to everyone around that her dog just peed on me, you'd think this human-tampon-of-a-woman would be so embarrassed that she'd move or AT LEAST TAKE HER STUPID DOG UPSTAIRS. But no! She stays right there!
Thanks goodness I had my boys there. My friends. The people in life who have your back no matter what. My emotional support. Guys who would do anything for you. Fight for you. Always there for you... "HA HA HA HA! You got peed on!!!! Dude, I gotta whiz. I don't wanna run upstairs... can I just use your arm? HA HA HA! You got PEEEEEEEEEEEEEED on!"
The pretty girl that I like looks at me with concern and says to me, "That's a nice cologne you're wearing! HA HA HA! It's just a little too musky! What do you call it? Eau de Fire Hydrant? HA HA HA! You smell!"
You know how they say it's better to be p!ssed off than p!ssed on? I will personally confirm that for you.

But you know what? If players can break a finger and stay in the game, I can get peed on, clean up at half time and get back into the game. And I did.
It was an unbelievable game. Eli Manning pulled off a John Elway with that amazing winning drive. He should have been sacked to end the game but he breaks free! And he chucks it up and in one of the most incredible catches in Super Bowl history, the Giants come down with the ball.
The crowd watching the game was a mix of NY and Boston fans. I've never had so much fun screaming Boston sucks! And 18-1! EIGHTEEN AND ONE! The Giants upset the Perfect Patriots! The real reason the Giants won is because they kept the Patriots from scoring. And that's tough to do because the Patriots score more than Kobe Bryant in a hotel in Colorado.
Of course as soon as the game ended, I call all my Boston friends. Believe me, no one in Boston is going to answer the phone for a week. I not only called my friends leaving very tasteful messages instructing them to eat a certain male body part but I started calling random Boston numbers. "HA HA HA! Boston sucks!"
You lost, Tom Brady! You LOST! Now your supermodel girlfriend will dump you. You'll lose your endorsement contracts. The memories will make you impotent and you'll probably get dandruff.
Tom Brady, you suck! You got outplayed by Eli Manning!
Congratulations to the New England Patriots who played the best, the most impressive and the most dominating regular season in the history of the NFL. And congratulations to the New York Giants who made that 100% meaningless!
Yeah! Patriots fans, you got dogged! Oh, wait... so did I. :(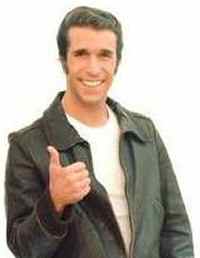 Want a kick-ass comedy show for your college or party? Email me for details.