Dating Advice: The Friend Zone: The #1 Mr. Nice Guy Mistake when Talking to Women
by me, HogWild
The #1 "Mr. Nice Guy" Mistake when Talking to Women is trying to be their friend.
No!
You are evaluating her as a potential girlfriend or boink-mate. She has to be GOOD ENOUGH for you.
OLD GRUMPY GUY: I used to have a good girl. She took care of me. We laughed together. But... she was taken from me too soon by the dreaded C word... corn chips. I came home to find her not breathing, a corn chip stuck in her throat. To this day, I can't eat a corn chip... tortilla chip, potato chip, sun chip, Kettle Chip, Dorito, Tostito, Cheeto, Cheese Puff, Cheese Doodle, Cheez-It... Bugle, Nacho, Funyun, Wheat Thin, Salty Cracker, Graham Cracker, Oyster Cracker or Pretzel.... I'm OK with popcorn.
Stop being so easily impressed by a woman with beauty but no morals.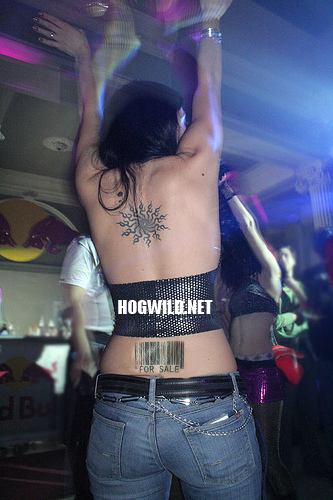 Or a girl who is pleasant but not interesting. Most women don't want a guy who is happy with anything he gets. Make her live up to a higher standard.
THE RIGHT WAY TO THINK
- She's pretty and she seems to be fun to hang out with. Let's see if she has a good heart or if she's too superficial for me.
THE WRONG WAY TO THINK
- She's sooooo pretty and I want to marry her! I don't care that she smokes cigarettes... made from dolphin ashes. She's already mentioned 2 ex-boyfriends and a guy she dated because of his oversized pleasure pole. Oh man, I would do ANYTHING for her! I'd even help her move! Her bowels! She probably makes pretty little poops that look like tiny chocolate chips!
Stop TRYING so hard to find cute little things in common. Stop TRYING so hard to get her to like you. Stop TRYING so hard to "get along" with her. Stop TRYING SO HARD!
HogWild's Words of Wizdum: Don't try to impress. BE impressive.
The first thing you must do is get her ATTRACTED to you. Watch my videos on this.
If the first thing you do is MAKE FRIENDS with her, then how can you get upset when she wants to be friends?!
SHOW her your awesomeness! You are confident. You are a leader. You are going somewhere in life. You are NOT boring. You are adventurous, or artistic, or funny or sexy or very interesting.
You are well-groomed and well-adjusted. You would not hurt her. You are trustworthy.
And the most important thing to show her is that you have...
This is taken from my Premium Members section where I post my new videos.
Here are some more tips, but only Premium Members get the entire video + access to over 500 full dating and relationship videos in the Video Vault!
- Don't be so easily impressed.
- Mr. Nice Guy tries to be cool enough to hang out with her. That's wrong. One super simple sentence to memorize that changes everything is...
Only Premium Members have access to this Video!
1 - Learn more about the Premium Membership
or
2 - You realize Life is Short, get the relationship you deserve and Join Now!
Need one-on-one coaching? Contact
Dating Coach
HogWild for help!
Latest HogWild Dating Advice


Click here to Get Greater Dating Confidence + Increase your Relationship Skills
"The most important part of any relationship... is choosing the right person... in the first place." - HogWild
With your Premium Membership, I'll show you WHY that is true... and HOW to choose the right person for you.
HogWild's dating advice and comedy has been viewed by over 2 million people on YouTube. They have written thousands of positive comments thanking him for his coaching.
He has won awards for his outstanding teaching abilities and stand-up comedy and has been featured on PBS, Mad Magazine, Clear Channel Radio and more!
He has premium members learning from his dating advice from all over the globe including the United States, United Kingdom, Germany, Denmark, Ireland, Egypt, Mexico, Australia, and Canada. Yes, even Canada! :)
Become a paid member and you get INSTANT access to over 500 dating advice videos that will help you answer such questions as...
"How to be mega-confident"
"How can I become more desirable?"
"How to conquer the Fear of Rejection"
"How to Approach"
"How to get hotter sex"
"How to read the secrets of body language to know if someone REALLY likes you"
"How to keep a person loyal to you"
"How to tell a story so it increases attraction to you"
"4 Great Places to Meet your next Girlfriend/Boyfriend"
"How to Get over your Ex. Completely."
"How Flirt Effectively"
"How to Destroy Negative Thoughts"
"How to Immediately Screen out the Psychos"
"#1 Mistake that makes Conversations with new People Boring"
"7 Ways you are being Unattractive"
"8 Tips for the first time you have sex with a person of the sexy sex"
"How to deal with being hurt"
"How to bring out your inner-awesome"
And so much more!
You will finally feel control over your dating life and you will get the relationship you really want.
HogWild's dating advice makes it easy!
Become a member and get INSTANT access to the videos that will change your love life forever!
***