Dating Advice: Should you ask if she has a boyfriend?
by me, HogWild
You're talking to a lovely lady with luscious lips, long legs, and lively lashes when it hits you. Am I investing all this time and energy into a woman who is already taken?!
No!!!!!
This is the worst thing that has ever happened! I might be wasting my time speaking with a beautiful woman! A woman who is unavailable! How could this have happened!
Should you ask if she has a boyfriend?
It depends.
When to ask and when NOT to ask if the woman has a boyfriend...
Step 1: ALWAYS and I mean ALWAYS look to see if she's wearing a wedding ring or engagement ring. Not every married or engaged woman wears a symbol of commitment but many do. By simply LOOKING, you can save yourself a lot of time.
THINGS YOU WANT TO SAVE
- money
- time
- a hippie hamster hooked on pot and tie-dye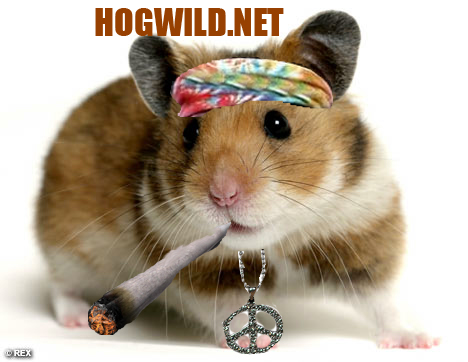 - leftovers from the restaurant but you don't want your date to think you're cheap and you don't want to carry it around all night but it's a SIN to waste food... DAMMIT! Why can't they invent restaurant delivery service for left-overs!
YOU (on the phone): Yes, I'd like to order that half-eaten quesadilla and 7 tortilla chips that I couldn't finish earlier this evening. Oh, and I believe there also remained three-fourths of a glass of a ginger ale.
HINT: Some young women (mainly teenage girls) wears rings on the engagement finger because to them it's obvious that they are not getting married any time soon. And some very beautiful women wear a ring on this finger to deter boring guys from bothering them.
If she has a ring on her commitment finger, you can take her hand and say, "That's a beautiful ring. Are you married?"
HER: A ring on my finger doesn't mean I'm married. These dark rings under my EYES indicate marriage!
haha
OK, for real...
YOU: Are you married?
HER: Yes.
YOU: Is it serious?
HER: hahha I hope so!
DON'T ASK IF SHE HAS A BOYFRIEND IF...
You are the type of guy who doesn't CARE if she's in a relationship because you feel like she's only with some dude because she hasn't met YOU yet... then there is no need for you to ask. You have nothing to gain.
If you intend to take that girl because you can treat her better or because you WANT her... it's better to assume she DOES have a man and this is an objection you will need to overcome.
HER: Ya know, I've really enjoyed flirting with you for the previous 14 days but I think you should know that actually, I have a boyfriend.
YOUR BRAIN: You stupid dumb skankasaurus, I should twist your nipples with sandpaper! AHHH!!!!
YOUR MOUTH: Oh? I understand. We can be discreet. I won't tell him if you don't.
*DO* ASK IF SHE HAS A BOYFRIEND RIGHT AWAY IF...
You are the type of guy who does not want to waste one minute with a girl who is taken.
But if you have just a little bit of intelligent patience then...
DO *NOT* ASK UNTIL...
This is taken from my Premium Members section where I post my new videos.
Here are some more tips, but only Premium Members get the entire video + access to over 500 full dating and relationship videos in the Video Vault!
- If she's showing that she's attracted to you and she tells you she has a boyfriend... then she probably does.
- If she really does have a boyfriend, then here is exactly what to say...
Only Premium Members have access to this Video!
1 - Learn more about the Premium Membership
or
2 - You realize Life is Short, get the relationship you deserve and Join Now!
Need one-on-one coaching? Contact
Dating Coach
HogWild for help!
Latest HogWild Dating Advice


Click here to Get Greater Dating Confidence + Increase your Relationship Skills
"The most important part of any relationship... is choosing the right person... in the first place." - HogWild
With your Premium Membership, I'll show you WHY that is true... and HOW to choose the right person for you.
HogWild's dating advice and comedy has been viewed by over 2 million people on YouTube. They have written thousands of positive comments thanking him for his coaching.
He has won awards for his outstanding teaching abilities and stand-up comedy and has been featured on PBS, Mad Magazine, Clear Channel Radio and more!
He has premium members learning from his dating advice from all over the globe including the United States, United Kingdom, Germany, Denmark, Ireland, Egypt, Mexico, Australia, and Canada. Yes, even Canada! :)
Become a paid member and you get INSTANT access to over 500 dating advice videos that will help you answer such questions as...
"How to be mega-confident"
"How can I become more desirable?"
"How to conquer the Fear of Rejection"
"How to Approach"
"How to get hotter sex"
"How to read the secrets of body language to know if someone REALLY likes you"
"How to keep a person loyal to you"
"How to tell a story so it increases attraction to you"
"4 Great Places to Meet your next Girlfriend/Boyfriend"
"How to Get over your Ex. Completely."
"How Flirt Effectively"
"How to Destroy Negative Thoughts"
"How to Immediately Screen out the Psychos"
"#1 Mistake that makes Conversations with new People Boring"
"7 Ways you are being Unattractive"
"8 Tips for the first time you have sex with a person of the sexy sex"
"How to deal with being hurt"
"How to bring out your inner-awesome"
And so much more!
You will finally feel control over your dating life and you will get the relationship you really want.
HogWild's dating advice makes it easy!
Become a member and get INSTANT access to the videos that will change your love life forever!
***