Dating Advice: How to Make a Girl Want You by Leaving Her Wanting More
by me, HogWild
Guys, this is an easy tip that will help get a girl to like you: Leave her wanting more.
NERD BOY: Leave her wanting more WHAT? More awkward social interaction? Because there's plenty more where THAT came from baby!
Leave her wanting more of all the good stuff... the laughs, the sex, the comfort, the fun. Don't let her get too used to you. Don't let her take you for granted. Don't let her get bored of you. Leave at the top.
But how?
As a stand-up comedian, I've learned that it's best to leave on a big laugh and say thanks I've got to go! The best crowd reaction is laughter followed by, "Aw! Don't go!"
The worst reaction is, "Well alright! See ya then!"
Great Rock bands do the same at their concerts. They give you an amazing show that seemed to fly by and then they shout, "Good night!"
They leave the stage and the crowd demands, "Encore! More! We want more Flaming Gall Bladders!!!"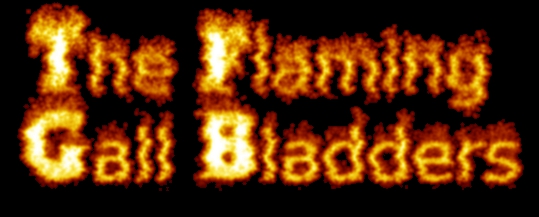 Then they might come out to give one last hurrah.
Even the best things wear thin. So to get a woman to like you, learn how to exit at the right time.
RIGHT TIME TO EXIT
HER: HAHAHA! You are the funniest human life-form in the universe! And you are so intelligent that my lady-parts are tingling!
WRONG TIME TO EXIT
HER: Wow. I can't believe you just mocked me for grieving over the death of my dog.
YOU: Dude, I wasn't MOCKING you. I just pointed out how it's INTERESTING that your dog was named Gus and got hit by a bus. Usually you don't die from a cause that rhymes with your name. It's like if Santa's reindeer Prancer died of Cancer.
HER: O.M.G!!!
YOU: Ya know, Mark eaten by a shark. You have to admit, that's kinda funny! Tony choked on baloney. Your dog Gus squished by bus. See, it's like a theeeeeeeeme.
HER: <glare of death>
YOU: OK, seems like a good time for me to go.
You should be the first to end the phone conversation or hang out time. If you've been talking for a good amount of time or hanging out, here is exactly how to leave her wanting more in a smooth way...
This is taken from my Premium Members section where I post my new videos.
Here are some more tips, but only Premium Members get the entire video + access to over 500 full dating and relationship videos in the Video Vault!
- Leaves her wanting more to get her thinking about you.
- This is how you get a girl mega-attracted to you -- by getting in her THOUGHTS. You want her thinking about you all the time. And here is a technique that works like crazy...
Only Premium Members have access to this Video!
1 - Learn more about the Premium Membership
or
2 - You realize Life is Short, get the relationship you deserve and Join Now!
Need one-on-one coaching? Contact
Dating Coach
HogWild for help!
Latest HogWild Dating Advice


Click here to Get Greater Dating Confidence + Increase your Relationship Skills
"The most important part of any relationship... is choosing the right person... in the first place." - HogWild
With your Premium Membership, I'll show you WHY that is true... and HOW to choose the right person for you.
HogWild's dating advice and comedy has been viewed by over 2 million people on YouTube. They have written thousands of positive comments thanking him for his coaching.
He has won awards for his outstanding teaching abilities and stand-up comedy and has been featured on PBS, Mad Magazine, Clear Channel Radio and more!
He has premium members learning from his dating advice from all over the globe including the United States, United Kingdom, Germany, Denmark, Ireland, Egypt, Mexico, Australia, and Canada. Yes, even Canada! :)
Become a paid member and you get INSTANT access to over 500 dating advice videos that will help you answer such questions as...
"How to be mega-confident"
"How can I become more desirable?"
"How to conquer the Fear of Rejection"
"How to Approach"
"How to get hotter sex"
"How to read the secrets of body language to know if someone REALLY likes you"
"How to keep a person loyal to you"
"How to tell a story so it increases attraction to you"
"4 Great Places to Meet your next Girlfriend/Boyfriend"
"How to Get over your Ex. Completely."
"How Flirt Effectively"
"How to Destroy Negative Thoughts"
"How to Immediately Screen out the Psychos"
"#1 Mistake that makes Conversations with new People Boring"
"7 Ways you are being Unattractive"
"8 Tips for the first time you have sex with a person of the sexy sex"
"How to deal with being hurt"
"How to bring out your inner-awesome"
And so much more!
You will finally feel control over your dating life and you will get the relationship you really want.
HogWild's dating advice makes it easy!
Become a member and get INSTANT access to the videos that will change your love life forever!
***
This article is for people who need help with:
how to attract women
how to get a woman to like you
how to get a girl to like you
how to get a girl
how to make a girl like you
how to make a woman want you
how to make her want you
make women want you
how to make a woman like you
how to make a girl want you
make girl want you
how to make women like you