Dating Advice: How to Talk Dirty with Sexy Commands
by me, HogWild
Oh snap! We're about to get raw like a vegan diet... except with extra beef. Mixed with noodles. And soup. With apple pie for dessert. So grab a napkin because we're about to eat! I mean, get dirty!
Now, straight up, if you are shy in the bedroom, skip this one. Or... maybe you can do an experiment and try out this tip to see how it feels. You might surprise yourself!
Talking dirty with commands works for men and women but in different ways. Unless the woman is a dominatrix in which, case, follow the directions I give the guys. haha :)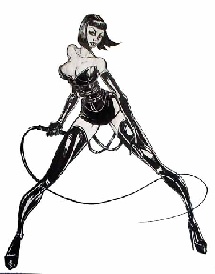 SUPER UGLY FAT GIRL: I used to work as a sexy dominatrix.
REDNECK GUY: Yee-ha! You're confused, fattie! A dominatrix wears leather. When YOU wear that much leather, it because you're a cow! Moooooo-ha!
Guys, this will NOT work if you are passive in bed and you have sex like a timorous butterfly landing on a silky tulip.
No, this is for when you are DOMINATING. Watch video #422: How to have dominant sex with a girl for tips.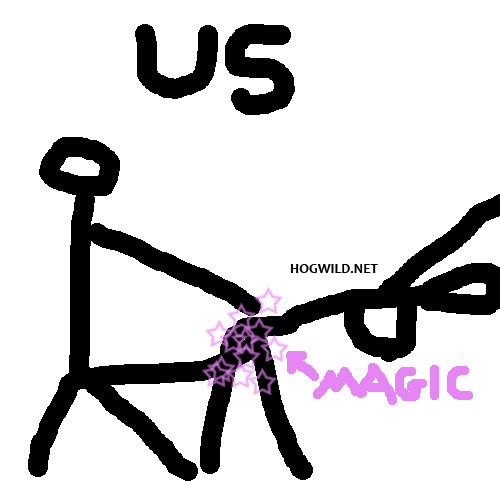 In this style of sex, you are in CHARGE. You are the man. Remember, it is ALL to give her pleasure. This is NOT selfish sex. This is GIVING. You are with a girl who TRUSTS you and enjoys the thrill of surrendering her body to you.
SUPER UGLY FAT GIRL: Yes, take me! I'm surrendering my body to you.
REDNECK GUY: Yeeha! Even France didn't surrender THAT much real estate! Yeeee-French-jokes!
When you are inside of her and she's getting close to orgasming, look dead in her eyes, and say, "C*m for me. Now." Say her name and TELL her to c*m for you. Say, "Be a good girl and c*m for me. Let it go. I know your little hoo-ha needs to c*m. I can feel it."
HINT: Do not call her vagina a "hoo-ha". It's best if you call it something sexy like her fun dip. Or love sleeve. Or Clitasaurus Rectumus.
DOUBLE HINT: Never call it a Tuna Tunnel. That's disgusting!
Awwwwww hahaha
Command her by using a serious tone of voice.
Such as, "Get on your back for me." Or, "bend over." Or, "slurp on my pleasure pole. Slurp it! Lather my gonads with the mucous membranes inside your respiratory passage!"
Girls, your feminine version of this is more of a supportive adoration. When he's close to shooting his white gold, say, "That's it. Give me that white gold. I want it. Please. I NEED it. Export your white gold onto my mammary duct terminals!
HIM: Ummmm, what now?
YOU: My nipples!
HIM: Oooooh, I like nipples!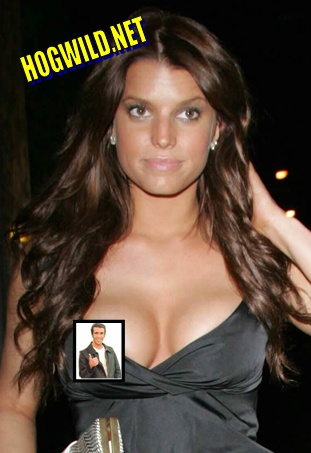 Girls, encourage your guy. Tell him how much you like what he's doing. Unless he's accidentally crushing your windpipe with his shoulder. Then gently remind him of your need to breathe by screaming in his ear or by sticking him in the ribs with a #2 pencil.
REALLY drive him wild with dirty talk like...
This is taken from my Premium Members section where I post my new videos.
Here are some more tips, but only Premium Members get the entire video + access to over 500 full dating and relationship videos in the Video Vault!
- Guys, be in charge yet also sensitive to what brings her pleasure. Listen and watch carefully to her reactions.
- Women, if you want to experience a powerful orgasm, you should NEVER...
Only Premium Members have access to this Video!
1 - Learn more about the Premium Membership
or
2 - You realize Life is Short, get the relationship you deserve and Join Now!
Need one-on-one coaching? Contact
Dating Coach
HogWild for help!
Latest HogWild Dating Advice


Click here to Get Greater Dating Confidence + Increase your Relationship Skills
"The most important part of any relationship... is choosing the right person... in the first place." - HogWild
With your Premium Membership, I'll show you WHY that is true... and HOW to choose the right person for you.
HogWild's dating advice and comedy has been viewed by over 2 million people on YouTube. They have written thousands of positive comments thanking him for his coaching.
He has won awards for his outstanding teaching abilities and stand-up comedy and has been featured on PBS, Mad Magazine, Clear Channel Radio and more!
He has premium members learning from his dating advice from all over the globe including the United States, United Kingdom, Germany, Denmark, Ireland, Egypt, Mexico, Australia, and Canada. Yes, even Canada! :)
Become a paid member and you get INSTANT access to over 500 dating advice videos that will help you answer such questions as...
"How to be mega-confident"
"How can I become more desirable?"
"How to conquer the Fear of Rejection"
"How to Approach"
"How to get hotter sex"
"How to read the secrets of body language to know if someone REALLY likes you"
"How to keep a person loyal to you"
"How to tell a story so it increases attraction to you"
"4 Great Places to Meet your next Girlfriend/Boyfriend"
"How to Get over your Ex. Completely."
"How Flirt Effectively"
"How to Destroy Negative Thoughts"
"How to Immediately Screen out the Psychos"
"#1 Mistake that makes Conversations with new People Boring"
"7 Ways you are being Unattractive"
"8 Tips for the first time you have sex with a person of the sexy sex"
"How to deal with being hurt"
"How to bring out your inner-awesome"
And so much more!
You will finally feel control over your dating life and you will get the relationship you really want.
HogWild's dating advice makes it easy!
Become a member and get INSTANT access to the videos that will change your love life forever!
***
This article is for people who need help with:
How to Talk Dirty with Sexy Commands