Dating Advice: Conversation Skills for How to Talk to Women: Be Alpha with Your Comments
by me, HogWild
Too many guys are kissing butt in their conversation with girls, trying to be their friend. We already know you must ATTRACT a woman first. Yes, be friendly, but not a suck-up. Be a MAN. Be strong.
Like grapefruit juice. And not the pink kind! The yellow grapefruit that when you slice into it, a tiny spec flies into your eye, blinding you for weeks!
One way to do that is make comments about her and her personality.
YOU: Isn't judging bad?
It CAN be. Your job is not to "judge" her in a supercilious way, it's to judge her favorably but only when she deserves it.
AN EXAMPLE OF A COMMENT
HER: I really enjoy trying new foods. It's fun.
YOU: I like that about you! You're adventurous! My last girlfriend was fun but she was kinda hesitant to eat exotic foods and try new things. Tell me an unusual food you've tried.
OK, so what happened here? Most guys just ask, What kind of new foods? Or they jump into THEIR story of trying a new food. That's fine. But this is also a PRIME opportunity to COMMENT on her personality.
Remember, only be sincere. If you think it's cool that she tries new foods, tell her! But not just the THING... tell her what it says about HER as a PERSON. In the comment I said, I like that about you! You're adventurous!
Now she knows I find that aspect of her personality attractive AND... I've labeled her. A lot of people try to live up to the positive labels you stick on them.
NERD BOY: It's true! That's why every day I work hard to be a dork. Some people think it's a put down, but my Grandma wouldn't do that! It's good to be a dork! The letters in dork stand for, Definitely Original Really Kewl. That's right, I spelled Cool with a K. K-E-W-L. Kewl! I spelled it the "kewl" way! Or is it the dorky way? Hmm, sometimes I get cool and dorky confused.
She will now search internally for ways to show me she's adventurous. If she's liking me so far, her attraction to me is INCREASED because most humans tend to like those who like them.
I don't just like her because she's pretty. I gave her a real reason.
Boobies! Woo-hoo! Boobies!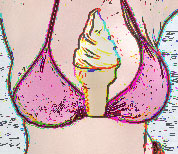 No! If a girl has you won simply by her LOOKS, then you lost. She must WIN YOU with her personality. Her looks will INTEREST YOU. Obviously. But it should take more than that.
Like her booty! Woo-hoo! Booty!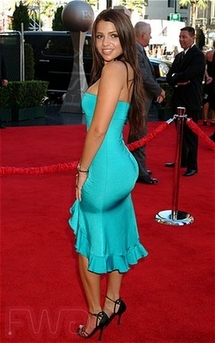 When talking to a woman, ask yourself, "What's cool about this girl?
Her boobies!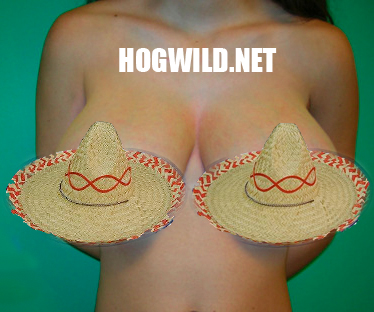 What's interesting about this girl?
When she speaks on a topic she's passionate about, the way she takes a deep breath and that brings up her BOOBIES!
What's unique about this girl?
She's got boobies!
Then comment on it.
You got nice boobies!
HER: The next trip I want to take is to Thailand. I really love elephants and there you have a chance to ride them and learn about them. They're my favorite animal.
YOU: Oh that's awesome! That's cool that you're so into elephants. Most people would say their favorite animal is a dog or cat. You're unique. I like that. You seem different from most of the women I meet. Tell me, what is it about elephants that you love so much?
See how you judge her in a GOOD way? Now she will look for MORE of your approval.
This puts you in the alpha position of the relationship. It takes the assumption that you are the dominant one to make statements that judge her personality and tastes.
This is not a bad thing or a jerk thing because you're only commenting on things you really do like. What you're doing is subtlety letting her know that you're analyzing her.
HER: Ouch!
NERD BOY: Sorry! I had to pluck one of your hairs to analyze you in the lab! Now if you wouldn't mind, please go into the restroom with this test tube.
Not that kind of analyzing!
You have your choice of women and you're DECIDING if she's cool enough to hang out with you.
Because if you're judging her favorably, she starts to think of you like...
This is taken from my Premium Members section where I post my new videos.
Here are some more tips, but only Premium Members get the entire video + access to over 500 full dating and relationship videos in the Video Vault!
- Another example is: "Ya know what I like about you? You're your own woman. You do what you feel. I respect that about you."
- Here are 3 more examples of comments you can say when you talk to women, but beware of this very common #1 mistake guys make when doing this...
Only Premium Members have access to this Video!
1 - Learn more about the Premium Membership
or
2 - You realize Life is Short, get the relationship you deserve and Join Now!
Need one-on-one coaching? Contact
Dating Coach
HogWild for help!
Latest HogWild Dating Advice


Click here to Get Greater Dating Confidence + Increase your Relationship Skills
"The most important part of any relationship... is choosing the right person... in the first place." - HogWild
With your Premium Membership, I'll show you WHY that is true... and HOW to choose the right person for you.
HogWild's dating advice and comedy has been viewed by over 2 million people on YouTube. They have written thousands of positive comments thanking him for his coaching.
He has won awards for his outstanding teaching abilities and stand-up comedy and has been featured on PBS, Mad Magazine, Clear Channel Radio and more!
He has premium members learning from his dating advice from all over the globe including the United States, United Kingdom, Germany, Denmark, Ireland, Egypt, Mexico, Australia, and Canada. Yes, even Canada! :)
Become a paid member and you get INSTANT access to over 500 dating advice videos that will help you answer such questions as...
"How to be mega-confident"
"How can I become more desirable?"
"How to conquer the Fear of Rejection"
"How to Approach"
"How to get hotter sex"
"How to read the secrets of body language to know if someone REALLY likes you"
"How to keep a person loyal to you"
"How to tell a story so it increases attraction to you"
"4 Great Places to Meet your next Girlfriend/Boyfriend"
"How to Get over your Ex. Completely."
"How Flirt Effectively"
"How to Destroy Negative Thoughts"
"How to Immediately Screen out the Psychos"
"#1 Mistake that makes Conversations with new People Boring"
"7 Ways you are being Unattractive"
"8 Tips for the first time you have sex with a person of the sexy sex"
"How to deal with being hurt"
"How to bring out your inner-awesome"
And so much more!
You will finally feel control over your dating life and you will get the relationship you really want.
HogWild's dating advice makes it easy!
Become a member and get INSTANT access to the videos that will change your love life forever!
***
This article is for people who need help with:
how to talk to women
conversation topics
conversation skills
how to talk to girls
how to make conversation