Relationship Sex Problems: How to Talk about Sex with Your Boyfriend or Girlfriend
by me, HogWild
K in Indianapolis writes...
Dear Hog,
I asked my boyfriend to tell me what he REALLY wants to try in bed. I was SHOCKED to hear that... he really doesn't know!
WTF?!
I have never heard that before! Most guys will suggest a BJ or sex in the shower or somewhere public or something along those lines! He said he just wants to keep trying all kinds of things to find out what he likes!
I am OK with that except I do try lots of things and he rarely makes any sound at all until it's finished.
HOG: Hmm... so he's like the microwave.
YOUR MAN: Hmmmmmmmm... DING! Dinner is served! hahha
I have told him I like noise or some indicator that he loves something I am doing!
I guess I will just enjoy going crazy slowly on him and try to watch his reactions.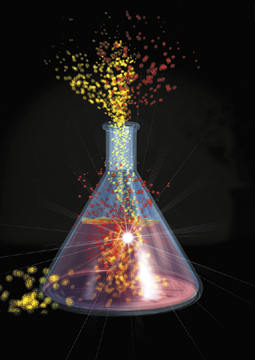 I gotta admit that I feel lucky because he somehow has managed to be a confident and great lover despite a very limited amount of practice with other people! What do you think?
- K in Indianapolis
Almost every human has some sexual fantasy. Some are modest and some are way out there.
Could your guy be the one who has never thought of it?
Yes, he is pure of mind and heart. And the first time he entered you, he wept. And he cried, "It's so beautiful, inside your LADY-HOLE."
hahaha
One possibility is that he is ashamed of his fantasies. Or embarrassed.
Not everyone is comfortable letting you know that they're turned on by you dressing up in lingerie and the clown-face make-up of a popular fast food mascot.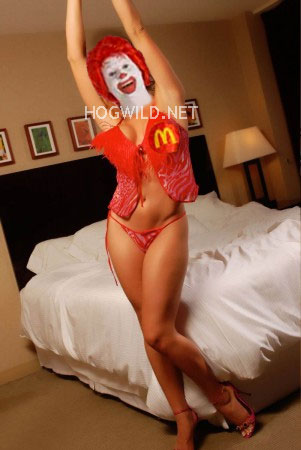 Or it could be that he's trying to protect your feelings.
And maybe it's better that way!
Do you REALLY want to know if his real fantasy is something that would gross you out? Or make you feel uncomfortable?
GUY WHO SELLS MEAT FROM THE BACK OF HIS TRUCK: Hey, I sell meat from the back of my truck and my sexual fantasy is a female lady friend stripping me down to my Army camo g-string and pouring steak sauce all over my well cushioned hairy body and slapping me with a hot spatula. Ow!

Or maybe it's something he fears will cause you to judge him.
NERD BOY: My fantasy is role-playing the discovery of the ancient Rosetta Stone and being the first to translate the Egyptian hieroglyphs... Oh, I thought he said TEXTUAL fantasy!
REDNECK: Yeeha! That's so g@y I think you're a HOMOtextual! A REAL man's sexual fantasy is to be with two women at once, neither of whom are related to him! That ain't happen for me yet, but it's my goal once I break up with my cousin! Yee-my-gene-pool-is-too-shallow-to-have-a-diving-board!
Watch video #554 Do you have to tell your relationship partner everything?
SOMEWHAT COMMON SEX FANTASIES MEN HAVE THAT MIGHT WEIRD YOU OUT...
This is taken from my Premium Members section where I post my new videos.
Here are some more tips, but only Premium Members get the entire video + access to over 500 full dating and relationship videos in the Video Vault!
- As for "indicators" just tell him what you like. If you want to know when he's about to squirt from his big sperm worm -- hahah sperm worm -- then say, "Baby, it gets me REALLY hot to know when you're about to orgasm. Tell me right before it happens. Please."
- One way to find out what he likes is to talk dirty during sex and describe a very common fantasy so he can picture it while you two do the sticky-squishy-fishy-flop-dance.
Just say, "Imagine it's a hot summer day and we're out in the forest. No one is around. And you look at me and you want me. I say, "No, we shouldn't" but you're going to take me anyway.
You push me up against a tree and kiss me passionately. I want to resist but I can't. You feel too good. You press against me and I feel your rock hard romance rod. I slowly drop down to my knees and...
Only Premium Members have access to this Video!
1 - Learn more about the Premium Membership
or
2 - You realize Life is Short, get the relationship you deserve and Join Now!
Need one-on-one coaching? Contact
Dating Coach
HogWild for help!
Latest HogWild Dating Advice


Click here to Get Greater Dating Confidence + Increase your Relationship Skills
"The most important part of any relationship... is choosing the right person... in the first place." - HogWild
With your Premium Membership, I'll show you WHY that is true... and HOW to choose the right person for you.
HogWild's dating advice and comedy has been viewed by over 2 million people on YouTube. They have written thousands of positive comments thanking him for his coaching.
He has won awards for his outstanding teaching abilities and stand-up comedy and has been featured on PBS, Mad Magazine, Clear Channel Radio and more!
He has premium members learning from his dating advice from all over the globe including the United States, United Kingdom, Germany, Denmark, Ireland, Egypt, Mexico, Australia, and Canada. Yes, even Canada! :)
Become a paid member and you get INSTANT access to over 500 dating advice videos that will help you answer such questions as...
"How to be mega-confident"
"How can I become more desirable?"
"How to conquer the Fear of Rejection"
"How to Approach"
"How to get hotter sex"
"How to read the secrets of body language to know if someone REALLY likes you"
"How to keep a person loyal to you"
"How to tell a story so it increases attraction to you"
"4 Great Places to Meet your next Girlfriend/Boyfriend"
"How to Get over your Ex. Completely."
"How Flirt Effectively"
"How to Destroy Negative Thoughts"
"How to Immediately Screen out the Psychos"
"#1 Mistake that makes Conversations with new People Boring"
"7 Ways you are being Unattractive"
"8 Tips for the first time you have sex with a person of the sexy sex"
"How to deal with being hurt"
"How to bring out your inner-awesome"
And so much more!
You will finally feel control over your dating life and you will get the relationship you really want.
HogWild's dating advice makes it easy!
Become a member and get INSTANT access to the videos that will change your love life forever!
***
This article is for people who need help with:
relationship sex issues
relationship sex problems
sex problems
communicating about sex
how to talk about sex with your boyfriend
how to talk about sex with your girlfriend
how to talk about sex with your partner
bedroom problems