Relationship Problems: Feeling Resentful Because I Give Too Much
by me, HogWild
A common relationship problem is when one partner feels resentful.
"I've been doing and doing and you don't give back! You're not a give-backer! It's supposed to be I scratch your back and you scratch my mine! Not I scratch your back and you scratch your ass!
"You're taking me for granted! You SHOULD be taking me to the Awesome Store and buying me a freakin' trophy!"

People give in different ways. You might not value THEIR gifts the same way.
Maybe you give the gift of flowers and they give the gift of patience. Or the gift of being in great shape for you. Maybe that means nothing to you but you think your flowers should be cherished.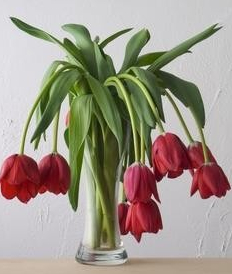 Your partner might very well be selfish. OK, then you're stupid to keep giving to them. Your partner might not really WANT what you're giving. In which case, you're clueless. Your partner might think what you're giving is nice but not worth the effort you're putting into it, in which case, stop it.
But even bigger than all that, ask yourself, are you giving to get? Are you manipulating?
Giving without expecting something back can make you feel good. Giving with silent expectation will make you feel bitter and unappreciated.
YOU: OK, I'll spend all weekend at that dumb event with those stupid people I don't like but I expect back massages and oral delight! If I don't get it, then I'll be mad! But I won't say anything out loud about my expectations. Mwu-hahaha!
If you want something in return, state that upfront. Your partner can not read your mind even on the "simplest" things.
If you cook for your partner and you expect in return they will set the table and clean the dishes, you must say this.
YOU: But it's obvious!
No, it's not!
Maybe in their mind it's a fair trade that they worked hard at their job to pay for those groceries and that's their contribution.
Is that fair? You two have to decide as a couple what is "fair" and what makes you both feel loved and appreciated.
Here's how to do that...
This is taken from my Premium Members section where I post my new videos.
Here are some more tips, but only Premium Members get the entire video + access to over 750 full dating and relationship videos in the Video Vault!
- Some people give and give then complain, "I'm so unappreciated!" That's because you're giving to get. It's your fault.
You're not a saint. You're trying to get something with your gifts. So it's like you're paying money to a merchant for a product when you have no idea of its price or if it's even for sale!
- If what you're giving feels like work, then tell them exactly what you want in exchange. Or know this work is worth it because it's strengthening your relationship.
- Beware of this dangerous TRAP that many giving people fall into when they're in a relationship...
Only Premium Members have access to this Video!
1 - Learn more about the Premium Membership
or
2 - You realize you've been making the same mistakes or not knowing what to say or do all these years! You can get a one-month subscription for the price of a night at a bar. To you, the cost is worth it since it will actually help you get what you want. Join Now!
Need one-on-one coaching? Contact
Dating Coach
HogWild for help!
Latest HogWild Dating Advice


Click here to Get Greater Dating Confidence + Increase your Relationship Skills

Become a paid member and you get INSTANT access to over 500 dating advice videos that will help you answer such questions as...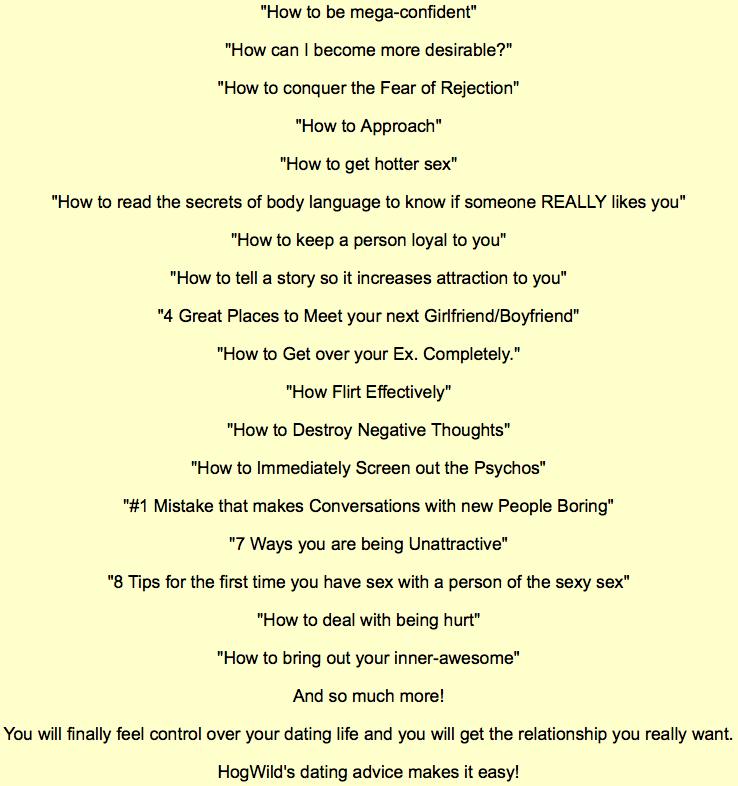 Become a member and get INSTANT access to the videos that will change your love life forever!
***






This article is for people who need help with:
how to get a girlfriend
how to get a wife
how to get a husband
how do I get a girlfriend
how to attract women
how to get a woman to like you
how to get a girl to like you
how to get a girl
how do you get a girl to like you
how to get the girl you want
how to get girls
how to make a girl like you
how to make a woman want you
how to make her want you
make women want you
how to make a woman like you
how to make a girl want you
make girl want you
how to make women like you