JUSTIN: Weíre 2 games into the World Series and way the Boston Red Sox are playing I figured that Iíd better hammer out a quick column before itís over.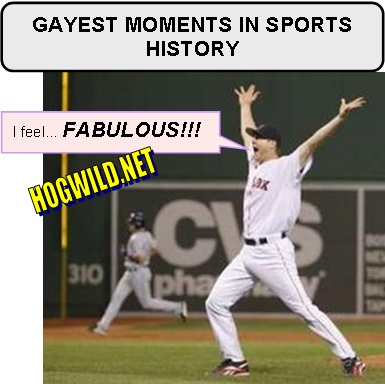 HOG: It's not over! The Rockies will win the next 4 games in a row to win the World Series! And while I'm making bold predictions, I say that the next President of the United States of America will be Al Gore!
I know he didn't even announce his candidacy, but I think so many people are finally scared about Global Warming that he will be the 1st President to win via write-in votes when he's not even running!
Because the real terrorists aren't in the Middle East... the REAL terrorist is... the Sun.
We must bring the Sun to justice!
JUSTIN: Each night FOX gives you 6 - 17 hours of pre-game breakdown, so Iím going to focus today on the team that nobody knows about. Thatís right, the Texas RangersÖwait I mean, the Colorado Rockies.
HOG: I will make 1 more bold prediction: The next time (and first time) your Texas Rangers participate in a World Series, fans will travel to the game and complain about the bumper-to-bumper hovercraft traffic.
JUSTIN: I know what most of you are thinking, ďColorado has a baseball team?Ē Yes, yes they do.

ďItís not that chick team the Coors Light Silver Bullets is it?Ē No.

ďItís a triple-A team isnít it?Ē No, damn it. Itís a real major league baseball team, now stop with all the questions.

Sorry about that I got carried away for a moment.
HOG: I remember when the Colorado Rockies were first invented. I was in high school. They had these new cool looking uniforms: black and purple. In the Bronx where I grew up, it was the style to wear jerseys and hats of new teams or unusual teams with cool colors. So I wore a black Rockies jersey with my Rockies hat with my black and purple Nike sneakers! Damn, I was p!mp!
Then the next day I would sport a Florida Marlins jersey with the teal hat and my purple and black sneakers! Not p!mp! I couldn't afford another pair of sneakers to match.
Speaking of sneakers, where I grew up, thugs would steal your new sneakers off your feet. For real. So I had a plan.
THUG: Run your sneakers, punk!
ME: I would love to hand you the shoes off my feet, but they're not your size, sir.
THUG: What size are you?
ME: Here look.
Then I point down to my sneaker like I'm going to show him the size number on the inside of the tongue. Then he starts to look down. That's when I kick him in the face and run like hell.
Come to think of it, most of my plans include the key component of "run like hell."
I know that's how I broke up with my little girlfriend back as a teenager. I was so scared of her!
MY PLAN TO BREAK-UP WITH GIRLFRIEND AT AGE 13
1 - Tell her I'm sorry but I don't like her anymore.
2 - Look sad.
3 - Run like hell!
MY PLAN TO BREAK-UP WITH GIRLFRIEND AT AGE 33
1 - Have a mature conversation regarding the issues in our relationship.
2 - Go to the bathroom. Open the window.
3 - Run like hell!
MY PLAN TO BREAK-UP WITH GIRLFRIEND AT AGE 93
1 - Calmly tell her my feelings have changed.
2 - Tell her I'd like to still be friends and give her a butterscotch candy.
3 - Roll my wheelchair like hell!
JUSTIN: Anyway, this year's 2007 Colorado Rockies may be down 2 games to 0 to the team with the second largest payroll in baseball but donít count them out just yet.
Even though out of the last 11 road teams to trail a series 0-2 none have come back to win, the Rockies are not just any ordinary team.
For one let's look at how they got into the playoffs. Trailing by 4 Ĺ games in the wild card on September 16th the Rockies went on to win 21 of their last 22 games, making them the Anti-Mets!
HOG: Hey! The Mets... ugh, forget it.
JUSTIN: Included in this streak was an even more impressive 7 game win streak where they swept the Philadelphia Phillies and the Arizona Diamondbacks out of the playoffs.
Unfortunately for the Rockies theyíre now facing the best team in baseball, who also happens to be hotter than nude photos of Jessica Alba*
*Donít bother Googling this perverts, they donít exist.
HOG: Dang it! Double-dang it! Why is it that only nasty skanky celebrity chicks show off their hoo-ha's?!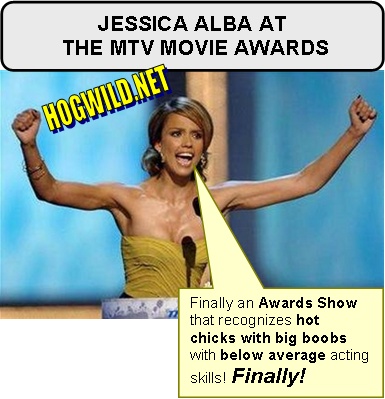 JUSTIN: The 2nd thing that the Rockies have going for them is that they are going back to Coors Field which due to the thin air is known to be a launching pad for home runs. Sure the Red Sox have just as many hitters in their lineup but the fact that the games will be high scoring nullifies the Red Sox pitching which has killed the Rockies in the series so far.

So who will be launching these home runs? Good question, because most of the people watching the Series who donít live in Colorado couldnít name five players on the Rockies team.
HOG: Justin, I like how you ask a rhetorical question and then pat yourself on the back, by saying, "Good question." HA HA HA!
JUSTIN: Here are the top five players on the Rockies roster so you can cheer for them for two more games.
HOG: Whatever, dude! The Rockies will win shock everybody to win it all!
Am I on medication? Good question. But no.
JUSTIN:
1 - Matt Holliday, the Rockies left fielder and leading candidate for the National League MVP batted .340 with 36 homeruns and 137 RBI. Heís been a force for the Rockies this season and if the Rockies are to have
a chance Holliday must keep hitting!

2 - Todd Helton the 34 year old first baseman was the hero who got the game winning hit in the game against San Diego that sent the Rockies to the playoffs. Fun Fact: Helton is one of the few players in MLB who still
think goatees are cool.
HOG: Hey! Goatees are mega-awesome!
And plenty of players and people rock the goatee:
Mets slugger Carlos Delgado.

Red Sox 1st Baseman Kevin Youkilis.

Evil Knight Rider.

JUSTIN:
3 - Garrett Akins, the Rockies third baseman not only hit 25 home runs this year, but he also helped carry my fantasy baseball team to the championship game where just like the Rockies, I was soundly whipped.
HOG: You should replace the words, "Just like the Rockies" with "just like in my relationship." HA HA HA!
I'm so lonely.
JUSTIN:
4 - Brad Hawpe batted .291 and his 116 RBI were good enough for 6th overall in Major League Baseball. So far in the World Series though, Hawpe has been all hype at the plate with one hit and six strikeouts.

5 - Kazuo Matsui, the Japanese import, has been a key to the Rockies strong defense up the middle this year.
HOG: I hate Kaz Matsui! Or as I call him, Spaz Matsui! When he was on the Mets he was terrible! He was like Paris Hilton. His only talent was sucking.
JUSTIN: Now you can name five Rockies players and you are ready to cheer against the evil Boston Red Sox for two more games before Yankees fans everywhere begin slicing their wrists while watching the Sox celebrate their 2nd Championship in 4 years.
HOG: Another Red Sox would be painful. But it would add to the rivalry. It's like the Yankees are the big brother who has beat up their younger brother all his life and now the younger brother is big enough to fight back. Which reminds me:
MY PLAN TO STEAL MY NOW GROWN-UP YOUNGER BROTHER'S COOL SHIRT THAT I REALLY WANT
1 - Distract him by giving him an old-school n!pple-twister.
2 - Grab the cool shirt out of his closet.
3 - Run like hell!!!