JUSTIN: Well it's baseball season once again, which means the Rangers' jokes are back, along with the steroid jokes about the Mets and Yankees, but there's another team that's stealing headlines, the Kansas City Royals. No I'm not drunk, you heard me right, and at the moment the Kansas City Royals are relevant again. Will they go from worst to first like the Detroit Tigers did back in '06 or will they fizzle out like HogWild's pre-teen baseball career?

HOG: Ouch. Freakin' ouch.

JUSTIN: With the Royals' recent history, their current success seems about as tenuous as Britney Spears comeback on How I Met Your Mother. You see it happening and you're happy for her, but in the back of your mind you wonder how long it'll be before she's dropping off her kids at K-Fed's crib and flashing her hoo-ha for the paparazzi.
It's the same with the Royals; sure they started out 6-2 but after posting losing seasons in 13 of the last 14 seasons, fans in Kansas City have got to be waiting for them to fall out of contention like... well like the f-ing Texas Rangers do every f-ing season.

HOG: Aw! I feel so sad for you! Let me play my violin.

HOG: Dude, the Royals and Rangers should both be cut from the League. I'd trade both those entire teams for two Japanese teams to be named later.

JUSTIN: Fact: The Texas Rangers are 5-4, 1 GAME ABOVE .500, and, AND currently have a better record than the Yankees and the Mets!

HOG: Fact: I am currently ahead of you in our Fantasy Baseball League which means I know more than you about everything. So there!
JUSTIN: One of the things that has carried the Royals to their hot start has been their pitching staff that leads the league (as of this writing) with a 2.25 Earned Run Average. Not to be out-done, the Royals bullpen has also started out the season red hot with a 0.85 Earned Run Average giving up only 2 hits in 22 innings.
HOG: Yaaaaaaaaaaawn. Here's a statistic: 2.13 people reading this article care about the ERA of the Royals' bullpen. Everyone else cares about boobies: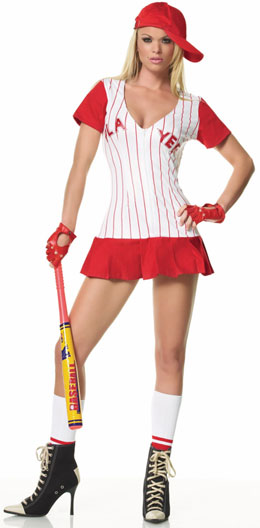 NOTE: And by "everyone else" I mean, me. :)
JUSTIN: What's even more crazy is that it's not All Stars that are shutting down the opposition but a mixture of cast-offs and prospects. Led by Gil Meche, Brett Tomko, Brian Bannister and closer Joakim Soria this group of well traveled pitchers have seen more jerseys than Alyssa Milano's night stand.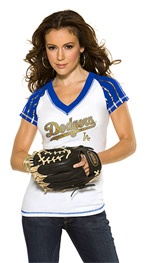 HOG: HA HA HA!
Well Brian Bannister used to be on the Mets. And the Mets stupidly traded him for some random middle relief pitcher. WHY?! Lord? WHY?!!! I hate middle relief pitchers! 99% of them suck like, well, Alyssa Milano in a Major League locker room. Starting pitchers need to go AT LEAST 7 innings. Or else the fans should BOO them for being a p*$$y.
In fact, they should make that an official stat on their baseball card. Any start under 7 innings is a PS. P*$$y Start. Except they already have a stat when a pitcher goes 6 decent innings. They call it a QS. Quality Start. What?! What kind of quality is that?!

A pitcher's job is to finish the damn game! That's like if you work in an office and you do your job from 9 am to 2 pm and then...

YOU: Boss, I'm really struggling now. I'm getting tired.
BOSS: Well, OK. I'll bring in the college intern to finish writing your reports until 5 pm. But you'd best be ready to come back to work tomorrow! Just kidding... you get your usual 4 days off to rest.

JUSTIN: The Royals offense has been carrying their weight at the plate. Led by budding third baseman Alex Gordan and rejuvenated Jose Guillen, the Royals have won six of their first eight games. I know it's early but honestly the last time I saw a cast of no names doing this well they were wearing yellow jerseys that were sponsored by Chico's bail bonds.

HOG: The Bad News Bears! Great movie. Dude, the Royals will not be getting into the Playoffs. And the currently-in-1st-place Orioles will be no where near the top come October. These are not bold predictions. It's simply that it's a long season and the Royals and Orioles will sink to the bottom like um, when you put something really heavy in water. Dammit! I stink at analogies like Justin stinks at, um, DAMMIT!
Did I mention that my two favorite things are boobies & baseball?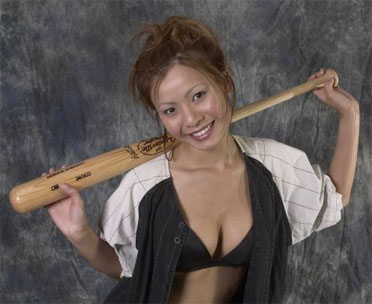 HOG: Look, these teams doing well in the beginning is like when I'm talking to a girl in a bar. If you look at us talking for the first 30 seconds, you'd assume things will end really well. But it's only a matter of time before I say something really stupid and I'm in the bathroom wiping her drink off my face.
JUSTIN: Yeah but just like you HogWild, once every 5 to 10 years one of these teams won't get shot down and will make the playoffs!

The Royals have already managed to win a series against the New York Yankees. My God, the last time that happened Bucky Dent was still playing in New York. I'm kidding of course but Royals fans definitely know where I'm coming from. So as the season kicks into full gear we will see if the Royals can keep their mojo going or will they choke in the end like the Mets did last year.

HOG: Aww! Low blow, dude! Must I remind YOU of a certain heavily-favored team that choked to a certain NY team... Hmm... Where is that video? HA HA HA!
JUSTIN: Ouch. Freakin' ouch.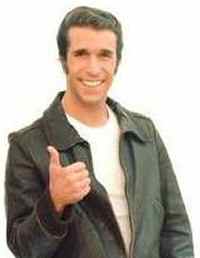 Want a kick-ass comedy show for your college or party? Email me for details.