JUSTIN: We're half-way through the first round of the playoffs and I must admit that I am thoroughly enjoying every minute of it.

HOG: Yeah, well you're not enjoying the NBA Playoffs nearly as much as my NY Knicks! They're loving it! 3 weeks of paid vacation!

Ugh.

JUSTIN: The NBA hasn't been this competitive since Larry Bird and Magic Johnson were wearing nut-hugger shorts and throwing behind the back passes.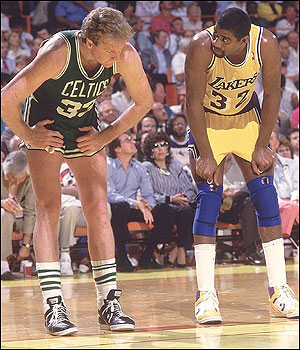 JUSTIN: And speaking of the Celtics, not only are they relevant once again but they're looking like they might just win a Championship for the first time in 22 years.

HOG: That's crazy talk. There is a rule that says The Boston Red Sox and Boston Celtics can not both be good at the same time. The Celtics had their chance to be great from 1918-2003. Now it's BoSox time.

JUSTIN: Of course none of this would've been possible if former player and current general manager Danny Ainge hadn't thrown his cards on the table and traded for Ray Allen. The 32 year old shooting guard not only gave the Celtics a legitimate scoring threat to team with Paul Pierce but he is currently the only player in the NBA to film a threesome with p0rn stars Jill Kelly and Chasey Lain. I guess that makes him a triple scoring threat!

HOG: Wait, is that true? I think you made that up. Because if it's true I have about 18,000 sophomoric basketball-p0rn jokes. But I won't indulge...

Oh, who am I kidding?!

Ray Allen drives the Lain! He shoots! He scores! In your face!

Awwww!

HA HA HA!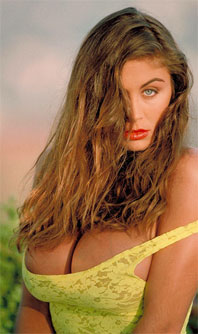 "Shoot your Ray-gun, baby!"
ABOVE: Chasey Lain waits for Ray Allen to apply pressure to the zone.

JUSTIN: The ironic part is that his name in the movie is Jesus Shuttleworth. Yep Jesus loved him some threesomes....(waiting for lightning to strike me dead.)

The key to the Celtics turn around was when they landed Kevin Garnett just over a month later in a blockbuster trade with the Minnesota Timberwolves. Not only did the Celtics rescue this future Hall of Famer from a miserable existence in Minnesota but they also revived the hopes of Boston basketball fans everywhere. Of course we can all agree that Red Sox and Patriot fans can go to hell but the Celtic fans deserved better and by bringing in a superstar like Garnett, management finally did them right.

HOG: I'm happy for Kevin Garnett. Although if he stayed in the Twin Cities, he could have been the 4th man honored with his head carved into the Minnesota Mount Rushmore of Beloved Black People following Rod Carew, Kirby Puckett, and Prince.

JUSTIN: NICE! Still even with Ray Allen and Kevin Garnett joining the team, the heart and soul of the team has always been forward Paul Pierce. For 9 years the Celtics rode Pierce like he was Seabiscuit with only a trip to the Eastern Conference Finals to show for it. But this year things have finally come together and while Pierce still leads the team in scoring, he is no longer the only option when it comes to offense. With talented role players like Rajon Rondo, James Posey and Kendrick Perkins alongside Garnett and Allen, teams playing the Celtics can no longer focus just on Pierce.

HOG: Rajon Rondo! Sorry. I just like saying his name. Rrrrrrrrajon Rrrrrrrrrrrrrrrrrrrrrrrrondo!

JUSTIN: Thanks Cha Cha I haven't heard anyone roll their r's like that since Richie Valens sang La Bamba!

As the Celtics plow their way through the sorry ass Atlanta Hawks in what will surely be a sweep, the path to the title still has a couple of road blocks. After all there's still the Cleveland Cavaliers and Lebron "Abraham Lincoln" James,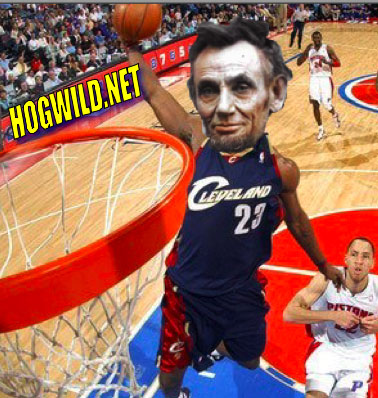 the playoff tested Detroit Pistons and a very game Orlando Magic. Not to mention that if the Celtics make it out of the East they'll still have to deal with the Dallas Mavericks… I'm kidding. They SUCK and are about to get swept by future league MVP Chris Paul and the Charlotte Hornets.

HOG: Hey hey! That's the NEW ORLEANS/OKLAHOMA CITY/PEORIA Hornets!

JUSTIN: Still it's good to have the Celtics back in the Playoffs, now if the Lakers can make it to the Finals too, we'll have ourselves a good old fashioned grudge match on our hands!

HOG: That reminds me of one of my favorite old video games: Lakers vs. Celtics.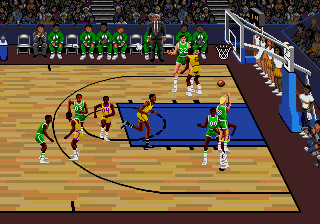 HOG: Look at those graphics! Full 16 color graphics, baby!

You know who would look good in 16 colors? Rrrrrrrrajon Rrrrrrrrrrrrrrrrrrrrrrrrondo!

Speaking of basketball p0rn... (Because we were, right?)
Larry Bird laying up 2 slutty p0rn chicks...

MAGIC JOHNSON: How about we play a little 2 on 2?
LARRY BIRD: Uh... I think I hear my mommy calling me in for dinner! Gotta go!
MAGIC JOHNSON: Aw, come on!
LARRY BIRD: Don't you have HIV?
MAGIC JOHNSON: Man, only a little bit!

OK, I know it's wrong to make HIV jokes. I'm sorry. All I can say is, Rrrrrrrrajon Rrrrrrrrrrrrrrrrrrrrrrrrondo!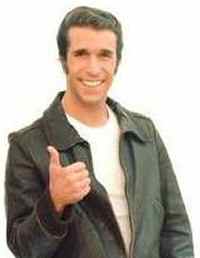 Want a kick-ass comedy show for your college or party? Email me for details.