Hog's mom approves of this article.
Wow! The BEST NBA Slam Dunk Contest... EVER! And there have been some great ones! (Nate Robinson Dunk.)
The creativity, the athleticism, the pure silliness!
If this Slam Dunk Contest had any ONE of the following dunks it would have been awesome. But it had FOUR spectacular dunks.
Let's talk about the most ridiculous slam dunk first.
My new favorite player, Dwight Howard, removes his Orlando Magic jersey to reveal... a Superman costume!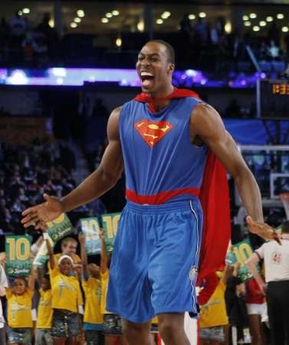 Not only is Dwight Howard wearing an S on his chest but also a red cape! And dude is HUGE! Dwight Howard makes the REAL Superman look like a Spud Webb!
NOTE TO MY ADULT SELF: There is no "real" Superman. Just like there is no Tooth Fairy and no Abraham Lincoln!
Dwight Howard is the new Superman of the NBA. I just hope he can avoid the Kryptonite that affects the rest of the NBA: money-hungry ho's.
Speaking of messing with ho's, I wonder if on All-Star Weekend the players invite ALL their illegitimate kids... No wonder it's so hard to get a ticket! Each player fills the stands with his 12 kids and 9 baby-mamas!
Gerald Green had to be p!ssed that he lost. I bet he wants revenge. Here's my idea for you Gerald. Next year, rip off your jersey and come out on the court as Lex Luthor! Yeah!
And wouldn't have been hilarious if Rudy Gay came out and dunked as Wonder Woman? HA HA HA!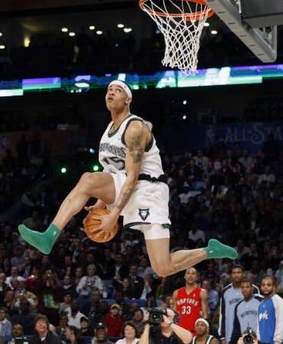 "Look ma, no shoes!" Gerald Green dunks in his socks! Green single-handedly destroys the billion dollar athletic sneaker industry.
It's not just that Dwight Howard flew through the air wearing a cape... he was above the rim and THREW the ball through. He didn't lay it in, didn't dunk it, didn't shoot it, THREW it down!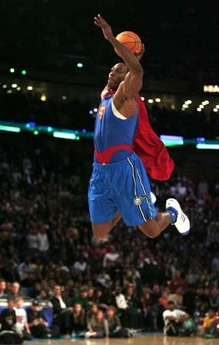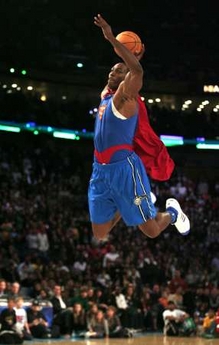 If the rim was a face, it would need reconstructive surgery after that knock-out punch. Shaq wrestled the rim down. Howard knocked out the rim with an overhand right.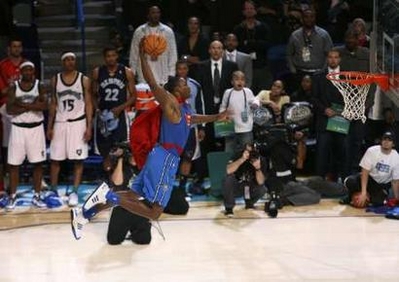 The dunks were so amazing this year. Dwight Howard had another crazy dunk. He catches the ball of the BACK of the backboard and dunks it while his head is still behind the backboard. Incredible.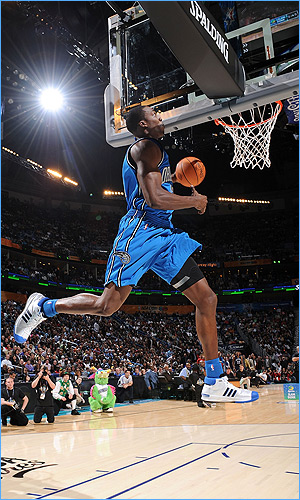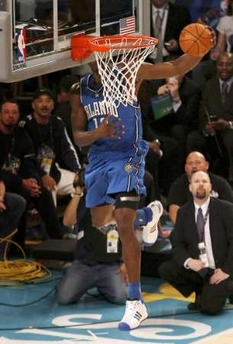 (If you missed it, here is the Slam Dunk Recap Video.)
Gerald Green was creative, too. He lights a candle in a cupcake and put it up on the rim. And then he blows it out while dunking! But if his birthday wish was to win the Dunk Contest, it didn't come true.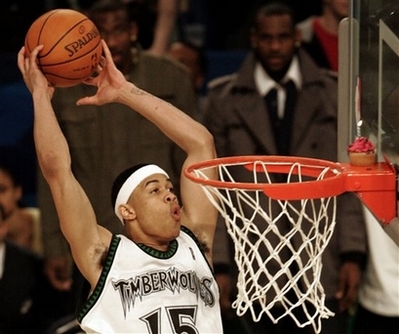 I like the idea. The judges didn't appreciate it but I thought it was awesome. He should have stuck with the birthday theme... Green's next dunk should have been him dunking while swatting open a pinata!
Or tape a donkey on the backboard and while dunking, pin the tail on the donkey.
Or let's get a little naughty. Put a giant cake under the hoop. And Gerald Green times his dunk perfectly... a stripper jumps out of the cake and Green jumps over her to dunk it through. And on the way up, Green rips off her top revealing her huge regulation sized basketballs.
I love the creativity! Let's get HogWild with it! Why not a theme that fits the city? This year was New Orleans. So a player should party, get wasted and stumble to do the first ever Drunk Dunk!
Or, here it is, put a hot college girl up on a ladder and while dunking, throw a Mardi Gras necklace of beads over her head while she flashes the crowd! The judges will hold up Perfect 10's but they won't be able to give a standing ovation! HA HA HA!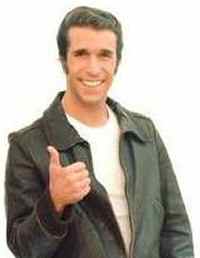 Want a kick-ass comedy show for your college or party? Email me for details.