JUSTIN: March Madness is around the corner but that's not important because this week HogWild and I are starting up the first annual HogWild/old friends from New York/6 dudes we've never met Fantasy Baseball League.
I know, I know. Fantasy baseball is a nerdy obsession for dudes with no life. But that doesn't matter. After the Super Bowl and the travesty that was a New York championship, I felt weird. I felt that New York could actually hang with Texas when it came to sports. So I decided, screw it, let's find out for sure. Let's take two of the greatest sports minds in the history of fantasy sports and pit them against each other.
But since they weren't available, HogWild and I decided to step in to take their place. So even though the season hasn't started, I've decided to do a column just so me and HogWild could talk a little sh!t!

I'm just happy we're playing fantasy baseball so that HogWild will finally have a place to use all that knowledge that he gathered sitting on the bench during the Little League All-Stars back in 1973.

HOG: I am not that old! You're older than me! When you were playing in the Babe Ruth League they called it the Cap Anson League because Babe Ruth hadn't been born yet!

JUSTIN: I know HogWild follows baseball and knows his players. I'm just hoping his fantasy team doesn't choke like his real team did last year and blow an 18 game lead in the last two weeks of the season.

HOG: I was reluctant to join your stupid fantasy baseball league because looking back at my life there have been two types of years: Years with a girlfriend. And years with a Fantasy Baseball Team. NEVER have those two things occurred at once. Coincidence? I think not!

For those who don't know what Fantasy Baseball is, it's like Dungeons & Dragons for sports nerds. It's where un-athletic spazoids go to pretend they are powerful, coordinated, and acne-free.

So I will embrace my inner-dork and make my triumphant/pathetic return to Fantasy Baseball! I am so proud/embarassed!
JUSTIN: Wow. I bet this is what it felt like when Micheal Jordan made his first comeback!

Even if the Mets choke again this year I know from experience that HogWild is more than willing to sell out his team to go across town and cheer for a winner just like he did in football.

HOG: Whatever! I told you man, I always cheer for my city. I will NEVER cheer for Boston over New York. I don't understand how New Yorkers can do that. My #1 team is the Mets. #2 is the Yankees. When they play each other, I root for the Mets. It's like if you have two children. You love them both. But you love one a little bit more.

NOTE TO MOM: I'm your Mets, right? What? Hey!

JUSTIN: To be honest, since I know he doesn't mind selling out his own team I'm curious to see if he's going to bypass drafting Johan Santana so he can draft G@y-Rod in the first round.

HOG: It's sad that you must resort to name-calling against baseball's best player, douche-face.

JUSTIN: I won our league two years ago and came in second last year which means that I've made it farther than any Mets team since the Yankees whipped their @ss in the Subway Series.

HOG: Dude, I am not going to commit much time to the league and I will STILL destroy you. I'm going on gut and instinct. So read your nerdy books and watch all the experts and study the stats. I'm gonna do the manly thing and pick the players with funny names while drinking a beer.

NOTE: And by beer I mean tequila straight up.

JUSTIN: Sounds like a plan! I might have to try it!

Unfortunately they were all out of Johan Santana jerseys but never fear, I've got a pink number 13 G@y-Rod jersey for Hogwild to wear once the Mets get kicked out of the playoffs.

HOG: Since when are ANY of your teams winners? The last time your Dallas Mavericks won an NBA Championship was Nineteen-Ninety-Never. Your Texas Rangers belong in the Texas League. And your Dallas Cowboys would have won if not for MY New York Giants and YOUR Texas Pop Star Jessica Simpson.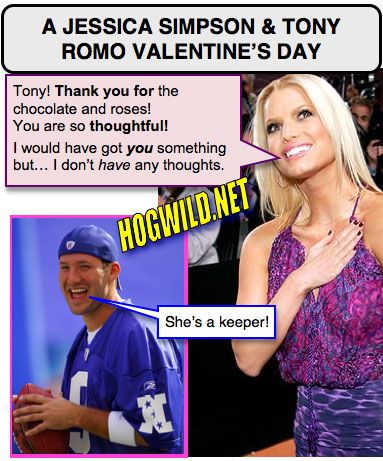 JUSTIN: You go too far, sir! The Cowboys have 5 rings, The Giants and Jets don't have that many put together. The Rangers and the Mavericks... well you're pretty much right on the money about them.

Actually I know that Johan Santana is going to be HogWild's first pick, not because he's the best pitcher in the league but because he's still rocking a goatee like HogWild even though they went out of style 5 years ago.

HOG: I don't care about what's "in style" because unlike you, I am not a 12 year old girl. The only reason you hate on my goatee is because it is a painful reminder of the chicks you dated in high school.

JUSTIN: If only you had a beer belly it would be just like the chicks I dated in high school. By the way, dude, I've checked the waiver wire and there's good news! Chi Ali is STILL available in the California Penal league! You can pick him up and see if he can still strike you out!

HOG: Yes. My claim to baseball greatness is that I batted against former rap star/current inmate #8434923 Chi Ali. But I realize it doesn't come close to that one time you shared a revolving door with Lance Bass.

JUSTIN: Since HogWild's from New York I figured he'd want a team name that would represent New York baseball, so I've come up with a couple of names for his team!
Juicy Juiceballs. GayRod's B12 shot. RocketHGHers. 2nd Place to the Red Sox. Or my favorite, Mookie Wilson's lucky hit.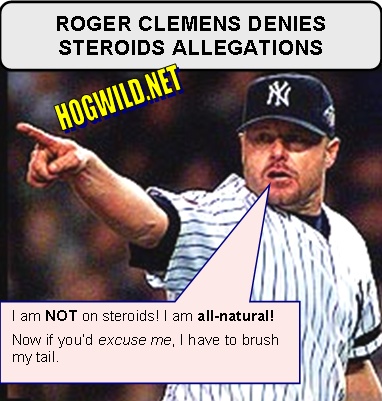 HOG: I like the team name I came up with: Ichiro Pujols. Classy. Baseball-related. Totally mature. :)

Here are some team name suggestions for you, Mr. Texas:

Houston Take-it-in-the-Astros

and

Justin "My Texas Rangers have ONE Playoff Win in their Entire History" Sanders


JUSTIN: Regardless of what you think of fantasy baseball, this is a chance for you to pick a side. North vs. South, New York vs. Texas! Bad guys vs. Bad Guys. Steroids vs. Sh!tty players. Either way, this season should be interesting so stay tuned and EMAIL US your thoughts about how we're running our team or even if you just want to talk a little bit of sh!t. Ha ha.

HOG: Justin, we're friends so I want to reassure you that our friendship will stay strong no matter how badly I whoop you this year. I apologize in advance for causing you to ruin your baseball cards with salty tears.

Now if you'll excuse me, I have to prepare for a year of sexual-abstinence, er, Fantasy Baseball.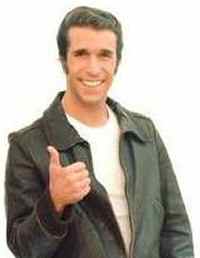 Want a kick-ass comedy show for your college or party? Email me for details.