Hog's mom approves of this article.
You're not Irish, but you celebrate St. Patrick's Day. You're not Mexican but you celebrate Cinco de Mayo. You're not good looking enough to be in a relationship but you celebrate Valentine's Day... so why not celebrate Jewish New Year?!
NOTE: I am Jewish. But I don't call myself Jewish-American. I prefer to be called Awesome-American.
NOTE TO COLLEGES: You should make more scholarships for the minority group known as Awesome-Americans.
NOTE: Awesome-Americans sometimes have lower grades than other groups because instead of doing homework they were playing video games.
Jewish customs for the New Year are actually pretty subdued. For example, we eat a special delicious bread with honey for a "sweet" New Year... well FUNK that!
Let me tell you how to celebrate the Jewish New Year totally un-Kosher HogWild Style!

We're gonna party like it's 5768!
If you get sick from drinking too much, don't worry! It's Jewish New Year! Somebody will know a good Jewish doctor to fix you right up! And a good Jewish attorney to sue the bastards who kept serving you alcohol!

And what's a holiday without a parade!

Everybody loves a parade!

NOTE: Everybody except the people who are p!ssed off by the resulting traffic jams, noise, litter, drunk people screaming on the streets, cost of security... basically everybody HATES a parade except the people who are in it.

HogWild's Jewish New Year Parade is lead by Moses! Follow Moses as the parade begins in Brooklyn, then THROUGH the East River...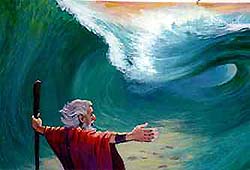 ... and into the Promised Land... the Upper West Side.
Now let's gather in Times Square to watch the ball drop. The Matzah Ball!

The Matzah Ball descends slowly until finally at midnight it is dropped into a giant pot of soup where 12 Jewish grandmothers yell at you, "Eat! You're so skinny! Oy! You need to eat!"
Who should host New Year's Rockin' Eve? Dick Clark? Ryan Seacrest? Heck no!

We need a Jewish host!

How about Jerry Seinfeld?

"Did you ever notice how for 364 days a year, most people disdain Public Displays of Affection? But on New Year's Eve... they demand it! WHO... are these people?! "
Or everybody's favorite fake newscaster, Jon Stewart!

"New Year's Eve! Why is this night different from all other nights?

"Because on this night it's not just Congressmen who will be getting drunk and fornicating!
"So tonight, EVERYBODY is a Congressman! Get wasted! Molest a co-worker! Pass legislation!"


Part of being Jewish is having an overbearing Jewish mother. So you might as well let her write your New Year's Resolutions:

1 - call your Mother!
2 - call your Mother!
3 - get married and make beautiful grandchildren for your Mother!
4 - tell your kids to call their Grandmother!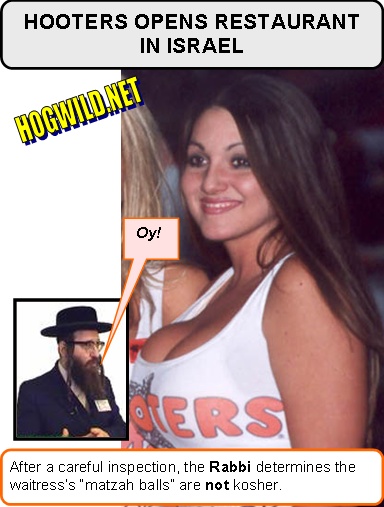 Let's count it down...
10, 9, 8, 7, 6, 5, 4, 3, 2, 1... Mazel Tov!

Now make the midnight toast to your loved one with a glass of kosher champagne like Dom Perignonowitz.

Now we sing!

(to the tune of Auld Lang Syne)

Should old acquaintance be forgot,
and never brought to mind?
Should old acquaintance be forgot,
It's Hava Negilah time!
Tonight everybody is Jewish! Especially hot Asian girls!