JUSTIN: Usually when the NBA crowns a champion we call them the World Champions because the National Basketball Association is by far the strongest basketball league in the world. Don't get me wrong, there are some world class athletes from overseas, and even Canada, but when those athletes want to play against the best they come to the NBA. However, thanks to Josh Childress, that could all be changing in the not so distant future.

You see the former Atlanta Hawk has bolted from the NBA to play for the Greek club Olympiacos after signing a contract worth over $21 million dollars after taxes. With all that money Childress will be making, it won't be long before he's pulling all kinds of stuff out of his afro just like "Sweet Lou" Dunbar from the old Harlem Globetrotters cartoons!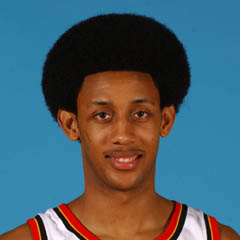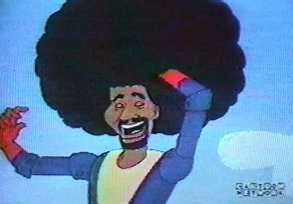 HOG: I was going to make fun of that Greek team for having a stupid name but then I remembered that the NBA has some of the stupidest team names ever invented:

* Memphis Grizzlies. Memphis hasn't seen anything resembling a big hairy bear since the passing of Elvis Presley.
* New Jersey Nets. Is it possible to come up with a more generic name? That's like having a son and naming him "boy."
Slight improvements: New Jersey Hoops. New Jersey Backboards. New Jersey Collection of Men who Dribble and Shoot.

* And the g@yest, dorkiest match-up is: the Wizards vs. the Magic. Ooooooh! Let's name more teams like this so we can have the Sorcerers vs. the Half-Orcs!
JUSTIN: Ha ha! Don't forget the Los Angeles Lakers. Umm isn't L.A. known more for Hollywood douche bags and the coast? How about the Los Angelos Bruckheimers?
The Utah Jazz? How about the Utah Predominently White Guys? At least the PWG's has a better ring to it than the Jazz!


HOG: As for NBA players jetting to Europeans leagues... Dude, it was just a matter of time. The American dollar is worth crap against the Euro right now. So why not play in Europe where you get paid more money to play an easier, less physical game?

JUSTIN: Not since the USFL started throwing big money at college football athletes in 1983 has there been a struggle over talent in one of the three major sports markets. Some may argue that it's happening in Major League Soccer right now, but they would be wrong because while soccer is THE sport in other countries it's only a sissy game in America for kids that can't play basketball or football.

HOG: Or Lacrosse. Or Volleyball. Or Bocce ball. Or hopscotch. Or jump rope.

JUSTIN: The problem that's slowly starting to be realized with the NBA vs. Europe is that unlike the USFL that went under after only three seasons, professional basketball leagues overseas are here to stay.
What's even scarier than a glimpse at Courtney Love's v@gina though is the fact that with the power of the Euro and the absence of taxes overseas it won't be long before more American athletes are jumping ship to make more money and nail hairy chicks that constantly smoke.

HOG: Man, I've got to put a stop to these misconceptions. Having had the pleasure of a few European women, I can tell you from first-hand (as well as left-hand) experience, that they are beautiful and well-manicured in the hoo-ha region. As for the smoking, you can thank U.S. Tobacco corporations for that!

REASONS AMERICAN ATHLETES SHOULD PLAY IN EUROPEAN LEAGUES
- Mo' money
- Relaxed laws regarding sexual harassment, paternity suits and underage boinking (I don't condone it, I'm just making an observation about NBA players and their hobbies.)
- More fun to travel to cities like Rome, London, Paris and Munich than cities like Cleveland, Pittsburgh, Indianapolis, and any other crappy Midwestern city

NOTE TO MY MIDWESTERN HOGS: I love you! That's why I want you to get the hell out of there!
JUSTIN: Damn you're right, HogWild. I vote that we move to Europe and write a column called, "Sports et belles femmes européennes." Translation Sports and Hot Euro Chicks!

HOG: The only reason more U.S. athletes don't move to Europe NOW is because baseball and the NFL are not popular in Europe. The major competing baseball leagues are in Asia and Latin America. And the NFL is popular, um, no where else. And Hockey, well who the hell knows why Europeans come here to play hockey?! They could stay home and be famous.

JUSTIN: Josh Childress has never been an All-Star in the NBA, but with his 11 point average and 5 rebounds a game, he was a high energy player that provided defense and rebounding off the bench for Atlanta Hawks. Just another example of what a fine job the Atlanta Hawks front office is doing. Just imagine what would've happened in New York if the Knicks had lost David Lee to some Euro team?

Knick fans would've burned down the Garden, but the poor Atlanta fans are so used to being abused that they didn't even think twice. The situation in Atlanta is so bad that I think that the owners should just embrace what a bunch of soul stealing jack asses they are and go ahead and hire Isiah Thomas to run the team. Actually scratch that idea, no team deserves the Isiah treatment unless it's Canadian or from Los Angeles.

HOG: If Isiah Thomas wants a job in the NBA, it will have to be mopping the court during time-outs. But knowing him, he would probably do a crappy job and leave a wet spot where Kevin Garnett and Steve Nash slip and collide causing them both to crack their skulls open on the hardwood. When the 20,000 people in the arena give Isiah the evil eye for killing two beloved players, he will shrug his shoulders.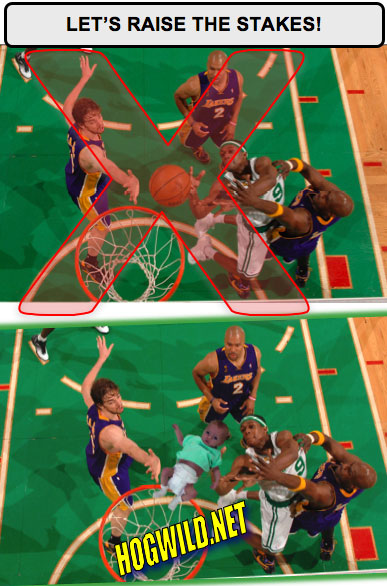 JUSTIN: Now that Josh Childress has set the precedent for NBA players crossing over, the question is: Who will follow him overseas?

Stars like Lebron James and Kobe Bryant are safe because when you include the 50 billion commercials they do a year and the sneaker deals, there's not a team in the world outside of the NBA that can offer them even close to the same amount of money.
No, the players that will be going overseas will be the mid-level players that do all of the dirty work on the court which is frightening because when you take away those players all you're left with are superstars and scrubs leaving the NBA to look like an "And 1" league.

HOG: I like the idea of teams filled out with scrubs and superstars! Then finally the NBA will morph into its final destiny. All the scrubs will be cut. Leaving only 2 superstars per team. The NBA will become a 2 on 2 game. This is perfect since 90% of the NBA doesn't understand the concept of team play.

I am very patriotic and I want America to be #1 in basketball so I will suggest ways for the NBA to keep its players from defecting to Europe:

* Force all the NBA players to watch old-school propaganda films where they brainwash players into thinking all European groupie women are ugly. Images of Swedish bikini models, German supermodels, and busty French maids will all be replaced with photo-edited images of hot bodies topped with the bearded face of Peja Stojakovic.


* Just like the government gives tax breaks to big corporations, they should give tax breaks to NBA players. Not only will they get the usual maximum tax deduction for each of their 13 illegitimate dependents, but now the following can be written-off as standard business expenses:
- shiny suits
- gaudy jewelry
- defense attorney costs
- homes that have at least 3 video game systems, 5 pool tables and 117 copies of the movie Scarface

And the #1 surefire way to keep ALL American NBA players from leaving...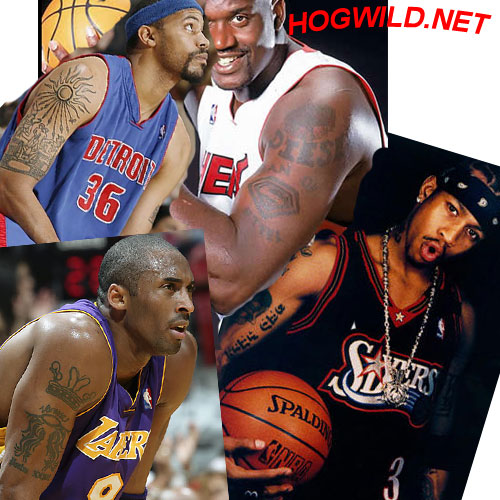 * Spread a vicious rumor that tattoos are illegal in Europe!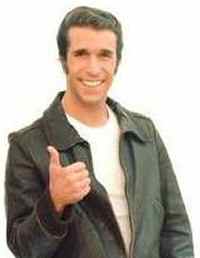 Want a kick-ass comedy show for your college or party? Email me for details.