Memorial Day!!! Woo-hoo! Yeah!

It's time to honor our dead war heroes by eating beer!

But please, let's bring back some decorum to the holiday. The true meaning has been lost.

The Memorial Day Barbecue is to celebrate our War Dead. Let's do it right: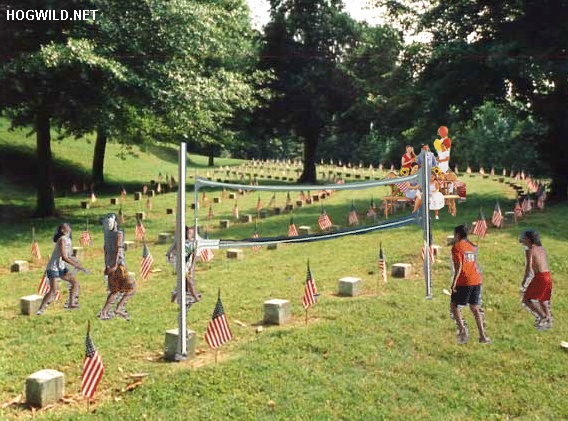 ABOVE: Poignant societal statement. BELOW: Fart jokes continue.

*** THE GREAT GRILL DEBATE: GAS OR CHARCOAL? ***

Charcoal, fool! Only terrorists use gas grills!

A real man uses black charcoal from a 245 pound bag. He squeezes a pint of lighter fluid onto the charcoal. Then he lights a match by striking it against one of the following surfaces:

1 - the concrete sidewalk
2 - the side of his house
3 - the stubble on his face.

The flames should shoot up to about 1 half of 1 inch from his eyebrows. In fact, any man that still has all his eyebrows is not a man who has grilled.

At this point, a man squirts another 3 quarts of lighter fluid on the fire. Why? Because it's cool.

*** NEVER FORGET ***

America lost many brave men and women in the 2 World Wars to save the humanity from Germany.

Hey, would you grill me another frankfurter with sour kraut? And crank up the Polka music! Oh, wait. I'll be right back... I left my lederhosen in my BMW.

Did you just sneeze? Gesundheit!



Here is a timeline of my Ultimate Memorial Day Barbecue, a barbecue that honors the true military meaning of the Memorial Day holiday.
*** THE ULTIMATE HOGWILD MEMORIAL DAY BARBECUE ***

12 NOON 4 men carry the grill to the backyard. The grill is draped in the American Flag.

12:15 PM Before the official start of the barbecue, Gangsta's Paradise by Coolio (or God Bless America) is played on the bugle.

12:19 PM The first hamburger is dropped by parachute from a remote control airplane flying overhead. It safely floats down onto the grill. At the sound of the 1st sizzle, everyone cheers!!!

12:20 PM I am manning the BBQ dressed in full military regalia with a chef's hat. And before you bring me your plate, you must salute.

NOTE: It's not a true American barbecue unless there is a deer laying across the coals. And the deer must have been shot (or run over) by someone at the party.

12:45 PM Some dude's girlfriend brings out an American flag made out of Watermelon and Blueberries!

12:46 PM Learn that watermelon and blueberries don't grill very well.

Tee-hee-hee!

1:25 PM My girlfriend is making me serve vegetables. Fine! But she never said they had to be on a plate!
1:27 PM I shoot broccoli out of a machine gun.

2:43 PM A man costumed as Uncle Sam keeps things moving by going around saying things like: "Uncle Sam Wants You... to fetch more hot dogs from the fridge."

2:47 PM Girlfriend asks me to put her soy burger on the grill. I smile.

2:48 PM Girlfriend turns back.

2:48 and 2 seconds PM I drop the soy burger in the trash. "AIN'T NO SOY BURGER GONNA TOUCH MY GRILL, WOMAN!!!," I shout in my imagination.



3:00 PM Time to remember those who gave their lives in the great wars. So let's do that by drinking beer. Meaningful beer.

To remember World War II:

1- Wash down a polish sausage with Beck's beer. This is to remember when Germany savagely attacked Poland.

2- Now eat some really crappy food with some warm beer. That's to honor the British contribution to World War II.

3- To honor the contribution of France, eat chicken.

3:32 PM You're standing around minding your own business... and bang! Someone hits you over the head with a bottle of Sapporo Japanese beer! That's it! Now you drink Budweiser after Budweiser until you drop a huge
A-bomb in the toilet.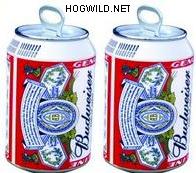 3:40 PM Now we remember the Vietnam War:

Drink Agent Orange Soda.

3:42 PM Now I'm behind my grill dressed as Rambo. I cut up the carrots with a machete while yelling: "Vegetables are for commies!!!"

4:00 PM Now we remember the Iraqi War:

We smoke baby back ribs to celebrate smoking Saddam out of his hole. And to honor President Bush, we serve a big fat turkey.

4:22 PM A fat guy has food all over his shirt. Someone shouts, "Look everybody! Is that corn on the cob or corn on the slob?!" Everybody laughs. I said, Laugh, damn it!

4:50 PM Awwww, isn't that cute? Nothing is more American then kids selling cups of lemonade. And nothing is more 21st Century America then building a Super Wal-Mart across the street from their lemonade stand and putting them out of business with an every day low-price from lemonade suppliers in China!

5:00 PM Time to play MEMORIAL DAY GAMES! We Re-enact the War of 1812! We use Grandma's pie as cannonballs.

5:01 Learn that Grandma's pie doesn't grill very well.

6:32 PM There's a piece of chicken missing from the table! Who did it?! Was it you, dog? Was it you?!

6:35 PM Take the dog as a Prisoner of War. Put him in a small dark room until he talks!

6:37 PM Girlfriend negotiates release of my Prisoner of War in exchange for backing down from her threat to withhold sex.

6:38 PM Think about sex with girlfriend.

6:39 PM Pitch a tent under my barbecue apron. That's embarrassing.

6:40 PM Think of Nicky Hilton's face.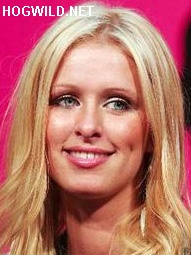 6:40 and 0.5 seconds PM No more tent under apron.
9:00 PM Last hamburger! Who will get it? One of my buddies dressed in camouflage pops out from the bush where he was hiding to grab it! That was cool.

9:01 PM Totally wasted. Out of dead animals to barbecue.

9:03 PM Learn that flip-flops don't grill very well.

9:13 PM Apologize to girlfriend for "burning" all 3 of her soy burgers.

9:14 PM Giggle as I use one of her uncooked soy burgers as a coaster for my beer.

11:00 PM All women and children are gone. It's finally time for what Memorial Day is all about... men having fun!

And you know what that means...

11:30 PM Cole Slaw Fight!

4 super hot bikini girls run out and jump into an inflatable pool full of cole slaw. Shredded cabbage and hormones are flying everywhere!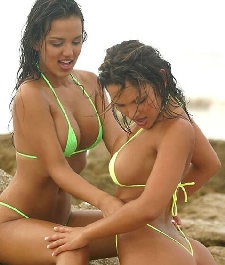 NOTE: My first idea was to have the bikini girls fight in a pool of baked beans. But visualizing girls with their butts splashed with squished brown beans made me want to puke.

12:00 AM Really horny now.

12:01 AM Kick everyone out. Attempt to wake up girlfriend.
12:01 - 12:15 AM Hump girlfriend's leg.
12:16 AM Girlfriend finally wakes up. Tell her I want to Role Play: I Dress up as John Paul Jones. She dresses as Betsy Ross. Ask her to sew an American Flag that she will wear as a thong.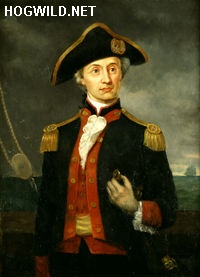 "I have not yet begun to hump!"

12:17 AM Girlfriend is pissed off that I woke her up for sex. Tells me that she knows I played shuffleboard with her soy burgers. She takes me outside.

12:19 AM Learn that my face doesn't grill very well.