JUSTIN: Dude I just came up with a great idea. Let's have a contest to see who can come up with the craziest way to celebrate the Final Four.

HOG: I'm going to celebrate the Final Four by watching basketball that does not involve my pathetic New York Knicks.

JUSTIN: I'll join you by not watching the Mavericks, or as I like to call them, the Southern version of the Knicks -- because they have a big pay roll and can't win anything.

HOG: Dude, we should celebrate college basketball by acting like we are in college. You know, by studying all Friday night and then waking up early Saturday morning to weep.
Oh wait, why would I want to do re-live THAT?! No, let's act like we are in a FUN college! Yeah! Let's get wasted off cheap beer and eat fast food and puke on each other! Woo-hoo! YEAH! Whose donkey is this?! What the hell? What? Sweet potato fight!

JUSTIN: If I had it all over to do again I would've gone to either Ball U. or Morehead State. Those colleges just sound like fun don't they?

As I sit here watching Kentucky play Marquette it reminds me of what I love about the NCAA tournament. Not only do they settle things on the court in college basketball but they also give college basketball fans an orgy of games in the first four days of the tournament. No, not the type of orgies that HogWild is used to with midgets and transvestites but with 48 games in four days you're definitely going to need to take a couple of days to recuperate.

HOG: Hey! I do not get involved in orgies with midget and transvestites! They're midget transvestites. Cutest thing. Cross-dressing in children's clothes. Ever seen a grown man dressed in a sun dress from Baby Gap? Hot.

HA HA HA!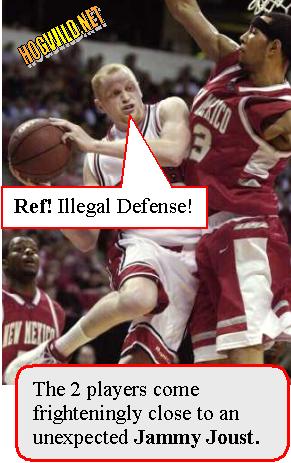 JUSTIN: So this year instead of just sitting on your ass in front of the TV for 4 weeks straight HogWild and I are challenging you to take it up a notch! That's right, this year we want to know which of the readers can come up with the craziest way to celebrate the Final Four. I know you're saying to yourself how am I going to do that? Well luckily for you, HogWild and I have decided to give you a couple of ideas to get you started!

HOG: We have ideas?

JUSTIN: Not many. But every once and a while we have one. Like this one,

Pick a game, then dress up like one of the team's mascots, go to a bar and start drinking heavily while repeatedly screaming at the TV and cheering for the WRONG team!

HOG: Dude.

JUSTIN: Sticking with public theme, go to a sports bar during one of the women's NCAA tournament games and pretend that you think they're men. This will lead to you saying fun things to strangers like,

"That dude with the long hair is bad ass!"
"How in the hell did this team get into the tournament? I haven't seen one of these guys dunk yet!"
"I hope that dude with the jheri curl is okay. It looks like he got hit in the nuts!"

HOG: Dude.

JUSTIN: Or for even more fun play this drinking game that I made up!
Every time someone dunks: Drink
Every time the word Penetration is mentioned: Giggle then drink!
Every time a White wash happens (10 white guys on the floor at one time): Try Heroin
Every time some one sinks a 3 pointer: Drink
Every time they show cheerleaders: do a high kick and then drink.
Every time there's a television timeout: Drink until the game's back on.

HOG: Dude.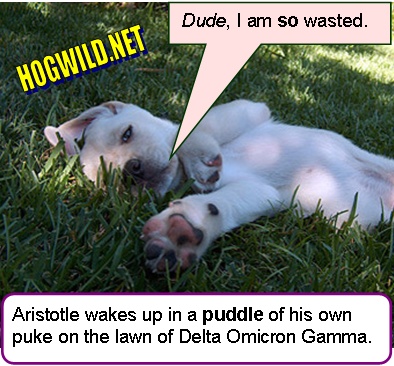 JUSTIN: Join the Final Four Pool at your office and secretly replace your bracket with HogWild's MILF Madness Pool! Then while everyone is talking about how North Carolina advanced to the Sweet 16, act confused and say things like, "Wait a minute, wait a minute I thought Heidi Klum made it to the Sweet 16?" or "UCLA is good but they'll never get past Angelina Jolie's breasts!"

HOG: Dude, unlike you, I don't want to see our loyal readers tortured. So I would suggest NOT doing any of the things you encourage. Because if you do, you will suffer one of the following outcomes:

* Dress as team mascot and cheer for wrong team --> Your local 10 o'clock news will feature a giant bird's head, wolverine head or some stupid animal head bouncing down the highway while your slumped body has been discarded in a dumpster covered in week-old donuts and coffee cups.

* Go to bar where they are showing the Women's games and insult the female players by calling them men --> Your slumped body will be discarded in a dumpster covered in empty Bud Lite cans while the brawny lesbians who beat you give each other high-fives and chest-bumps.

* Play that ridiculous drinking game --> Your slumped body will be found covered in vomit in a dumpster where you discarded yourself.

* Swap out the NCAA brackets with the March MILF brackets at work--> Your slumped body will be sleeping in a dumpster where you now live ever since you were fired from your job. But good news! There's a minimum wage job opening! Now you can put your experience running around as a college mascot to work!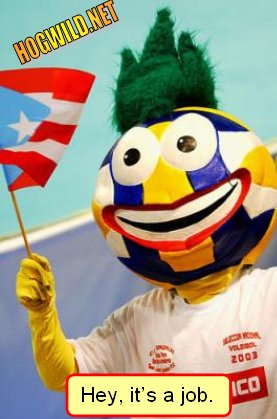 JUSTIN: Whatever you decide to do just make sure to take a picture of it and send us a description and we'll post the best NEW way to enjoy the Final Four that you guys can come up with!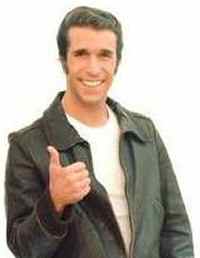 Want a kick-ass comedy show for your college or party? Email me for details.