JUSTIN: For six months sports fans have been forced to suffer through another Boston sports title, the Olympics and of course 2/3rd's of the baseball season. Finally after what felt like an eternity the NFL is back!
Last year "the team that won't be mentioned" went on a prolific run of perfect football to win the Super Bowl but after losing 4 of their front seven on defense everyone is taking them for granted. Can they defend their title? Or will some other team come in and steal it from them? Well, if the season plays out the way I think it will the NFL will crown a new champion, but HogWild will still be playing that damn video!

HOG: You mean... THIS one?!

<video of Justin prancing around>


JUSTIN:
NFC West - The weakest division in the entire NFL will probably be won by some crappy 8-8 team that will get bounced in the first round of the playoffs. So, even though the Seahawks have more injured playas than the strip club Pac Man shot up, something tells me that their defense will carry them to a division title and a first round exit in the playoffs.

HOG: Dude, as I'm writing this I'm watching the NY Giants — on my computer! Wow! It's like watching football on TV but instead of having to suffer through annoying fluid video, I get to listen to the announcers talk over a choppy slideshow in a little box! It's the future of sports viewing technology! </sarcasm>


JUSTIN:
NFC North - Let's be honest before God strikes me down with a thunderbolt, the Packers will be a better team without Brett Favre. No more jump balls at critical moments and more focus on one of the NFL's best running games only adds up to one thing: NFC North Champions and a first round bye in the playoffs.

HOG: Are you kidding?! The Packers?! No way! Heck no! Their offensive line is weaker than arm wrestling rice pudding!

OK, I have no idea about the Packers. I just wanted to sound like one of those stupid sports radio talk show hosts.

JUSTIN: W-H-O-G comin' at ya every Saturday coast to coast...

NFC South - Hurricane Gustav is playing hell in New Orleans right now but at least the poor citizens of the Big Easy will have the Saints to boost their spirits. With a revamped defense and their high powered offense the Saints will "blow" the competition away in the South Division.

HOG: Why do people still live in New Orleans? Why not move the entire city somewhere else? Can't everyone just agree that Mother Nature did not intend for there to be a city in this particular location?

The people can move all their culture and customs and boobie-flashing traditions to say — just outside West Palm Beach, Florida. That way they can still get their fill of hurricanes but you know, they might survive one or two. Call the city Brand New Orleans. Or... New & Improved Orleans. Or... City of the Bank of America. (Hey, how much longer until cities start selling naming rights?)

JUSTIN: NFC East - The so called "Experts" are ignoring the Giants and picking the Eagles to win the NFC East. Don't they know that the only champion that ever came out of Philadelphia was Rocky? Sorry to burst their bubble (actually I'm not) but the Cowboys will not only win the East but will also win their first playoff game in 13 years. Now play that God damn video.

HOG: Again? You got it!

<video of Justin cheerleading like a cheerleader with a lame ankle.>


HOG: GREAT THINGS FROM PHILADELPHIA
Philadelphia Cream Cheese
Cheese Steaks
Um, the Liberty Bell!
Uh... Randall Cunningham was cool.
Holly Robinson was hot back in the day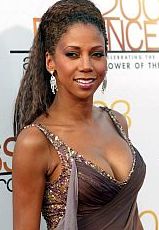 Dr. J
The Fresh Prince!
Suzy Kolber AKA Joe Namath's crush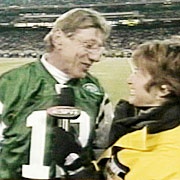 And uh, I think Benjamin Franklin boinked some hot chick there once.

JUSTIN: The best thing that ever came out of Philadelphia were Rocky and the sitcom It's Always Sunny in Philadelphia!

AFC West - If LaDanian Tomlinson doesn't get hurt right before the AFC Championship game then the Patriots would've been an after thought and the team that won't be mentioned would've had to play the Chargers in the Super Bowl.

Instead LT sat out and all of San Diego was left to think about what could've been. Don't get too worked up though because in the sorry AFC West, the Chargers are the cream of the crop and will breeze all the way to the AFC Title game once more.

HOG: Chargers. Cool name. Better than the Zappers. Or Bzzz. See, San Diego is a place with great weather. The people of New Orleans should go there. Combine everything. NFL team = Saint Chargers. Not bad, right?

JUSTIN:
AFC North - The Jaguars shocked the Steelers last year in Pittsburgh to end their season but payback's a b!tch and the Steelers will get their revenge this year. Look for the Steelers' unstoppable running game to run roughshod on the AFC North and take them deep into the playoffs.

HOG: I think you're right. They WILL run roughshod. Man, I can't remember the last time I ran roughshod. Maybe in high school? Yeah, Mr. Chiarello would make us run roughshod in gym class.

JUSTIN:
AFC South - I've created a new drinking game that will surely cause more drinking deaths than a Jim Jones Kool-Aid Party. You see every Sunday you gather a group of friends and take a drink every time one of the Manning brothers appear in a commercial! I'm guessing most will pass out before halftime, with only the grizzled veterans lasting deep into the third quarter. The Colts win the South once again.

HOG: Dude, that's brilliant! Advertisers should pay you millions! Because people are using all sorts of commercial-skipping technology and they ignore the advertisements. Now you've provided an amazing incentive for young males to watch the ads! It's time for Madison Avenue big shots to stop spending money creating "funny" commercials or talking animated reptiles or paying hot chicks to stand around in bikinis — they should make up drinking games! Because young men watching football are not drinking nearly enough!

THE HOGWILD NFL DERRR-INKING GAME

* 1 shot: Every time the announcers mention a player who has been arrested for a felony
* Every time refs go to check the "Instant replay" you do an instant replay of your last drink
* Touchdown = throw down!
* Interception = take the drink out of your friend's hand and toss it back!
* Player celebrates in the end zone = You make a celebratory noise from YOUR end zone!

JUSTIN:
AFC East - So the New England Cheatriots choked in the big game, ha ha, but don't cry Bostonians. The NFL was kind enough to give the Patriots the easiest schedule in the league. Enjoy it cheaters because I'm predicting that you go undefeated once again... at least until you get to the Super Bowl where you will be upset once again! Say it with me 18-1, 18-1, 18-1!

So there you go. 6 division champs who will battle it out for the title, along with wildcards Philly, Jacksonville, Washington and the New York Jets in February. Who will win it all? I know but I'm not telling until February! So until then enjoy that damn video!

HOG: You know this season's Super Bowl Champion in advance?! Wow! That's amazing considering you can't even predict the next time your wife will allow you to make boinky with her!

THINGS THAT ARE IMPOSSIBLE TO PREDICT
- Super Bowl Champ at beginning of season
- The weather
- When female spouse with allow her Adam into her Garden of Eatin'
JUSTIN: (nodding and smiling.)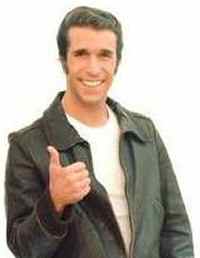 Want a kick-ass comedy show for your college or party? Email me for details.