JUSTIN: As I watched the NBA All Star game and saw NBA players and fans having such a good time it made me thankful to be a fan. You see right now we're in a good place in the NBA. There are at least 10 competitive teams in the league that could challenge for a championship, so as an NBA fan you've got to be excited -- unless of course you're from New York or Seattle.
HOG: The Seattle - New York connection: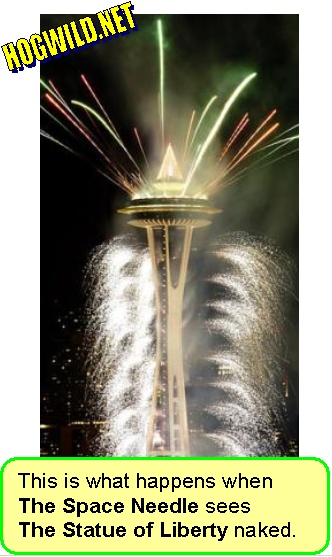 HOG: Man, my Knicks are total crap. I've turned into a huge Jay-Z fan. And not for his music. I'm rooting for him to complete the deal and bring the Nets to Brooklyn so I have a REAL team to cheer for.
JUSTIN: How quick do you think they'd sell out of Brooklyn Nets jerseys? That would have to be one of the coolest jerseys to own.
At this point the Knicks should just change their mascot to the silhouette of a comedian holding a microphone because they are the punch line of the NBA.
HOG: Daaaaaamn! HA HA HA! Yeah, and the Knicks aren't even a GOOD joke. They are the same joke over and over for the last 10 years. A long set-up with no pay-off. And on top of that, according to court documents, they are a sexist joke. That's my Knicks: a sexist, stupid joke. I'd say Knicks are the Carlos Mencia of the NBA but Carlos Mencia steals and the Knicks defense can't even do THAT!
JUSTIN: Ha ha ha. Nice one! Seattle may not have the history of the Knicks but they do have a Championship banner flowing in their rafters, a rabid fan base and one of the brightest new stars in the game. Unfortunately their ownership is run by a bunch of cheap bastards and none of the hippies in Seattle want to pony up for a new arena so it looks as if this once proud franchise will be moving to Oklahoma City.

HOG: That's just sad. Seattle is an awesome city. They should be able to support a professional basketball team. Maybe you're right, they should appeal to Seattle's hippie fan base. Give the Supersonics new uniforms: tie-dye shirts! Instead of fight songs and hip-hop, at half time they should play Kumbaya.
I don't get it. Hippies should LOVE the NBA! I can't think of 2 groups who smoke more marijuana!
JUSTIN: Even their mascot "Squatch" looks like a hippie!
HOG: Yeah, man! Plus hippies love to hold up signs. Just replace those MAKE LOVE NOT WAR picket signs with placards that say GO SONICS! And hippies love to recycle. The Sonics are full of recycled parts! And what has more recycled stuff in it than arena hot dogs?!
In Seattle, even the pets are hippies: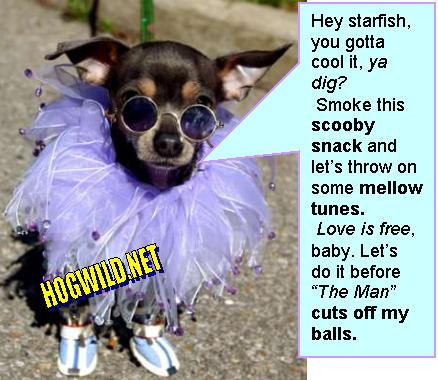 JUSTIN: I lived in Seattle for 8 years and during most of that time the Seahawks sucked ass, the Mariners consistently shared the cellar with my Texas Rangers and other than the University of Washington, the only thing most sports fans had to hang their hat on was the Supersonics. And why not? The Sonics were the first professional team in Seattle, coming into the league in 1967, and are STILL the only team to ever win a championship (eat it Seahawk fans) doing so in 1979.
That is unless you count the WNBA's Seattle Storm who won the Girls Triple AAA "We Play Basketball Too We Just Can't Dunk or Shoot Championship" in 2004.
HOG: Hey! Don't crack the WNBA! Those are exceptionally talented women who play basketball only because they're not good at tennis, or softball... or dating men.
JUSTIN: Or wearing high heels. What must really suck for Sonic fans is that the Sonics have had such a storied history of cool players on their team. I mean besides the Celtics no one's ever had as many big white goofy All-Stars as the Sonics. From Jack Sikma and his white man's jerry curl, to Tom Chambers' mullet and Detlef Schrempf's flat top this team was like the Celtics West.
And let us not forget all the other cats that played for the Sonics and made their mark. Gary "The Glove" Payton, Slick Watts, Gus "The Wizard" Williams, Dennis "One of the only black man ever to have freckles" Johnson, Xavier "Do remember me from the movie Singles" McDaniel and of course the one and only Shawn Kemp who's not only famous for his gravity defying dunks but also his Super Sperm, fathering 7 kids with 6 different mothers. The NBA it's faaaaaaaaaantastic!
HOG: Yes, Shawn Kemp is responsible for personally increasing the NBA's popularity. He's, let's say, an ambassador for the game. He really makes the extra effort to go out and touch the fans. Awwwwww! HA HA!
JUSTIN: Like most cases there are two sides to this story. On one side the Sonic fans feel slighted because an Oklahoma-led ownership group wants to move the team to Oklahoma because the city won't pony up for a new Arena. On the flipside the ownership feels that in order to make a profit on the Sonics they are going to need a new state of the art arena that will generate income unlike the Key Arena which lost $17 million dollars in 2005.
HOG: $17 million?! That's it?! The Knicks lost $17 million just last week in OFF the court expenses! Well, I should say, IN-court expenses for attorney's fees.
JUSTIN: What baffles me is that somehow NBA Commissioner David Stern has stayed neutral throughout the entire ordeal. It's strange considering how much Stern has done for the NBA and its communities as evidenced by his decision to hold the All Star game in New Orleans this year. You're telling me that the man who had enough foresight to see that holding the All Star in New Orleans would give their suffering economy a much needed boost doesn't realize that one of the NBA's most storied franchises is about to be moved to Okla-f------homa???
HOG: Hey! Oklahoma has stories, too! Most of them involve covered-wagons and pioneers, but still! Hey, if Seattle doesn't want the team then I say give it to a city that does! But of course any city gets excited for a few years but losing gets old quick. Right, Tampa Bay?
JUSTIN: In Tampa Bay's defense most of the people who live there are so old that they forgot they had a baseball team. Hopefully Stern will pull the two sides together or possibly one side will pull their head out of their ass and stop being stubborn so that we can keep the Sonics in Seattle. If not, I have an idea.
Why not move the Sonics to New York? At least that way New Yorkers would have a choice in which sh!tty team they cheer for every night! "Should we cheer for the hopelessly screwed Knicks or for the up and coming Queens Supersonics?"
It's just a thought but after listening to New Yorkers complain about the Knicks for fours years I'm guessing they just might go for it!
HOG: You're 100% right. Us New Yorkers would welcome the Sonics. We are very good at booing multiple teams! Just ask the Mets and Yankees of the early 90's! Maybe they can combine the Knicks and Sonics into one giant crappy team. You know, dump all the sewage into ONE cesspool — call it... Rangers Ballpark in Arlington. HA HA HA!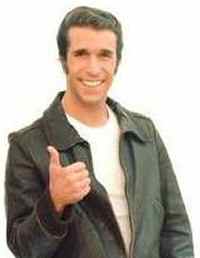 Want a kick-ass comedy show for your college or party? Email me for details.