How I learned that confidence is the key to success with women:
When I was a teenager I was on a family vacation to a resort. And I remember seeing a beautiful girl in the hotel lobby with HER family.
Being a boy, I was entirely won over by her pretty face. To me, she was an angel. I had never heard her speak a word nor shared a single moment with her. But I was smitten. Smitten I tell you!
So what was I to do about my affection for this girl? I did what I had always done. I wrote her a poem.
NERD BOY: Oh that's a mistake! You can never win a girl's heart with an appeal to her EMOTIONS! You need to be perfectly logical. That's why when I like a girl, I email her a chart of pros and cons for dating me.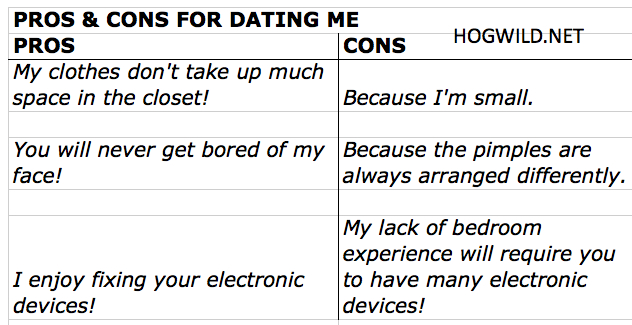 NERD BOY: Then I prove that we would make a good couple mathematically. Nothing melts a girl's heart like integral symbols and exponents! ... In theory. Oh why can't women exist in a vacuum!
My poem strategy had never worked, but I enjoyed writing and I was good at it and she had inspired me with her soft hair and the sparkle in her eyes.
So I professed my affection for her with rhymes penned in my neatest handwriting on a little piece of paper.
I would wait for my chance to see her again in the hotel and I would give her my poem.
I had carefully worked on each line. Every metaphor had special meaning. It was romantic.
But all that romance was imagined.
Because to her, I was a random boy handing her a piece of paper.
I DID see her again and I gave her the poem and included my hotel room number so she could knock on my door after her heart was melted by my flowery lyrics honoring her beauty.
Of course, she never knocked. I don't know what she did with that poem. Maybe she laughed. Maybe she thought it was cute. Maybe it boosted her ego. Maybe she used it to blow her nose.
I took the rejection hard. I felt humiliated. Frustrated. Confused. Angry at myself for my cowardice. But then I felt new emotions.
New emotions that spurred me on. I felt determined. I felt empowered. I felt fed up with my behavior!
I was in the resort's video game room by myself when I saw an incredibly pretty girl. Tall and fit with a beautiful smile. The old me of literally yesterday would have shyly and quietly slipped away to a desk to express my adoration in writing.
But not this time.
I had seen from my teen friends that the ones who experienced the most success were the boys who were bold. Daring. Unafraid to approach a girl and talk to her like she was a regular person and not some goddess to be worshipped.
So I approached this hot girl, this total stranger, and I made small talk. I have no idea what we spoke about but it was happening.
My heart was pounding like the fists of a fat 3 year old child on the table when his food hasn't yet arrived, but I tried to look calm and relaxed like a meditating koala bear on a leather sofa.
She was just a girl. A regular person. And I have every right to be there and get to know her.
And so I did. And she gave me her contact information so easily I couldn't believe it! After a few minutes of conversation, I was making a beautiful girl smile!
The me of yesterday would have had an imaginary relationship with her in my mind. It would take MONTHS to build up the courage to talk to her like I did now.
But the me of Today was setting up a time to meet later on. Yes, a date.
Yesterday, a pretty girl didn't react to me. Today a pretty girl reacted incredibly favorably. What was different?
I was wearing pretty much the same dorky clothes. I hadn't gotten taller in a day. I didn't add any muscles. I had done one thing.
NERD BOY: I know! I know! You made a pie chart!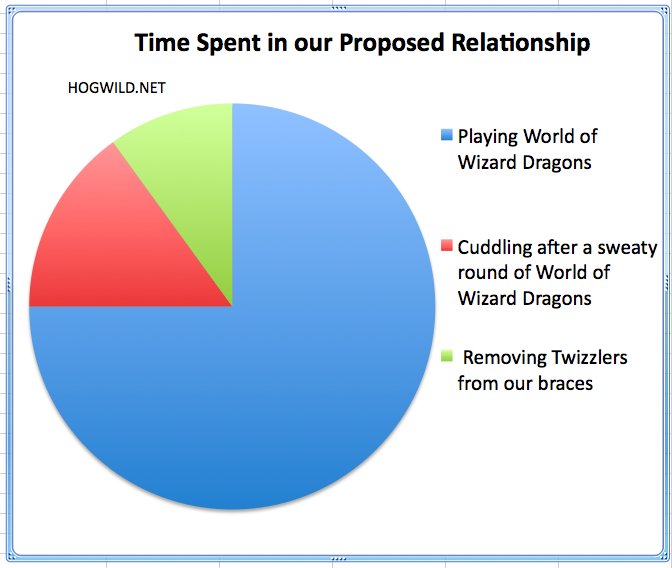 I flipped a switch in my head. I was to be confident! I was to do the things I hadn't dared do before.
And because of that, we had an amazing week together.
NERD BOY: I think he means their souls intersected on the X and Y axis!
The point of the story isn't simply that...
This is taken from my Premium Members section where I post my new videos.
Here are some more tips, but only Premium Members get the entire video + access to over 400 full dating and relationship videos in the Video Vault!
- I saw new things within my grasp. I had no reason to be afraid... of ANYTHING! Except Mr. Rosen. Because he would do random homework checks and pop quizzes. And he would get right in your face with his ferocious breath that smelled like coffee and doody.
- Whatever you want is within YOUR reach. You must believe in yourself. It's closer than think. You are one switch away. One switch turns on the electricity to the most awesome version of YOU. And it's only minutes, hours, days, until that electricity is powering you to do what it takes to accomplish your dreams.
You can talk to that beautiful girl. You can earn that better job. You can live the life you want. You increase your expectations. You can give more to the world.
The first step is to...
Only Premium Members have access to this Video!
1 - Learn more about the Premium Membership
or
2 - You realize Life is Short, get the relationship you deserve and Join Now!
Need one-on-one coaching? Contact Dating Coach HogWild for help!
Latest HogWild Dating Advice