Dating Advice: Five Freakin' Awesome First Date Tips
by me, HogWild
The first date is the most important human interaction you will ever have. D.F.I.U.! Don't Fluck it up! This date will make or break your life. If it doesn't go well you will never marry and you'll have to live with a multitude of cats! Forever! Mwu-hahah!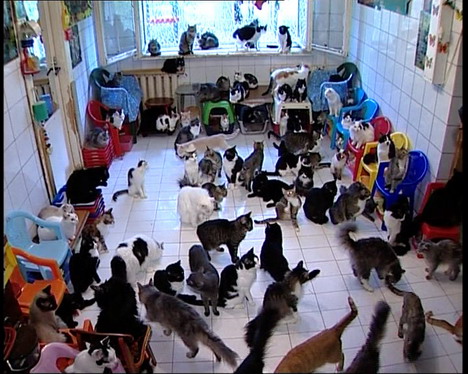 NO!
A first date should be a RELAXED, easy-going and FUN way to get to know someone.
Watch videos #591, 592, and 593 for where to go and where not to go on a first date.
But beyond that, here are 5 Freakin' Awesome First Date Tips!
#1 - Guys, just pay for the date. It's a first date and it sets the tone.
I know it's a confusing time because in many societies today women make as much or more money than a lot of guys, but this way you can't go wrong.
YOU: But it's not fair!
Too bad. It's also not fair that her fun-part bleeds. I'll take that trade any day.
Hmm, pay for the first date or every 28 days my penis shoots blood... Honey, it's MY treat! hahah
Ladies, OFFER to pay for the date. He should turn you down but appreciate the gesture. Women, do not INSIST on paying because that makes a lot of guys feel that you're only interested in friendship because you're not letting him treat you.
Women, you are not OBLIGATED to do anything with a guy who pays for the date. If the date is so expensive that it WOULD make you feel obligated, then gently ask him to take you somewhere less expensive.
SNOBBY GUY: Daaaaaarling, here we are Chez Truffle. Would you like the foie gras or the escargot basted in Giant Panda sem*n?
HINT: Not everything expensive is good! haha
Freakin' Awesome First Date Tip #2 - Keep the conversation fun at first, then get your date to tell you stories to reveal their character. If you have deal breakers, ask about them. The other person might lie. But if they admit something, then you can cross them off quickly.
Stay away from divisive topics like religion and politics UNLESS it's a dealbreaker for you if they are not ALSO a Liberal Buddhist who believes in social welfare for all people except those with sideburns. Damn those people with sideburns!
NERD BOY: I was once tried to grow a sideburn. It didn't work very well. It turns out I'm allergic to facial hair. Besides I don't want anything blocking me from getting a tan from the warm glow of my dual computer monitors!
Watch my videos on conversation and video 526 on how to be a great listener!
Freakin' Awesome First Date Tip #3 - Exhibit good manners unless you are the bad boy type or rocker chick. In that case, exhibit the worst manners possible. C'mon! You've got an image to maintain! haha
This means be on time. Don't belch. Don't check text messages. Don't take phone calls. Guys, it's really classy if you...
This is taken from my Premium Members section where I post my new videos.
Here are some more tips, but only Premium Members get the entire video + access to over 500 full dating and relationship videos in the Video Vault!
- Guys, be assertive. Direct the date. Direct the conversation.
- This is not a friendship evening. Do not go crazy with the romance. But don't go to hang out like you're brother and sister. Guys, here is exactly how to stay out of the Friend Zone...
Only Premium Members have access to this Video!
1 - Learn more about the Premium Membership
or
2 - You realize Life is Short, get the relationship you deserve and Join Now!
Need one-on-one coaching? Contact
Dating Coach
HogWild for help!
Latest HogWild Dating Advice


Click here to Get Greater Dating Confidence + Increase your Relationship Skills
"The most important part of any relationship... is choosing the right person... in the first place." - HogWild
With your Premium Membership, I'll show you WHY that is true... and HOW to choose the right person for you.
HogWild's dating advice and comedy has been viewed by over 2 million people on YouTube. They have written thousands of positive comments thanking him for his coaching.
He has won awards for his outstanding teaching abilities and stand-up comedy and has been featured on PBS, Mad Magazine, Clear Channel Radio and more!
He has premium members learning from his dating advice from all over the globe including the United States, United Kingdom, Germany, Denmark, Ireland, Egypt, Mexico, Australia, and Canada. Yes, even Canada! :)
Become a paid member and you get INSTANT access to over 500 dating advice videos that will help you answer such questions as...
"How to be mega-confident"
"How can I become more desirable?"
"How to conquer the Fear of Rejection"
"How to Approach"
"How to get hotter sex"
"How to read the secrets of body language to know if someone REALLY likes you"
"How to keep a person loyal to you"
"How to tell a story so it increases attraction to you"
"4 Great Places to Meet your next Girlfriend/Boyfriend"
"How to Get over your Ex. Completely."
"How Flirt Effectively"
"How to Destroy Negative Thoughts"
"How to Immediately Screen out the Psychos"
"#1 Mistake that makes Conversations with new People Boring"
"7 Ways you are being Unattractive"
"8 Tips for the first time you have sex with a person of the sexy sex"
"How to deal with being hurt"
"How to bring out your inner-awesome"
And so much more!
You will finally feel control over your dating life and you will get the relationship you really want.
HogWild's dating advice makes it easy!
Become a member and get INSTANT access to the videos that will change your love life forever!
***