JUSTIN: As the Cowboys sit at 8-1 and the Mavericks begin their quest for redemption with a great start to the 2007-8 season I have to admit I'm feeling pretty good about my teams, even if the Texas Rangers suck. That being said, can you imagine what it's like to be a Boston fan right now?

HOG: Yes I CAN imagine what it's like to be a Boston fan. I imagine it's like being a huge douche-bag.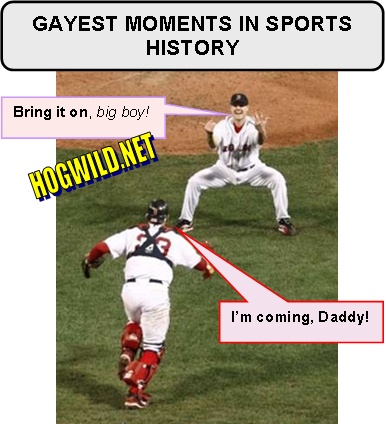 HOG: Damn you, Boston! Okay, I'm jealous. But my New York teams will have redemption! The mighty Knicks will rise again! I promise you this by Holy Ghosts of Patrick Ewing, Charles Oakley and John Starks!!!

JUSTIN: Yikes! Look out Boston it sounds like NYC will be attacking you with bricks!
HOG: Hardy-har-har-har. I know the Knicks suck. The Knicks suck so bad that their point guard, Stephon Marbury, actually ran away from home.

He physically left the team. Got on a bus and left town. I think he has the right idea. The rest of the team should follow his lead. Then we can start over.

JUSTIN: The Red Sox just won their second World Series in four years and both the Patriots and Celtics are undefeated. What the hell? One side of me wants to hate the Boston fans but the other side of me has to wonder how would I feel if the same thing were happening in Dallas? With that in mind, I decided to break down the three teams in Boston doing all the damage!

Boston Red Sox: Red Sox fans have to be on top of the world right now. With young stars like Josh Beckett, Jonathon Papelbon and Dustin Pedroia, not only do the Sox have the cheesiest facial hair in baseball but they also have one of the most talented rosters.

Throw in the fact that Big Papi and Manny Ramirez still have gas in their tank and there's absolutely no telling how long this team can keep on rolling.

HOG: Yes Manny will be "rolling" for a long time. Rolling joints and smoking them. The guy has long dred-locks and he never cleans his helmet and smokes up. He's the 1st-ever dirty hippie from the Dominican Republic!

JUSTIN: Of course having the second highest payroll in baseball doesn't hurt but then again the Yankless Yankees spend more money than most countries in Africa spend all year and haven't had anything to show for it since 2000 so go figure.
Best Hope to Knock them off: Detroit Tigers.

HOG: The Yankless Yankees? I'd say they're great at yanking the way they've been choking it in the playoffs.

JUSTIN: Ha ha ha! Nice!

HOG: Give them a break. If the Yankees won 10 World Series in a row everyone would complain because they have the highest payroll. Now that they don't win, people mock them for NOT winning. You can't buy your way to a World Series… it takes a combination of money-well-spent, clutch performances and the perfect clubhouse chemistry. And by chemistry, I mean the right chemicals mixed into the syringes.

JUSTIN: New England Patriots: Or should I call them the Cheatriots! They've been blowing out everyone that's stepped on the field with them and with Miami, Buffalo and the Jets playing like crappy college teams it doesn't look like anyone's going to be able to stop them.

The Colts came close but nutted up as usual, blowing it in the final minutes of regulation leaving the Cheatriots as the lone unbeaten team in the NFL. Can anyone stop them?

HOG: Yes. Mr. T.

JUSTIN: I'm guessing that there are only three things that can stop the Patriots quest to go 19-0.

1. If Bridget Monahan started hanging out with Britney Spears, had a complete nervous breakdown and forced a judge to turnover full custody of her and Tom Brady's kid over to him. Surely taking care of a toddler would distract Super Quarterback enough for at least three losses.

2. Injuries. If Randy Moss or Tom Brady were to go down at anytime during the season it's going to leave the door wide open for reason number 3.

3. The Dallas Cowboys! Each week they're getting better and better and will surely want revenge on the Pats after they ran up the score on them in Dallas.

Best Hope to Knock them off: 8-1 Dallas Cowboys, 7-2 Indianapolis Colts

HOG: Ahem! What about the most under-rated team in the NFL… my New York Jets! Everyone says they stink. But hey, they won a game this year! They won… a game!

JUSTIN: Boston Celtics: Not since Larry Bird graced the parquet floors of the old Boston Garden has anyone cared about Boston Basketball. Now after 21 years of failures, former player Danny Ainge has pulled off two extraordinary trades for a rejuvenated Kevin Garnett and the dead eye shooting Ray Allen and turned the Celtics into title contenders.

They've already stormed out of the gate to a 7-0 record and much like the Patriots they have been crushing anyone who's played them.

In fact, most people who watch basketball would be ready to crown them World Champions right now if it weren't for the fact that their three star players have been in the league longer than HogWild's latest dry spell (10 years) leaving them just one major injury away from mediocrity.

HOG: Whoa! Whoa! Whoa! I just had sex! It was during President Bush's inauguration… uh, the first President Bush. HA HA HA!

JUSTIN: Not to mention anytime Doc Rivers is coaching your team you have to be worried about being out-coached by just about any team in the league except for the Knicks. And most important of all, even if the Celtics do make the Finals they're probably still going to have to get by the World Champion (from Texas) San Antonio Spurs.

Best Hope to Knock them off: San Antonio Spurs or Phoenix Suns

Still you have to admit that it's an amazing time to be a fan in Boston. Never in the history of sports has one city hosted the World Champions in all three major sports. In fact I can't remember a city even hosting two.

HOG: In 1986-87 season: New York Mets and New York Giants.

JUSTIN: How OLD ARE YOU?

HOG: 112. Anyway, in the 1992-93 Season: Peoria, Illinios brought home the World Lawn Darts Championship AND the Inter-Continental World Thumb Wrestlin' Trophy.

JUSTIN: What happens if the Celts and Pats win out and join the Sox as World Champions? Would hell freeze over? Would the city of New York collapse? And most importantly, would the country ever recover from the female Boston Bandwagon fans wearing those stupid ass PINK JERSEYS??? This must have been what it was like to live on the planet Tatooine while the Empire ruled the galaxy!

HOG: Wait, you're saying that I haven't had sex in a long time… you're the one making Star Wars references! HA HA HA! The last time you had sex was a long time ago… in a galaxy far, far away…