Hog's mom approves of this article.
Break-ups suck. They hurt. They're confusing. And worst of all, it's the end of steady boinking.
I have many humiliating break-up stories. Some sad stories. But this one, THIS one is the only one with a happy ending. Sort of. Shall we begin?
NOTE TO SELF: Who the hell still says "shall"? I guess it sounds more civilized, as in: Shall I kick you in the b@lls?
I'm out eating at the Indian Restaurant with my buddies. At this place I go, they are very efficient at refilling your glass of water. Not just when it's empty. But after every sip.

The busboys take their job very seriously. They are very eager. As if they are paid on commission or something. They are also eager to take your plate. Even if there is still food on it. You can't put down your fork for a second. You put down your fork, they take it as a sign of weakness.

If you go to the bathroom, the other people at the table have to vouch for you.
EAGER BUSBOY: Is he done?
YOUR FRIEND: Oh no! He's still workin' on it!
EAGER BUSBOY: Are you sure? He looked pretty full.
YOUR FRIEND: No! I swear!
Then you get back to the table and your friend warns you, "You'd better finish all that! I promised the busboy!"
So I had a girlfriend at the time, and she calls. I answer quietly because I think it's rude to answer the phone at the table with other people. She's accuses me, "Why are you talking so low? Who are you with?! Are you on a date?! Are you cheating on me?! If you weren't on a date, you'd be happy to hear from me!"

So I calmly explained to her that she is a psychopathic b!tch.
No. Of course not. I explained that I was out to dinner with friends. But she was still mad that I didn't answer her phone call in a "happy" tone.

Ugh.

I'm not good at talking while out to dinner. I'm good at talking before the food comes out. I can even talk during bread. But once the main dish is out, I'm 100% focused on the food. To me, the food is the star of the show and conversation would be rude. Like interrupting a live performance. You may as well darken the entire room and put a spotlight on the food.
When I'm done, I want to give the food a standing ovation. And I would! Except I'm usually too full and sleepy.

And I definitely don't talk much while eating spicy food. It makes my nose run. I love spicy food. But my mucous membranes are weak. But I won't let that stop me! I'm enjoying my hot wings or my spicy Chinese food and I'm wiping my nose every 15 seconds.

Everyone at the table thinks all my sniffling is obnoxious.

They're like, "Will you cut it out already!"

But I can't! Spicy food makes my nose run!

Then they use "logic": Then don't eat spicy food!

But I love it!!!

My girl calls me again. This time I will be sure to answer the phone in a "happy" way. So I see it is her calling... I answer it and shout so she and the entire restaurant can hear: "Hey everybody! It's my girlfriend! I love her!"

Then I spell out the letters while forming them with my body like a cheerleader... "I L-O-V-E Love her! Love her! LOVE HER!"
"Hi, sweetheart. Hello? Hello?"
The next night she calls me on the phone... to break up. She's going on and on about how she's sorry but things aren't working out. That it's her, not me... blah blah blah... meanwhile I'm too busy watching TV and eating my Chinese take-out to care.
All I can think about the situation is, Man this is spicy!
So she gets quiet for a second and all she hears is me sniffling. <Sniffle. Sniffle.>

She's like, "Oh no! You're crying! I didn't mean to hurt you!" She pleads with me, "At least say something!"

But I had some food stuck in my throat so all I could do was clear my throat and cough like, <Cough> <sniffle> <sniffle> <cough>

She's like, "Oh my God! I'm so sorry! I don't know what I was thinking! I still want to be with you! I'm coming over right now to make you feel better!"

And that night we had great sex. Thank you "Szechuan Shrimp in Spicy Sauce!" I love you!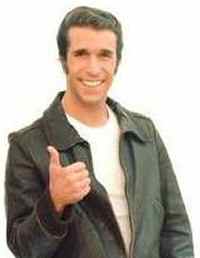 Want a kick-ass comedy show for your college or party? Email me for details.