JUSTIN: In a world packed with metrosexuals, tattooed wuss rockers (Hinder) and prima donna superstar athletes it's hard to find a real American hero any more. That's why when the world's greatest daredevil, Evel Knievel died, a little piece of me died too.

HOG: I hope it wasn't your IMPORTANT little piece that died! HA HA HA!

JUSTIN: It marked the end of an era where a man could go out, hop on his motorcycle, jump over a bus or 7 and then have a threesome with two super hot biker chicks. Not that I ever did that, (tear) but Evel Knievel was the coolest so I'm dedicating today's column to the greatest daredevil that ever lived.
HOG: Having made humpy with a hot biker chick I can say that it is PDA. (Pretty Damn Awesome.) A hot biker chick is like riding the motorcycle itself. Intimidating at first. But once you take control, the ride is an exciting adventure with sharp turns, where her engine revs with sudden acceleration with the real chance that you will break your arm.

JUSTIN: My first memory of Evel Knievel was seeing him jump over something on a rerun of ABC's Wide World of Sports. I was so moved by the stunt I immediately went outside and tried to recreate it by jumping over my grandfather's truck on my Schwinn. Of course I busted my ass but in my defense Evel Knievel was a professional while I was just a crazy ass kid with a rusty ass dirt bike.
HOG: Plus you had it more difficult because your bicycle was weighed down by the white basket on the handlebars. HA HA HA!

JUSTIN: The good news was that since I had knocked out my two front teeth (swallowed them actually) and didn't have anything to give the tooth fairy, my grandmother took me out and bought me the greatest toy ever made...

The Evel Knievel Stunt Cycle!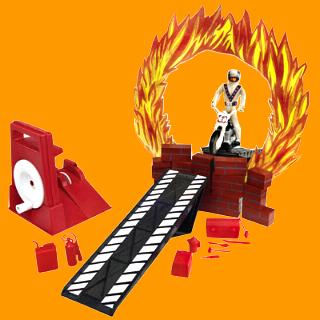 JUSTIN: Combined with my grandmother's linoleum floors and a bucket full of Legos I was able to recreate every jump he ever attempted, even going as far as inventing some of my own like when Evel Knievel jumped over the Lego Alamo!

HOG: I wonder how many knocked out front teeth Evel Knievel is responsible for? Plus, you swallowed them? My lord. That must have really hurt to, uh, "pass" those. Like a bite in the ass! :)

JUSTIN: For those of you though who are too young to remember Evel Knievel, you missed one of the greatest stunt men in history. Knievel was the only man who ever attempted to jump the Snake River Canyon on a rocket powered motorcycle. Which just goes to show that men will do absolutely anything if they think that it will get them laid!
Knievel was the man who after doing a life time of stunts entered the Guinness Book of World Records for having broken over 40 bones in his body.

HOG: I'm proud to say that I've never had a broken bone. This despite being a superstar athlete, dominating all sports video games. Sitting down = no broken bones! Though one year I did suffer a season-ending hemorrhoid injury.

JUSTIN: Ha ha. A couple of years ago there was a basketball player in the NBA that had to miss a few games because he injured his thumb playing video games for too long.
HOG: Most Common Non-Basketball Related Injuries for NBA Basketball Players:
1 - Infection resulting from botched tattoo
2 - Still high on marijuana at game time
3 - Gonorrhea

JUSTIN: Probably one of his most famous stunts that he actually completed was when he jumped the fountains at Caesars Palace.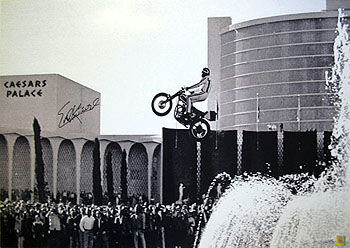 In front of a record crowd, Knievel took off to defy death and jump the fabled fountains. As usual though things didn't go entirely as planned when his bike decelerated at the last moment forcing him to land on a safety ramp once he cleared the fountains instead of the real ramp. The result was a bone jarring landing that actually broke the handle bars off his motorcycle and sent him into a crash that left him with a crushed pelvis, a crushed femur, a broken wrist and a concussion that would've made Troy Aikman blush.


HOG: Yeah. See there's easier ways to impress girls. Because most girls don't go for guys with a crushed pelvis. In fact, those 2 words should NEVER go together. I'm getting chills just saying those 2 words together. The word "crushed" should never precede any of the following words:
"grandmother"

"baby panda"

"testicle"

JUSTIN: Even though it seemed that he crashed more stunts than he landed, Americans cheered on Knievel because no matter how bad he fell, he just kept on getting back up. And even though his pot bellied balding dork of a son Robby Knievel has broken most of his records, I think any of us who ever saw Evel do a stunt and bust his ass will agree that there will never be another one like him.

HOG: 3 new super dangerous stunt ideas for Robby Knievel in order from least to most life-threatening:
3 - Ride his motorcycle up a ramp and jump over a flaming barrel. Then kiss Paris Hilton on the mouth.

2 - Fly in a small plane over Mount Everest where all the computer controls are powered by Windows Vista.

1 - Attend a New York City public high school.

And let's not forget the Greatest Stunt Ever in the History of Television Sitcoms. When The Fonz, on water skiis and wearing his leather jacket, jumped over a shark.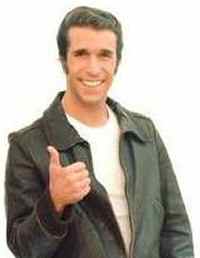 Want a kick-ass comedy show for your college or party? Email me for details.