Hog's mom does NOT approve of this article.
I present to you the hottest sports wives in the universe. I didn't rank the girls in any order because I'll leave that to you.
Everyone knows that athletes are the most important members of society. If that weren't true, why are they paid millions of dollars to run around having fun while you are hunched over a keyboard 40 hours a week in exchange for the amount of money they spend on cocaine -- I mean, donate to orphanages?
So it also makes sense that these superior humans have the hottest women with whom to just do-it.
Hot Sports Trophy Wife #1: Gena Lee Nolin.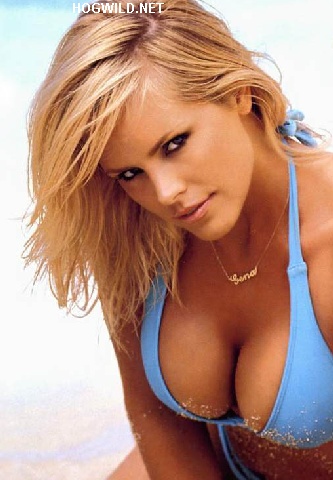 What's ridiculous about this situation is that SHE is more famous than her husband. She's been in Playboy and on Baywatch. Her husband Cale Hulse plays hockey somewhere.
Life is fair, isn't it? Your girlfriend looks like her face was caught in a firecracker accident and you still have to kiss her ass for a hummer. Meanwhile a girl with huge pucks is high-sticking it with a guy named Cale.
Hot Sports Trophy Wife #2: Elin Nordegren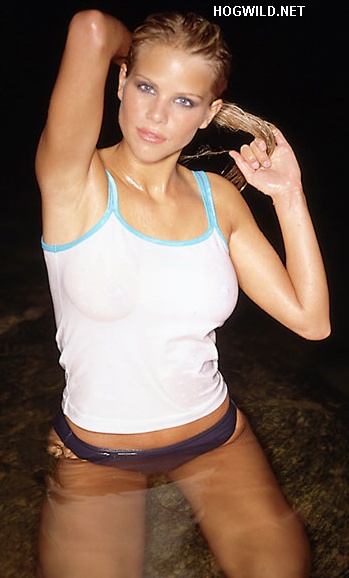 Okay, this one is more fair. This is the wife of Tiger Woods. Yes, this is where Tiger sinks his putts.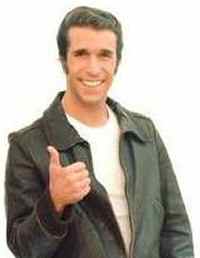 When you become the best in the world at what YOU do, then you can expect a hot bim like this.
Yeah, right. Like girls are attracted to the world's best intercom repair man. (No offense intercom repair men, I'm just saying, treat that girl you got right and don't let her meet any pro golfers!)
Tiger is teeing off on Elin Nordegren while the rest of us are begging girls who are double-bogie to let us sink our birdie in their hole-in-one. We spend half our paycheck to get on the green only to find out that she wants another player to drive the wood into her sand trap.
Wow. I am not subtle.
Hot Sports Trophy Wife #3: Michelle Damon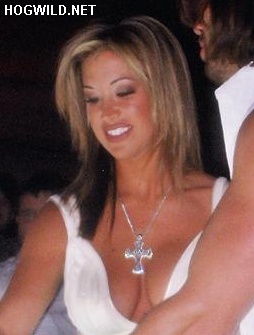 Johnny Damon's wife Michelle wears a crucifix... I wouldn't be surprised if mini-Jesus resurrected off her cross, saw her huge hills, and began to deliver the Sermon on the Mount.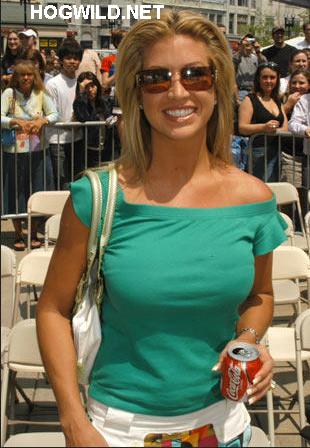 ABOVE: Right now I wish my jammy was a popular soft drink.
Hot Sports Trophy Wife #4: Jamie Kotsay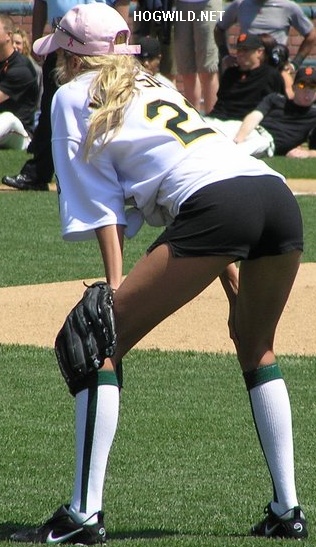 Okay, 1st of all her husband is Mark Kotsay, a baseball player who isn't even all that good. Okay, technically just by being a Major Leaguer he's one of the best in the world, but he's by no means a star. Yet every night he gets to slide into HER home base!
(I can't believe I am this juvenile. What the hell is wrong with me?! When will I grow up?)
As I was saying, Daaaaaaaaaaaamn! Who WOULDN'T want to get to third base with a baseball wife like that? I mean, I'm corking my bat right now!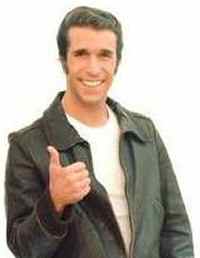 Hot Sports Trophy Wife #5: Anna Benson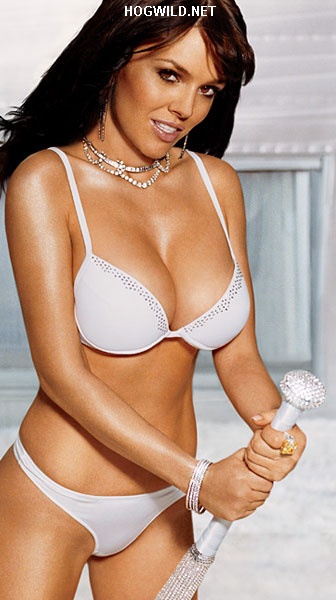 Another wife who is more famous than her husband. But this time it's only because she acts like a wh0re. I mean, she's posing while j3rking off a baseball bat! Why doesn't she just rub pine-tar on her n!pples? Or get completely naked except for a catcher's mask? Or threaten to have sex with every single member of her husband's team. Oh yeah, she did that already.
Hot Sports Trophy Wife #6: Vanessa Bryant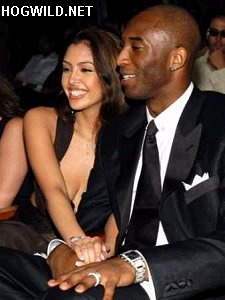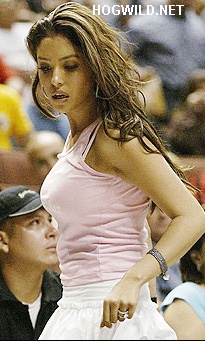 I love this chick! Because she stands by her multi-million dollar contract! Uh, I mean her husband. While Kobe was on trial for a flagrant foul while "taking it to the hole" with some skanky white chick in Denver, his young wife supported him. Now that's a keeper!
Of course Kobe had to sell his NBA Championship ring to buy her a diamond ring the size of the former U.S.S.R. But whatever. She's totally hot. And she likes to go braless. Let those basketballs dribble baby!
Hot Sports Trophy Wife #7: Victoria Beckham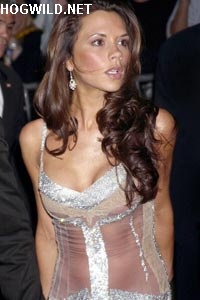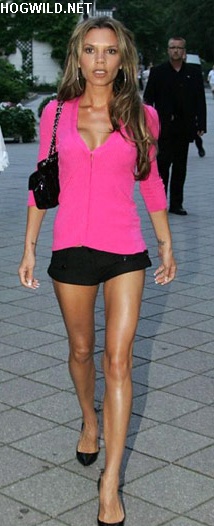 I guess there's this sport called soccer that's really popular in other parts of the world. But what the hell do they know?! If they knew anything about REAL sports they'd watch grown men in face paint and spandex hit each other over the head with metal folding chairs!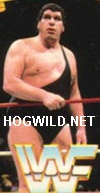 So anyway this ex-Spice Girl is married to the best soccer player in the world. She's hot but c'mon, David Beckham has his choice of any girl on the planet. Why not choose a sexy brunette who can actually sing? ... Like J.Lo!
Hot Sports Trophy Wife #8: Mrs. Jose Lima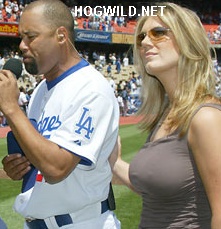 Ummmmmmm.... whose stats are more impressive?
Mr. Lima: 0-3 8.79
Mrs. Lima: 86-24-36
Hot Sports Trophy Wife #9: Stephanie McGwire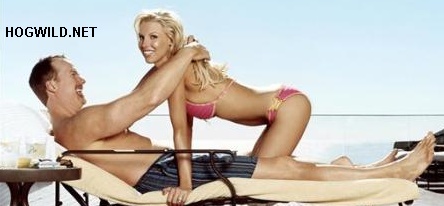 "Hi, my husband has tiny, tiny balls from using steroids. That's okay, he's big in his pants where it counts... in his wallet!"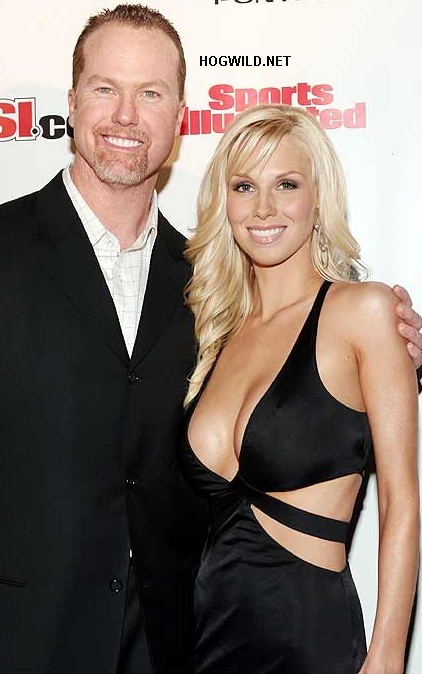 In baseball there is a lot of debate... who is the REAL single season Home Run champ? Non-cheating Roger Maris with 61? Probably-cheating Mark McGwire with 70? Or Definitely-cheating Barry Bonds with 73? I say, Mark holds the record because he hits it out of the park with Stephanie every night! (Actually, they're married, so let's say six times a month.)
Please remember your 10th Commandment and do not covet these wives. No. Be patient. They're married to guys who are notorious for cheating. They will all probably be on the market soon enough. That's why you can roll up and impress her with your rugged good looks, killer physique, large bank account, and your fame. Oh wait, I was describing the athletes again. Sorry!
Hot Sports Trophy Wife #10: Mrs. Richard Jefferson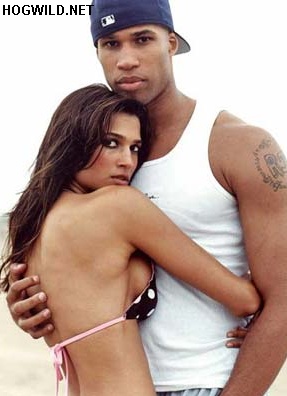 She's like, a model or something. He's a basketball player. I wonder if he treats his wife like he does his basketball opponents... like after he shoots he shouts, "In your face!"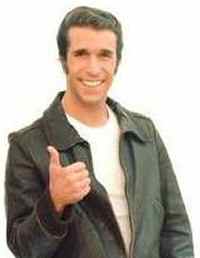 NOTE TO ALL HUGE ATHLETES: Please don't crush my spine. These are just jokes. Thank you.
Hot Sports Trophy Ex-Wife #11: Joumana Kidd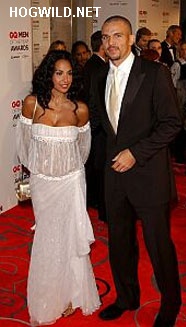 Jason Kidd is a big star of the NBA so it's only right he gets to run the half-court press on this hottie-boom-body. That is, until they divorced. I've noticed that all these bims have classy implants, well except...
Hot Sports Trophy Wife #12: Laura Posada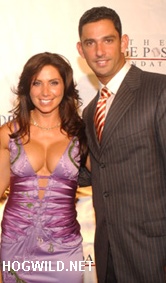 Not sure if she belongs here. But she has huge Foobies (Fake Boobies). How do I know they're fake? Because God's work is a bit less square looking. But it is hard to tell these days whether a girl's snuggle-bubbles are natural or factory-installed.
I say all boobies should now come with a certificate of authenticity! Like Transformers back-in-the-day. If her squeeze 'ums don't have the special hologram, then they are not the originals!
Hot Sports Trophy Semi-Wife #13: Veronica Varekova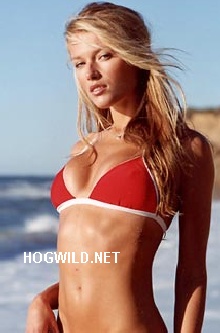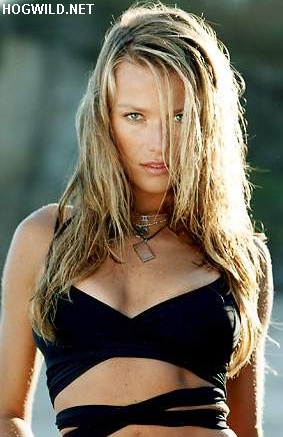 Petr Nedved is the lucky NHL hockey player who faces off against this beauty. Oh, what I would do for 2 minutes in HER Penalty Box. (Okay, I know I'd be ejected after only 20 seconds into my Power Play.) They are currently separated. So guys, here's your chance! Yeah, right.
Hot Sports Trophy Wife #14: Marilyn Monroe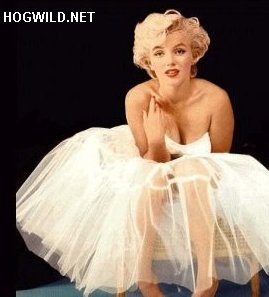 I know she's dead, stupid! This is my Legends Pick. Before Marilyn Monroe sports stars had to settle for "average" women. Oh the humanity!
Don't believe me? Take a look at this: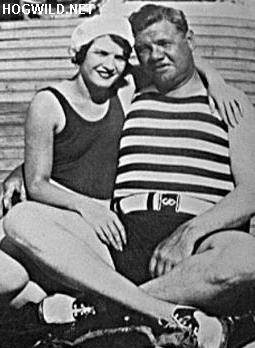 That's BABE RUTH... the greatest baseball player that has ever lived. The man who saved America's Pastime. The man who hit more home runs than entire teams! And his wife has armpit-fat for breasts. (To be fair, so does he.)
Joe DiMaggio and Marilyn Monroe forever revolutionized the way we look at Sports bimbos. They were a high-profile couple with star power. Today, the bootleg version of this today is Tony Parker and Eva Longoria.
So again, congratulations to these Athletes for having hot wives! Next time, we'll look at the Hottest Wives of DMV employees.
HA HA HA! No seriously, if you work for the DMV and your wife is hot, you know where to send pictures.