JUSTIN: In case you didnít notice, the NBA is back and it looks like things are shaping up for one of the most exciting years ever.

HOG: Not for me, man. Iím a Knicks fans. My only excitement is from wondering which Knick will be next to be brought up on charges of sexual harassment. If only the Knicks players pressured the zone that much ON THE COURT!
JUSTIN: With resurgence of the Celtics, Kevin Durantís rookie season and the quest for back-to-back titles by the San Antonio Spurs I couldnít be more excited about the NBA season. So in the spirit of this year's new and exciting basketball season, this weekís column theme is Summer Blockbusters!

Although I am totally distracted by a certain football team that was 7-1 and heading to the Super Bowl for the first time in 12 years. I wonít mention their name because the last time I did that they l-o-s-t, but Iím not superstitious or anything.

HOG: Whatever! My NY Jets are on pace to go 1-15 and head to the Toilet Bowl. They should have a special game for the 2 most pathetic teams in the NFL. And then the losing team has to go up against the lions. Not the Detroit Lions. ACTUAL lions.

JUSTIN: The Transformation of the Boston Celtics: Last year the Celtics sucked harder than Michael Bayís last blockbuster Pearl Harbor.

HOG: Very clever. How many brain cells did you pop thinking that up? HA HA HA! Just kidding. Iím still upset that you have outstanding football and basketball teams while my teams are sadder than a fat chick with small boobies.

JUSTIN: Ha ha! Could be worse, you could be one of those smug Boston fans who are on top of the world right now. Bastards!

After trading a first round pick for sharpshooter Ray Allen and rescuing Kevin Garnett from Minnesota, the Celtics are 4-0 and destroying everything in their path like Megatron and the Decepticons. Can anyone stop them? Only time (and injuries) and Optimus Prime will tell.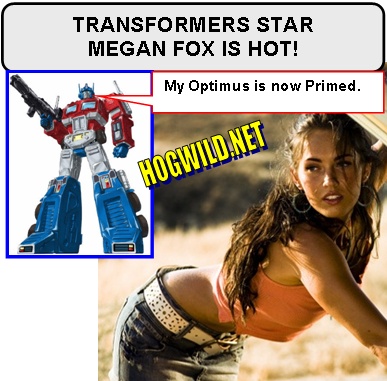 HOG: Growing up, my parents couldnít afford to buy us Transformers so we had to settle for GoBots. It was humiliating. So my brother and I pressured my parents and they finally gave in and bought us Transformers! Last year. So now Iím playing with them like a motherf*cker! Yeah!

JUSTIN: On a side note I'll never be able to forgive Bay for turning Jazz into a stupid ass Pontiac Solstice! They might as well have had him transform into a robot with a mullet!

The Amazing Kevin Durant: Sam Raimi may have turned Spiderman into a crying, p*ssy whipped, jazz dancing embarrassment this year but even he couldnít ruin Kevin Durantís rookie year. After dominating the Big 12 at the University of Texas, Durant went pro and was promptly snatched up by the Seattle Supersonics.
His game is raw and his body is still a little skinny for the NBA but at 6-10 with the wingspan of a condor, heís bound for glory. You heard it here first (or maybe 510th) Kevin Durant will be the Rookie of the Year!

HOG: Wingspan of a condor. Wow. Growing up in New York City, I have to admit Iíve never seen a condor. The only birds we have are pigeons. How many pigeon wingspans are in a condor? This is like converting feet to meters or something.

JUSTIN: The New Look Atlanta Hawks: Donít get me wrong, I donít think the Hawks are going to be giving the Spurs a run for their money anytime soon, but thereís a good chance the Atlanta Hawks might not be horrible -- which is saying a lot for any team from Atlanta not named the Braves!

It seems that after years and years of sucking, the Hawks have managed to use the top five picks in their past three drafts to stock their lineup with more young talent than the cast of Knocked Up. Ummm, I think this is a good spot for a picture of Katherine Heigl! Look for them to shake things up in the East and give birth to a bouncing baby playoff series this season!

HOG: Dude, I'm not going to pander to your every horny whim. C'mon. Our readers need a good reason to stare at Katherine Heigl's boobies! So I am ONLY posting this picture because it will contribute to World Peace.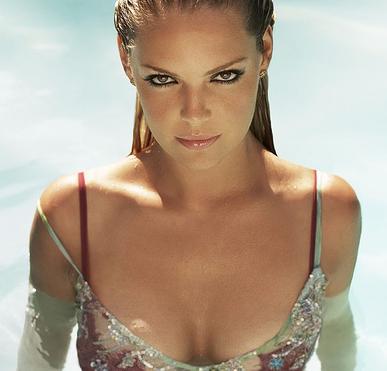 HOG: Okay, cool. World Peace accomplished. I havenít seen Knocked Up yet. I did see Superbad though. (Made by the same people, I think.) And it was hilarious!

JUSTIN: Knocked up rules although I haven't seen Superbad yet...

The Texas Trilogy: Much like the three gazillion dollar Shrek movies, the three Texas basketball teams are money in the bank this year!

Letís start with the reigning World Champions, the San Antonio Spurs. Why? Because Tim Duncan actually looks like Shrek!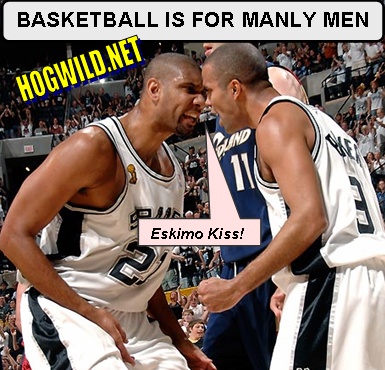 JUSTIN: The Spurs didn't change much and didn't really need to because with Tim Duncan and LeTony Parker they are still the team to beat in the West and have to be the favorites to take it home this year.

HOG: The San Antonio Spurs are an excellent team. They just might become the NBAís Most Boring Dynasty. If youíre a Spurs fan, you love them. Duh. But as an NBA fan, I want my Dynasty teams to have a Michael Jordan playing alongside a tattooed, green hair mohawked Madonna-humping freak.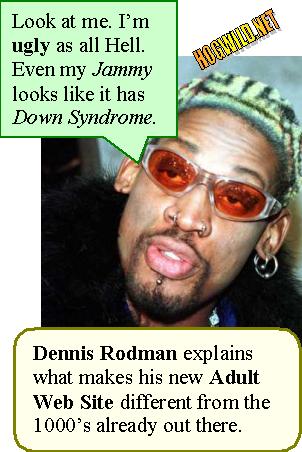 HOG: Or I want the Showtime Lakers. Or I want that Knicks Dynasty team of uhÖ hmmÖ you know the Knicks Dynasty Team of 1994 that dominated by losing to the HOUSTON ROCKETS! Damn you, Texas!

JUSTIN: Pardon me while I fire my pistols in the air. Speaking of the Rockets, they're good but much like Puss n Boots they just donít have the muscle to beat the King. They may go deep in the playoffs but unless they find another scoring option besides the brittle Yao Ming and the always-hurt Tracy McGrady theyíll be licking themselves in front of the TV come championship time.

Which leaves us the Dallas Mavericks. They remind me of the Ass in Shrek because thatís what they look like every time they get bounced out of the playoffs. Whether it's the 2005 Finals when they choked against the Heat or their first round exit at the hands of the 8th seeded Golden State Warriors last year, this team needs a kick in their ass to get over the top. Unfortunately since they didnít do much in the off-season, theyíve got about as much chance of winning the title as Donkey had of being a stallion.

HOG: Whatís sad is that Donkey is Eddie Murphyís funniest role since the Knicks ďDynasty.Ē

JUSTIN: What about...ummm...that one with...damn Eddie what happened?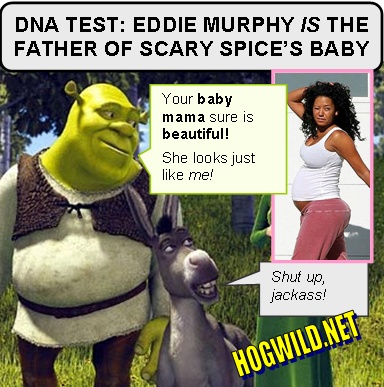 JUSTIN: Still though itís early and itís a long season so anything can happen. This year Iím picking the San Antonio Spurs to win it all in 7 games over the new and improved Boston Celtics. I also predict that Isiah Thomas is fired by Christmas and the New York Knicks make the playoffs in his absence! That's right, BOLD PREDICTIONS FOR A BOLD NEW NBA SEASON!!!

HOG: That would be so awesome! But a successful Knicks team is as likely as watching a movie in the theater without it being interrupted by some stupid b!tch talking on her cell phone. And much like movie theater candy, the Knicks are overpriced and will give you a stomach-ache. But at least with the Knicks you're sure to see a huge Hollywood implosion in the 2nd half and a sex scene!