Hog's mom does NOT approve of this article.
At the time of this writing, my favorite basketball team, The New York Knicks, suck like sucky suck-ass suckness.
NOTE TO SELF: Um, it's really time to work on your analogy-making skills.
The Knicks have the NBA's worst coach, worst owner, and players who are more selfish than uh... uh... DAMMIT!
There is just 1 reason to go to a Knicks game: the thrill of drinking a $42 cup of beer.
And the New York Knick City Dancers: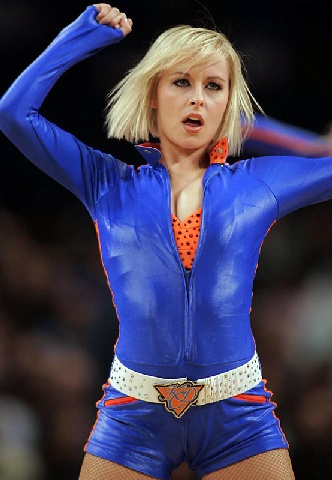 The girl above looks kinda like a Super Hero. Her super power is her ability to pull a man's eyes out of his sockets with her amazing Super Cleavage.
WARNING: Incredible booty ahead: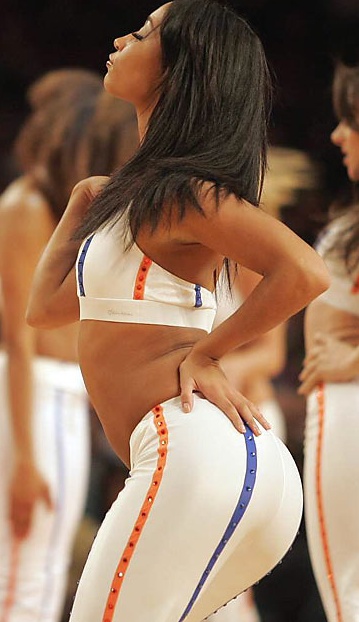 Look at that assalicious ass. Wow. I wonder how many guys have been "making romance" behind her and were whistled for a "backcourt violation."
This next Knicks City Dancer apparently was unimpressed by one of the Knicks she slept with.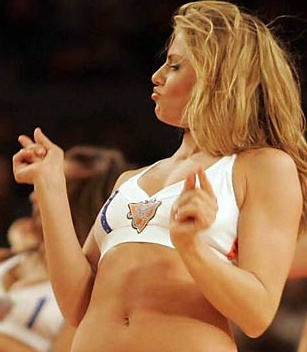 NOTE TO THIS GIRL: I'm KIDDING! I know you would never have sex with any player on the New York Knicks... you have standards!
I feel like I had to write that disclaimer after I got angry emails from the The Nets Cheerleaders after this article.
The Knicks cheerleaders, er, City Dancers are pretty hot, much better than the NBA's Ugliest Cheerleaders: Orlando Magic Girls.
WARNING: This next photo will make you double-dribble.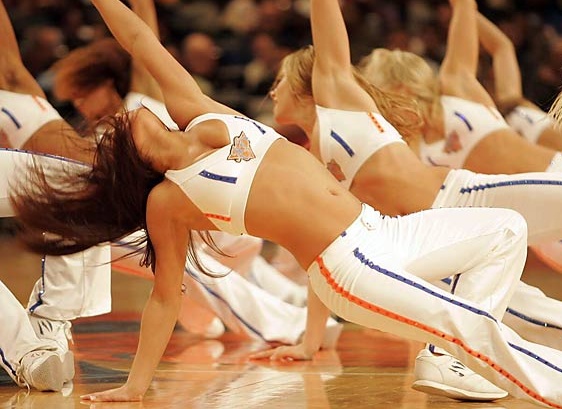 Seriously, holy crap! The Knicks City Dancers are so much BETTER than the team they work for. They should switch roles.
They should have the Knicks City Dancers on the court for 48 minutes and have the basketball players run out on the court for 2 minutes at a time during breaks in the action.
Yeah, totally. That way we can see a good performance for 48 minutes and tolerate some bad basketball in between.
Finally, talent in a Knicks uniform: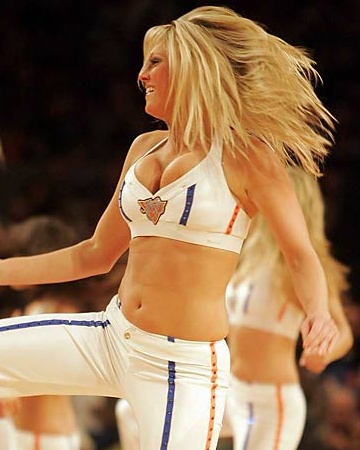 Hair whipping: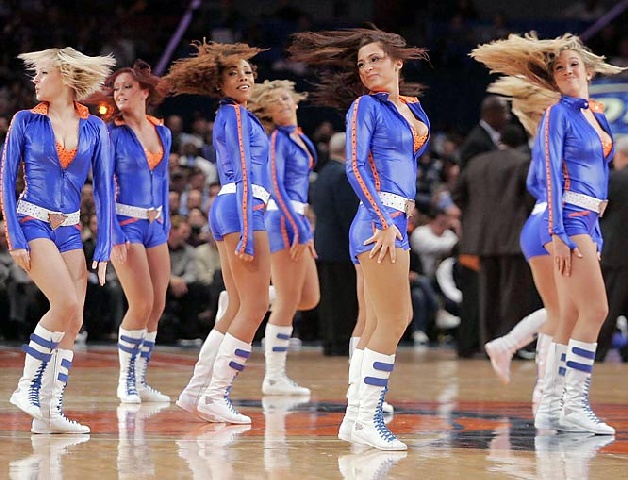 I think it would be hilarious if while the girls are whipping their hair around, one girl's weave came flying out and slid down the court.
NOTE TO KNICKS CITY DANCERS: Just kidding! I'm sure you are all 100% natural! I for one don't care if you're natural or not. At least you're trying to be better! The Knicks players don't even care enough to cheat!
WARNING: Intense camel-toe ahead!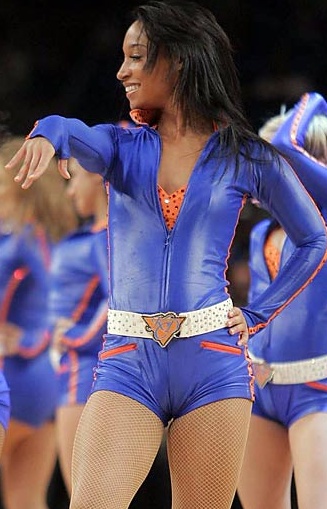 I dunno. Maybe I'm weird, but I don't get turned on by looking at a hoo-ha wedgie. Now that I'm looking at her below-the-equator region... why in the hell does this outfit have pockets? What the hell is she putting in there? Her shorts are too tight to properly house her vagina, how is she possibly going to conceal the gun she needs to shoot the coach in the ass?
This next picture makes me wonder... as hot as it is that a girl would brag about her lady-hole, could I ever do-it with a girl wearing boots like that?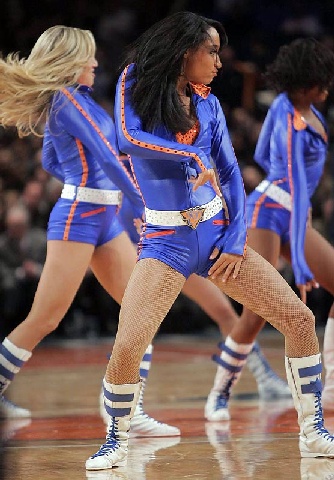 Like, what if she insisted on wearing the boots while having sex? Because those boots look like they smell like an old man's balls after a work-out.
The Knicks City Dancers are dancing: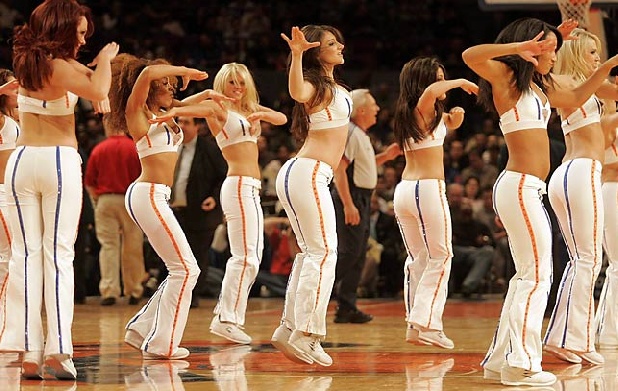 Like you, I'm wondering why in the heck they aren't called "Cheerleaders." I think it's because even they refuse to cheer for the Knicks.
The Knicks suck so bad they should have Jeerleaders. Hot chicks with pom-poms who jump up, "2-4-6-8... Which team is a bunch of pathetic losers who don't even deserve a rhyme? The Knicks! The Knicks! Boo! The Knicks!"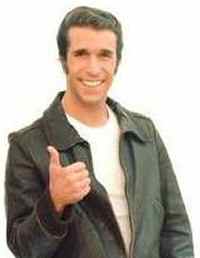 Want a kick-ass comedy show for your college or party? Email me for details.