JUSTIN: First off, before I write anything about sports, let me just say that I hate everyone. I hate everything and each minute that the tension builds up I feel like I'm going to die. NOT M@STURBATING FOR A WEEK...why oh why did I ever take this stupid ass bet with HogWild?!
HOG: Hey, I didn't bet you. I just mentioned that I was doing it (or, actually NOT doing it) and your Texas Pride told you that if I could do it, you could do it.

I wouldn't wish a week of Not Touching Yourself on my worst enemy. It's cruel and unusual punishment. That's why the courts can sentence a murderer to the Death Penalty but can NOT forbid him from touching himself. Come to think of it, if I was sentenced to the Electric Chair, as soon as I sat down I'd start to rub one out. And I'd time my "man-geyser" at the exact moment they pull the lever so my jammy would ejaculate a lightning bolt! That would be cool!

JUSTIN: You worry me sometimes. I've got so much tension built up in me when I "release" it's going to look like someone dropped a Mentos in a Diet Coke!



Anyway on to the column.

Next year, the University of Southern California Men's Basketball program is bringing in one of its best recruiting classes ever. Highlighting that class will be the 6'5" guard from West Virginia, OJ Mayo, who is considered to be the top player in the country. Now while that may be nice the USC recruit that has me most excited is Percy Miller Jr., otherwise known as the rapper Lil' Romeo!

That's right, the son of rap mogul and former Toronto Raptor wannabe, Master P has decided to put down the mic and attend the University of Southern California to play basketball!

HOG: What the hell? What's next? 50 Cent in NASCAR? Ludacris a professional golfer? Eminem playing ping-pong?

JUSTIN: I absolutely can not wait to see Lil' Romeo sitting at the end of the bench spitting rhymes as Mayo and the rest of the team run opposing teams off the court.

HOG: Rappers don't become basketball players. Usually it's basketball players that try to rap. Like Shaquille O'Neal, Allen Iverson, and German player Dirk Nowitzki.

DIRK's RAP:

I am zee Dirk Dunka
Ho's call me Hunka-hunka
I am zee best in zee league
Shoot, pass, BlitzKrieg!

JUSTIN: Will Lil' Romeo be performing at halftime? I hope so. Most of the time the scrubs on the team only sit on the end of the bench and jump up and down when their team makes a run but Romeo has the opportunity to take it to a whole new level. Just imagine during every time-out while the starters are getting instructions from their coach, Lil Romeo and the USC Cheerleaders can perform his latest hits! My God attendance and erections would go through the roof!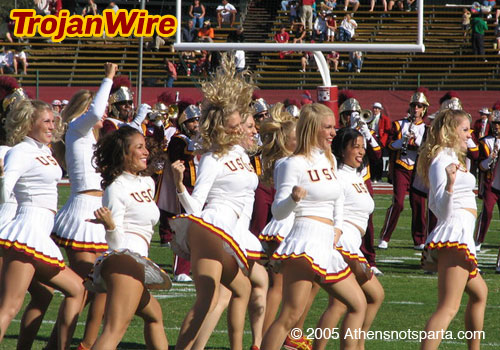 JUSTIN: …hang on a minute I'm trying to talk my boner down… "Rosie O'Donnell, New Britney Spears, Dane Cook's standup…" okay that's better.

HOG: What? Why you gotta hate on Dane Cook?

That man worked his ass off for 20 years so he could make crappy movies with hot actresses.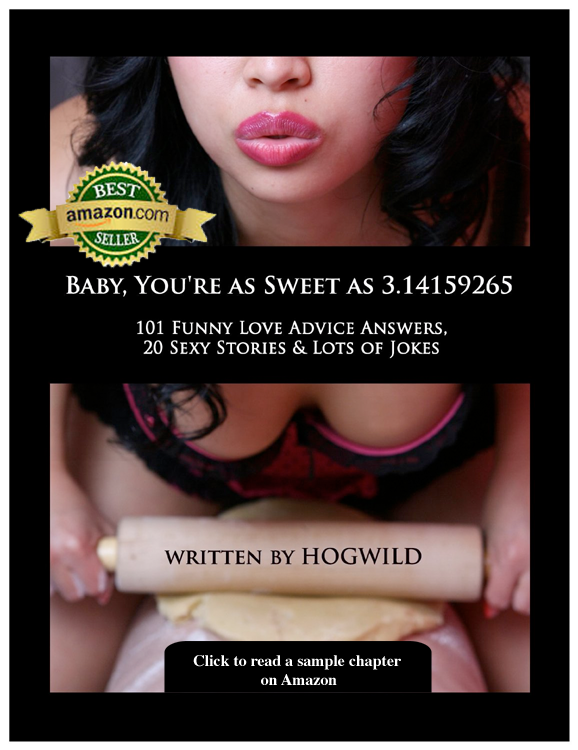 JUSTIN: Anyway Lil Romeo AKA Percy Miller Jr. has a long road ahead of him if he wants to make a splash in the college game but so far he's done pretty well at making a name for himself. After attending the famous ABCD basketball camp held annually for the top 200 basketball players in high school, Miller took his skills back to Beverly Hills High where he was a standout point guard for the team.

HOG: Wasn't that an episode of the Fresh Prince of Bel-Air?

JUSTIN: That episode was hilarious because the court was about 20 feet long and the acting was so bad it looked like the Fresh Prince was playing for the Globetrotters.

At 5'11" Lil' Romeo is the first rapper to receive a full scholarship to play at a division I school. Not bad if you ask me, but I'm hoping that LR and OJ get along so that they can start hanging out together. Just imagine the two of them walking around campus with their combined entourages... it will look like one of those Verizon coverage commercials. Not to mention all of the girls that...wait a minute...

Fat Tyra Banks, Oprah naked, Carlos Mencia's standup" okay I'm good.

HOG: What? Why you gotta hate on Carlos Mencia? That man worked his ass of for 20 years stealing everyone's jokes so he could make a crappy TV show.

JUSTIN: USC has the chance to become a national power in basketball now that Mayo and Miller are playing on the same team! Think about it, if you're a hick from Indiana with a sweet jumper where would you rather go to school? Duke University where you'll work your ass off to play 9-10 minutes a game and spend the rest of your time studying to keep up with the rest of the Brainiacs at your school, oooor would you rather go to the school with the 2nd hottest cheerleaders in the country, the (possible) best player, a famous rapper and constant beautiful weather? Ummm, can we say dynasty?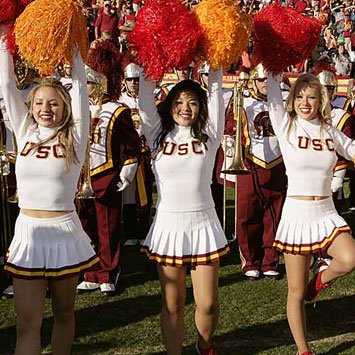 HOG: 2nd hottest cheerleaders? Are you saying that they are 2nd to the Dallas Cowboys Cheerleaders? I think we need to settle this the only way possible. By Lil' Romeo making a rap video featuring cheerleaders from both squads. The first cheerleading team to give Lil Romeo a Lil Boneo is the winner!

JUSTIN: The hottest cheerleaders on the planet are the University of Texas Pom Squad because anytime you combine chaps, pom poms and hot chicks that's a good thing!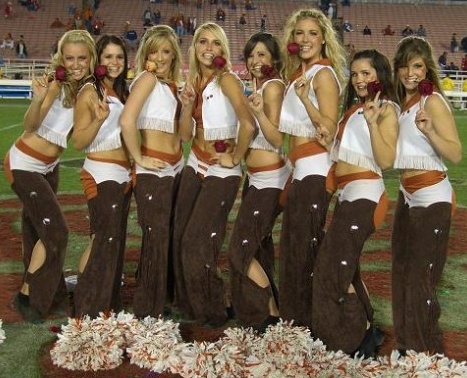 HOG: Are all these pictures of hot cheerleaders bothering you?

JUSTIN: Dear God. Okay hang on...Hillary Clinton, K.D. Lang, the Borat Wrestling scene...okay better.