JUSTIN: They say revenge is a dish best served cold. It's too bad because this Sunday in Dallas the forecast calls for a mild 57 degree day with little, if no chance, of a New York Giants victory!

HOG: Dude, much like a Texan's favorite cologne, your forecast is Off. Expect it to rain on your championship parade!

JUSTIN: Texas and New York clash again and not only is a berth in the NFC championship game on the line but HogWild and I have decided to throw in our dignity to make it interesting.
THE BET... If the Giants pull off a miracle then I, Justin Sanders, will have to do a cheer for the New York Giants on video so that HogWild can humiliate me on his website.
However, if the Cowboys win (and they're going to) then HogWild will have to do a cheer for the Dallas Cowboys which I will send to roughly the entire world. It other words…IT'S ON!

HOG: And don't forget, you've got to write "Eli Manning is my Daddy" across your chest as you jump up and down jiggling your man-pom-pom's.

JUSTIN: We'll start out with the case for why the New Jersey Gnats will win the game. It's a long shot but with the Gnats motivated play against the undefeated Patriots (they still lost) and last week's victory over Tampa Bay, the Gnats are coming into the game as one of the hottest teams in football.

HOG: Your Dallas Cowgirls are going to feel a Texas-sized upset.

JUSTIN: I believe that if the Manningettes are going to win in Dallas next week they will have to do three things:

1 - Pressure Tony Romo like Jessica Simpson asking for an engagement ring

2 - Ram the football down Dallas's throat like Joey Chesnut cramming hot dogs in his mouth and

3 - Hope that Eli Manning plays more like his big brother Peyton rather than the sniveling little whiner who almost cried when he got drafted by the San Diego Chargers.

HOG: That's 3 more points than the Cowgirls will score in the first half!

JUSTIN: What hurts New Jersey's chance to win the game is that they're going into the game without several key players including defensive back Sam Madison (questionable at this point) and All-Pro tight end Jeremy Shockey who broke his leg in the regular season.
Fortunately for the Little Men, all of those injuries are evened out by Terrell Owens' ankle injury and Jessica Simpson's tremendous breasts. So as they say in Little Italy, fuggetaboutit.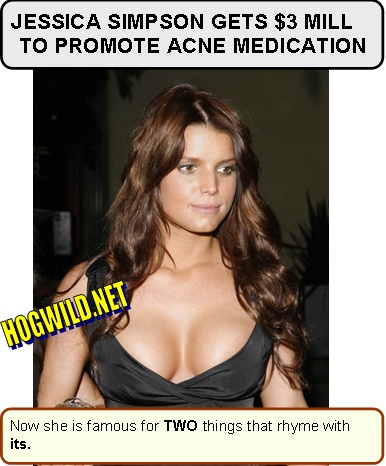 HOG: Luckily for you, Jessica Simpson won't be attending the game because she's supposedly working on her new album. Basically that's code for "she's received death threats from the entire Dallas metro area."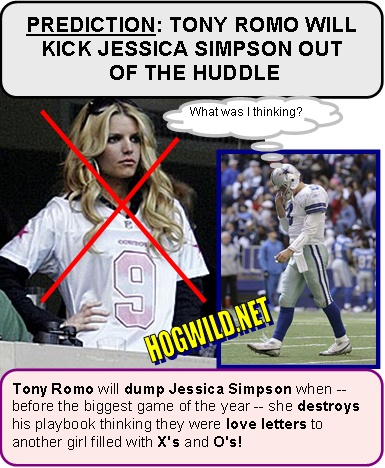 JUSTIN: Guilty.

HOG: Terrell Owens' ankle injury won't stop him nearly as much as if he'd injured his mouth.

And Jeremy Shockey is a gamer. He'll come onto the field limping Kirk Gibson-style to catch the game-winning touchdown. Tell Terrell Owens to have his Sharpie ready to sign his cast.

JUSTIN: On the Cowboys side we'll start with the simple fact that the Cowboys have ALREADY beaten the Giant Lesb!ans twice this season, once by 10 points and once by 11.

HOG: Yes, so the New York Giants are due to beat up on your Dallas Cowbabies. And the only Giant Lesb!ans in New York are the ones who play for the WNBA'S New York Liberty!

JUSTIN: But since the Jersey Trannies beat a crummy Tampa Bay team last week and Dallas tailed off at the end of the regular season losing a meaningless game against the Redskins, all of a sudden everyone thinks that the Gnats have a chance. They don't and here are three reasons why.

First, Terrell Owens is widely known for being an @sshole but what's not as well known is that he is a fast healer. Three years ago T.O. broke his ankle in the second to the last game of the season only to come back and actually play five weeks later in the Super Bowl. This time he has a painful high ankle sprain but it's not as bad as a break and he's also had four weeks to rest it. So trust me when I say he will be back and he will play.

HOG: His ankle injury is crucial because it will prevent him from dancing around like an idiot when he scores a touchdown. Thus, he won't score any touchdowns since he only scores for the purpose of stage time on ESPN's SportsCenter.

I actually love Terrell Owens and his ridiculous antics. It's all in good fun and it distracts from the fact that his teams never won a Super Bowl.

JUSTIN: And how many Super Bowls does Eli have???
HOG: Um, what? I can't hear you. We must have a bad connection.

JUSTIN: Second, the Cowboys will finally have deep threat Terry Glenn for the first time all season. If Glenn is at 100% and T.O. is at 90%, Tony Romo will be throwing touchdowns like…well just about any quarterback that played against the Jets this year!

HOG: Oh, that's a cheap shot.

JUSTIN: The last note and I think the most important one is that the Cowboys players will be pumped up because they're playing at home and even though they're 13-3 (two of which came against the Giant Egos) they're still getting no respect from the rest of the league!
If you don't think that kind of stuff motivates teams in the NFL, just look at what the Patriots have done this season! Another team that whipped the Midgets this year!

HOG: The New York Giants' motivation will be uh, I don't know, that it's the PLAYOFFS!!! Teams don't need extra motivation when they're on a Super Bowl run!

JUSTIN: The only run the Gnats will be on will be a run to the store to get beer and cigarettes while they watch the Super Bowl on their couches!

Lastly, I have to point out the main advantage that I have in this bet and that is the fact that HogWild is REALLY a JETS fan and merely jumping on the Gnats bandwagon because they're supposed to be from New York when they actually play in New Jersey.

HOG: For the 8 millionth time, I NEVER root against New York City teams. I am born and raised a New Yorker and so I will ALWAYS cheer my teams to victory over some other town's team.
Yes, it is a shame that the Giants play in New Jersey. But that's because New Jersey and half the state of Pennsylvania is considered a suburb of New York. New York is the only city where the rent is so high that not even the Football teams can afford to stay here!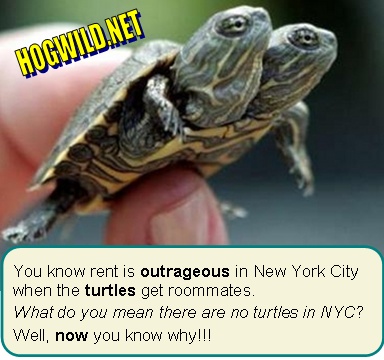 HOG: And I've never jumped on a bandwagon. I've lived and died with the same teams all my life. My teams are mostly pathetic but I still cheer and defend them so you can take your Dallas Cowprettyboys and smack it to that Troy Aikman poster on your wall while I throw on my old school Mark Bavaro jersey and call on the spirits of Harry Carson and Lawrence Taylor to render Tony Romo as impotent as he must be after listening to an hour of Jessica Simpson's babbling.

And dude, you don't even live in Dallas! Shouldn't you be rooting for the Austin Wranglers of the Arena Football League?

JUSTIN: When my Cowboys crush the Gnats I'm going to sweeten our bet and send HogWild his very own pink Eli Manning jersey so that next year when the Jets go 6-10 he'll have the proper attire when he sells out his beloved Jets!

HOG: Just to clear the air over there in stinky Dallas, I root for ALL New York City teams but I have my favorites. I always root for the Jets over the Giants. The Mets over the Yankees. I also root for the Knicks in basketball and I even take NY's side in fringe sports like the NY Rangers in hockey.

JUSTIN: As of late my predictions have been crap but this one's money in the bank people: Dallas 35, New York 13. But stay tuned for a video either way!
I can't wait to see you dressed up in Blue and Silver because you'll finally get to cheer for a WINNER!

HOG: No, the video will be of you doing a cheer for the victorious New York Giants! This video will feature more bouncing boobies from Texas than Girls Gone Wild on Spring Break in South Padre Island!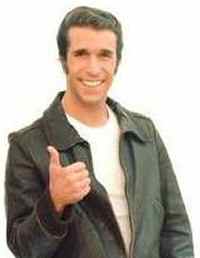 Want a kick-ass comedy show for your college or party? Email me for details.