JUSTIN: The truth about steroid abuse in Major League Baseball is finally out…or at least it's out in the open now. After the scandalous Mitchell Report revealed the names of over 80 baseball players who have taken performance enhancing drugs, the majority of fans across the country don't seem very surprised. Sure fans were shocked when the actual names of certain players were revealed but to be honest, at this point I was more shocked at the names that weren't on the list!
HOG: It was only a partial list. The real list should be is NOT on steroids. There are names on the list of steroid-users that are SO shocking, they didn't want the public to know. But as a service to our readers, I, The HogWild One, will reveal the names to you in my Super-Exclusive Steroids Report.
On Steroids...
Tim McCarver... announcer. Got tired of being bullied in the broadcast booth -- began bulking up in 2001. Fans noticed his shorter temper and proclivity to end arguments by slamming a chair over Joe Buck's head.
Derryl Cousins... umpire. Took steroids in 2004. But he only got fatter because you still have to work-out.
Jimmy Trazski... 14 year old bat boy. Suspected of taking Human Growth Hormone during the 2007 season. But he tested negative. It turned out to be puberty.
JUSTIN: Roger Clemens - Was anyone shocked by this one? Any time a 40-year-old pitcher still throws a fastball in the 90's and dominates American League batters like he was Floyd Mayweather fighting fifth graders you have to believe that something's going on. What's crazy is that if he hadn't been outed he might've still been pitching in his 60's!
HOG: I like the idea of senior citizens still playing ball. I think all old players should be REQUIRED to inject steroids. And they're never allowed to retire. They will become juiced-up zombie-athletes. Cool.

JUSTIN: Barry Bonds - Duh. Everyone knows that the human bobble head is 1) a total @sshole and 2) has been taking steroids ever since Mark McGwire and Sammy Sosa made their memorable run at the single season home run record.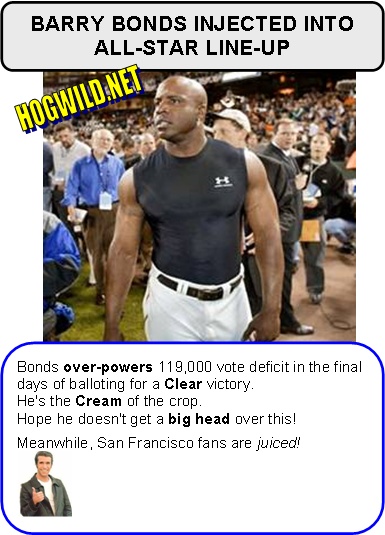 JUSTIN: What's next… A report that leaks the fact that Jenna Jameson likes to have sex?

HOG: Whoa Whoa Whoa!!! I thought she was ACTING!
Speaking of sex, what's sick is that Viagra pitchman Rafael Palmeiro turned out to be taking TWO types of "performance-enhancing" drugs!
Baseball isn't the only form of entertainment with rampant use of performance-enhancing drugs. Today's male p0rn stars are totally cheating. Way-back-when those guys had to get it up 10 times a day without the help of pharmaceuticals. And they didn't have the inspiration of today's hot women either. Today's woman has higher grooming standards. Let's just say it was like Vietnam down there.
JUSTIN: Jason and Jeremy Giambi - From Jason's "intestinal" problems a couple of years ago to his tear-filled apology to the fans for "letting them down" even Yankee fans knew he was on the juice. What's embarrassing is that Jeremy Giambi got busted and isn't even in the Majors any more. Which brings up the question, does UPS drug test for steroids?
HOG: Yeah dude. Everyone knows UPS delivery guys are on the juice. FedEx guys are all-natural.
JUSTIN: Gary Sheffield - I'm starting to think that whenever someone signs with the Yankees they get a $10 million dollar signing bonus and a lifetime supply of HGH.

HOG: Hold on! The reason they busted so many Mets and Yankees is because the two snitches worked in those clubhouses. Believe me, EVERYONE on EVERY team is using in EVERY sport!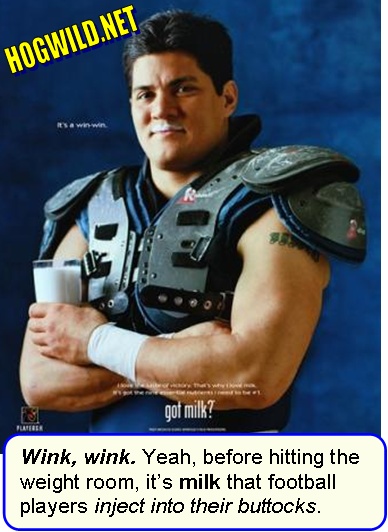 HOG: 99.9% of NFL players are on steroids. (I'm rounding down by about .1%.) And the NBA, NHL, Tennis. Golf. Bowling. Lawn Darts. I'm sure there are NASCAR drivers on amphetamines and caffeine to be more alert and react quicker.
JUSTIN: Andy Pettitte - Speaking of Yankee cheaters, here's another one that was on the Mitchell Report. My question is did Andy Pettitte actually take steroids or were they injected into him by Roger Clemens' pen!s?

HOG: Aaaaaaaaw! I heard Roger Clemens administered the steroids to Andy rectally while teammate Jason Giambi orally injected "the juice."

JUSTIN: Miquel Tejada - Wow! How dumb do the Astros feel right about now? They traded away five of their best prospects for an all-star third baseman that just got busted for steroids. Is it too late to Veto this trade? Or better yet, is there still time to trade him to the Yankees?
HOG: C'mon man. They already knew. You think those 5 prospects aren't on something? They're probably on some next-sh!t like Genetic-Replacement Therapy. It won't be long before a player injects himself with the DNA of a horse. He'll be super fast and strong but you'll know he's on "the Horse" because his teeth will grow too big for his head. And he'll be making huge doody on the field.
Heh heh. Doody. HA HA HA!

JUSTIN: Lastly, as much as we like to make fun of A-Rod you have to give the man credit. He's won 3 MVP awards all without the use of steroids. However he's still got purple lips and can't hit in October to save his life but at least the Rangers aren't paying his salary anymore.
HOG: A-Rod is on other Meds. For real: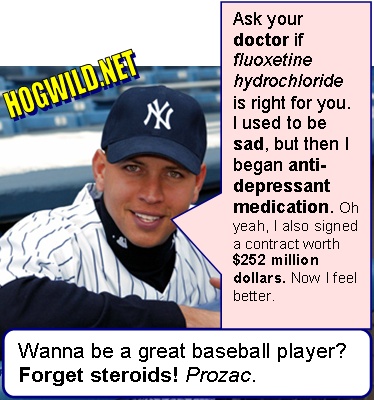 JUSTIN: Now if you'll excuse me I have to go inject myself with steroids before my Winter League Softball game.
HOG: Americans need to be entertained. And it's a proven fact that every entertainer is better while on drugs. Rock stars are better on heroin. Rappers are better while high on marijuana. Country musicians are better drunk. And boy bands are best when dead.
Great artists, writers, and comedians have all been assisted by cheating with illegal substances. And here I am trying to write this genius comedy while sober! This is bullsh!t! Next time I'm writing while high on a potent cocktail of store-brand orange soda and codeine.
NOTE TO CHILDREN: Just kidding! Soda will rot your teeth!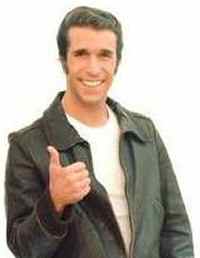 Want a kick-ass comedy show for your college or party? Email me for details.