JUSTIN: Nerds across America are salivating, dreaming of getting scholarships to their favorite schools to play Quidditch. For those of you who arenít paste-eaters and donít m@sturbate to Manga comics, Quidditch is the fictional game played in the Harry Potter movies where participants fly around on brooms trying to throw a magic ball through a hoop.
Only in real life there's no magic and broomsticks donít fly so what you actually get is a bunch of nerds running around a soccer field with broomsticks between their legs.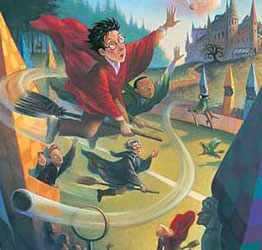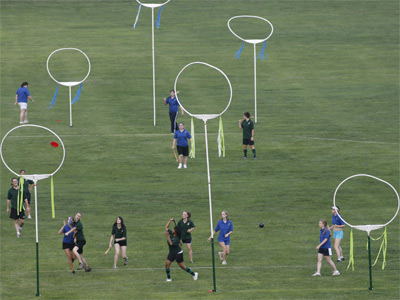 HOG: Youíve got to be kidding. I gotta give these guys credit. Because I thought soccer COULDNíT get any more lame. But they proved me wrong. How to make soccer suck worse:

1 - Wear capes
2 - Run around with cleaning supplies

JUSTIN: 3. Play it in America.

HOG: What the hell is wrong with these people? Movies are great. And we all wish fantasy would come to life. Thatís why I still believe I will have a threesome with 2 busty nurses. But as implausible as that fantasy is, people need to stop playing out childrenís movies in real life. When sports + dork movies combine you have bad news:

Dear Dorkazoids,

Please STOP playing:

* Baseball with light-sabers

* Basketball with the team names Klingons vs. Vulcans

* Beach Volleyball.

NOTE: Beach Volleyball isnít dorky, itís just that I donít want see these people without shirts.

JUSTIN: No kidding but you have to admit professional beach volleyball chicks are pretty hot...if you're into chicks that are 6 inches taller than you.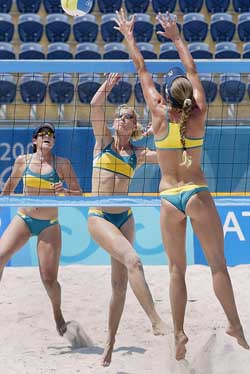 HOG: Man, I LOVE beach volleyball! But I'm not...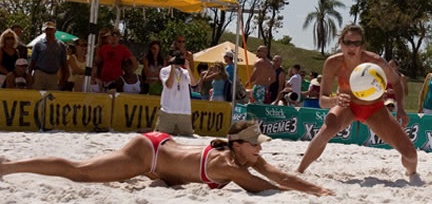 1
sure...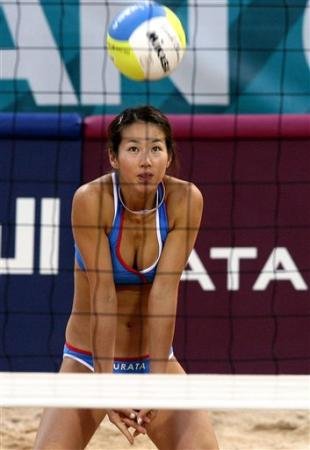 why...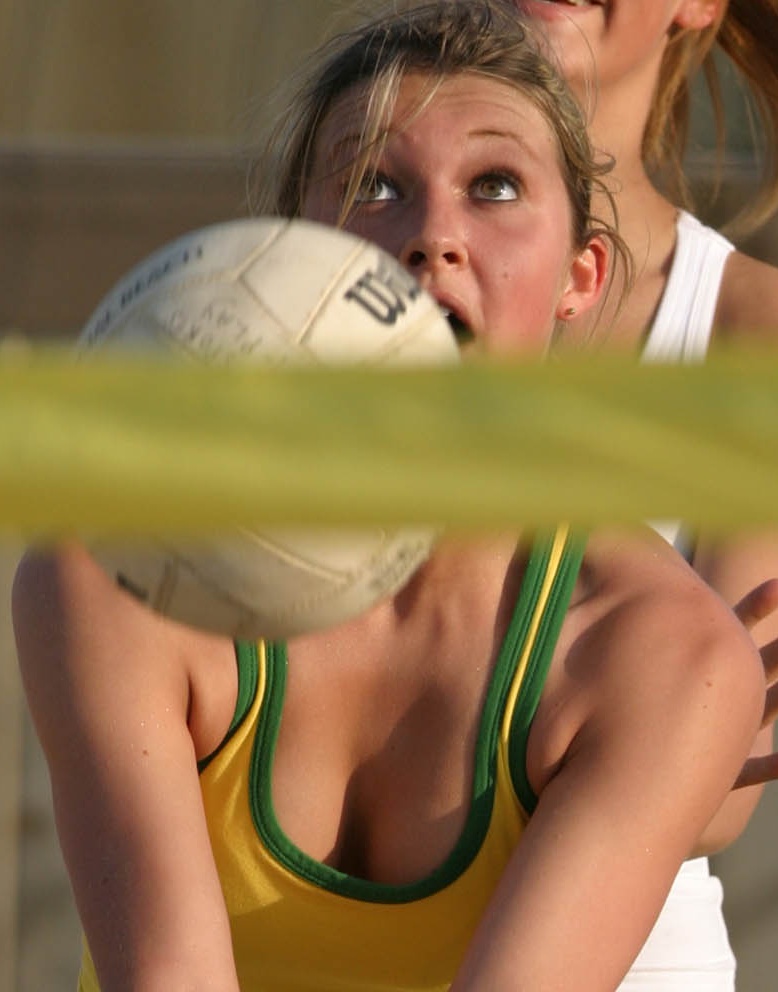 HA HA HA!
JUSTIN: So how does one play Quidditch in a magicless world? Well for starters since flying broomsticks have yet to be invented, one must play the game on the ground whilst running around holding a broomstick between their legs pretending to fly. And since the game is played on the ground, the levitating hoops and magic game balls have been replaced by a deflated volleyball that is thrown through a hula hoop tied to a post.

HOG: This like ďField of DreamsĒ for guys without girlfriends.

JUSTIN: "If you build it Nerds will come."

The one actual cool part about the game is that instead of being able to knock people off their brooms like in the Harry Potter movies, defensive Quidditch players are instead allowed to hurl black balls (think dodge ball) at their opponents in order to try to make them drop the ball.

HOG: The only way that is cool is if the black balls are bowling balls.

JUSTIN: But of course no Quidditch game would be complete without the elusive SnitchÖ but once again a lack of magic has forced the players on both teams to make due.

HOG: I have no idea what Snitch is because I refuse to read any Harry Potter books or see any Harry Potter movies because they lack the essentials of Man Movies:

* Huge Explosions

* Huge Boobies

* Huge Explosions on Huge Boobies

JUSTIN: So instead of chasing a gold flying ball that's faster than lightning the teams choose the fastest nerd handy to run around the field with a tennis ball in a sock tied to his belt. Hilarity ensues.

HOG: Um, are you for real? So some poor dude is running around with a giant scrotum hanging from his belt?

JUSTIN: You laugh but the game that originated at Middlebury College in Virginia is actually starting to catch on at colleges across the country. Though some schools have slightly different versions of the adaptation of the game it seems that Nerds and Broomsticks are a constant. Itís to the point where one Middlebury Quidditch fan thinks that new students are actually choosing to attend the college because it has QUIDDITCH!

Mother: Where do you want to go to college Scott?
Scott: Middlebury!
Smiling Father: Lots of pretty girls at Middlebury I bet.
Scott: WHO CARES Iím going to Middlebury to play Quidditch!
Mother and Father shaking their heads.

HOG: Great. Soon there will be Quidditch scholarships. Donít nerds have enough scholarships opportunities already?! I guess one cool thing to come out of Qudditch being an official college sport is that M.I.T. will finally win a NCAA Championship!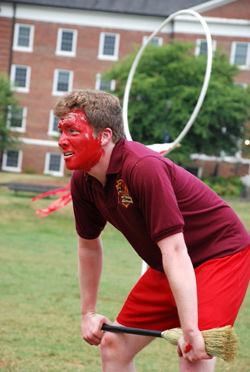 "Mom, Dad look! I'm spending my exciting college years re-enacting scenes from a children's book!"
JUSTIN: As much as I make fun of the game it does have a certain entertainment value much the same way watching the nerds at the park acting out D& D scenes with Nerf swords is entertaining but who will have the last laugh? Could there be a National Quidditch League in our future where professional athletes take up broomsticks?
Could we see Ricky Williams and Latrell Sprewell running up and down a Quidditch field on ESPN? Either way you've got to admit a professional Quidditch league would be a hell of a lot more entertaining than the WNBA!

HOG: I think all the players in the WNBA should transfer sports to play Quidditch. Because if anyone has the magical ability to fly around on a broomstick, itís the women of the WNBA!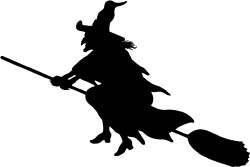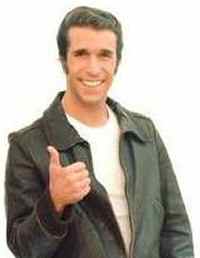 Want a kick-ass comedy show for your college or party? Email me for details.