JUSTIN: In a day and age where we are constantly forced to listen to athletes being interviewed saying things like "It's a business so I just go out there and do my job…" it's refreshing to hear athletes have a little fun with the process. That's why I've decided to dedicate this week's column to the man who just got traded to the Phoenix Suns and my favorite athlete behind the mic since Charles Barkley, the one, the only Shaaaaaaaaaaquile O'neal or as he once tabbed himself The Big Aristotle.
HOG: Like Spring Break and drunk girls in bikinis, we are in total agreement.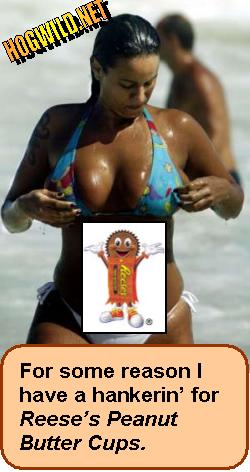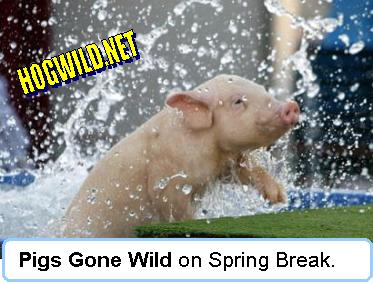 HOG: Wait, I don't think that made sense. But I'm gonna go with it. Yeah, dude, Shaq is awesome! I would HATE Shaq if not for his personality. Usually I don't cheer for guys who dominate because God built them bigger and faster than everyone else and he can't even learn to make a free throw... But how can you dislike the guy? Well, unless you're his ex-wife... But Shaq is funny and has a great sense of humor. Plus he's the best rapping athlete since the Chicago Bears' Walter Payton in the Super Bowl Shuffle!
HOG: And Shaq is a much better athlete/rapper than Master P is a rapper/athlete.
One more slam-dunk in Shaq's favor: While many athletes are being arrested by the police, Shaq IS the police!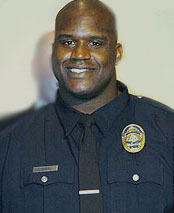 JUSTIN: Don't get me wrong, when I say he's my favorite athlete behind the mic it's definitely not because of his rapping skills because those skills were, "dunnuh nunnuh nunnuh nunnnnuh dreadful". And for those of you who don't get those lyrics check out this clip.
(Shaq's part is at about 3:05.)
JUSTIN: "Wassup doc can we rock?" at least that's what the Phoenix Suns are asking of the Shaq-Daddy after they traded all-star forward Shawn Marion and reserve Marcus Banks to the Miami Heat for the aging center. I say aging but in truth he's the same age as me and Hogwild but NBA years are like dog years which makes Shaq 245.
HOG: Dude, I am NOT as old as Shaq OR you. But it's a fair mistake given that I am much more mature than you, butt-face.

JUSTIN: People probably mistake you for being older than me because you've had a goatee for 15 years!
The vibe around the NBA is that the Suns are making a huge mistake in letting Marion go and that there is no way that Shaq will fit into the Suns up and down style of play but I'm going to go out on a limb and say they're wrong. All this talk is just going to piss off Shaq Fu and like he said, "You just don't really want to get me upset. When I'm upset, I'm known to do certain things — like win championships."
HOG: Don't count out Shaq! When he's healthy he is still dominant! NBA centers can play into their 40s if they are healthy or if they relax their muscles between quarters with a huge blunt like Robert Parrish.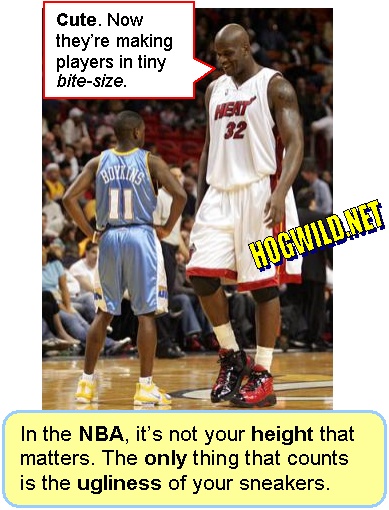 HOG: If I was the Suns coach I would not play Shaquille O'Neal AT ALL until the playoffs. They can get in without him. Then he'll be fully rested and ready to kick the ass of your Dallas Mavericks and your secondary Texas team the San Antonio Spurms. See how mature I am! :)

JUSTIN: I'll see your jab at my Mavs and simply reply by mentioning that you cheer for the New York Knicks that are currently 14-35 and 24 1/2 games out of first place!
HOG: My Knicks are like the last 2 girls left at the bar -- they are ugly and they suck. These days, leaving Madison Square Garden after a Knicks game is like doing the "Walk of Shame."
JUSTIN: What everybody seems to forget is that the Big Baryshnikov's got 4 championships rings so we know that he a) knows what it takes to win and b) can adapt to different styles of play.
Throw in the fact that he'll have Steve Nash dropping him Canadian dimes in the paint and all of a sudden the Suns are a force to be reckoned with in the West. I mean seriously we are talking about Basketball and anytime you can add a pissed off 7'1" 325 pound center to your team that's a good thing right???
Not to mention the fact that Shaq's only one year removed from being an all-star and has never had a serious knee surgery so there's absolutely no reason why he shouldn't be able to contribute for the two years that are remaining on his contract.
HOG: My HogWild prediction: Shaq will be the 1st player in the history of basketball to win Championships with 3 different teams + win a Grammy Award + win an Academy Award for his role in Kazaam 2. Shaq for Pope!
JUSTIN: So when it's all said and done, sure the Suns are losing a moody five tool threat at forward in Shawn Marion but in return they're getting the man Kobe Bryant once tabbed, "Wilt Chamberneezy". Hell I'd trade half the Mavericks' roster for Shaq just so I could have him perform stupid raps at half time to entertain the fans…oh and maybe play a little center too!
HOG: A lot of people don't know this but Shaquille O'Neal has a freakin' MBA! And he wants to earn his doctorate! Dr. Shaq-Diesel! So he's a smart guy. Smart enough that he will follow tradition and earn an extra $100 Million Dollars at the very end of his career. How? It's easy! By convincing moron NY Knicks owner Jim Dolan to sign him to a guaranteed 10 year contract at age 47!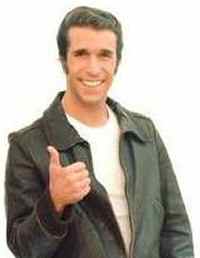 Want a kick-ass comedy show for your college or party? Email me for details.