Crazy T-Shirts Funny Pictures @ CollegeHumor
NFL Super Bowl:
Pittsburgh Steelers vs. Paris Hilton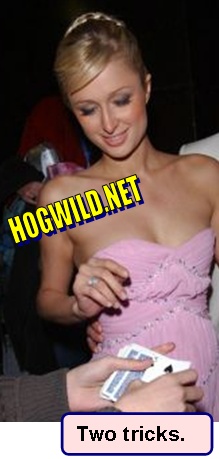 NFL Super Bowl Jokes. Paris Hilton Jokes.
Justin Sanders with HogWild
JUSTIN: It's Super Bowl week and everyone's excited for it because the game features two of the NFL's most relatable stars, Jerome Bettis and Matt Hassleback!
And since the last sport you played was Little League…
HOG: Hey hey hey! I still play sports! Just back in '99 I played in an incredibly challenging ping-pong tournament. Does Sex count as a sport? Because I play that, too. Word is your wife has been keeping you on the bench, working your pine-tar. HA HA HA!
JUSTIN: FYI, Playing with yourself is not considered sex but allow me to explain why these guys have everyone so worked up.
Let's start with Jerome Bettis, he may be a hard nosed running back for the Pittsburgh Steelers who's deadly in short yardage situations, but he's also about two hamburgers shy of being the Fat Joe of football.
HOG: Yeah, I love Jerome "The Bus" Bettis! I love fat guys in sports. Babe Ruth, David Wells, Ron Jeremy.
JUSTIN: One minute you're watching in amazement as he plows over the defense for another touchdown and then next minute you're watching him suck down oxygen like a passenger on an airplane that's about to crash. Never has there been a more dangerously comical running back in the league. He's definitely going to be a big factor in the game on Sunday.
HOG: I heard they call him The Bus because his fat ass lets off dangerous "exhaust fumes" from all that fast food he eats.
JUSTIN: On the other hand there's Matt Hassleback who, when he's not throwing touchdowns for the Seattle Seahawks, is furiously applying advanced treatments of Rogaine to his balding scalp.
HOG: Furiously applying? I thought he was going over plays on the sideline! I had no idea it was X's and O's for his scalp treatments. "Okay, you recede left, then you comb-over to the right…"
JUSTIN: Exactly! Don't let shinehead fool you either because he is the key to the Seahawks offense. Running back Shaun Alexander may be the MVP of the league but without Hassleback's deadly arm he would've stuffed more times than Paris Hilton this season.
HOG: Good Grief! Poor Paris Hilton. You make a career out of ONE porn tape and have sex with just ONE Naval Brigade….
JUSTIN: Definitely keep an eye on the poor man's Terry Bradshaw because if he's having a good day the Steelers could be in serious trouble.
You've got the portly Jerome Bettis and balding Matt Hassleback. So whether you're a fat ass Cheetos eating couch potato or a future member of the hair club for non-athletic men, this year, everyone has something to cheer for.
As for me, well you've seen my big ass forehead, so you know who I will be cheering for.
HOG: Man, this doesn't help me. How can I cheer for both teams?
JUSTIN: Well one option would be to bet on the game instead. These days you can bet on anything from the final score to the number of boobs that are exposed at half time. However since it's the Rolling Stones, I'm hoping no one exposes a t!tty this year.
HOG: Yeah, if you thought Janet's boob was saggy!
JUSTIN: Final Prediction for Superbowl XL...
10-15 beers, 30 Hot Wings, possible pukeage and a definite hangover on Monday. Oh yeah and the Lard asses will beat the skinheads 28-17.
HOG: My prediction: 20 root beers, 112 bbq wings, 0 pukeage, and 1 huuuuuuuuuuuge dump. Shittsburgh beats Seattle. 27 ¾ -5."
The Ultimate HogWild Super Bowl Party
Funny Chats: Football Cheerleader jokes.
Jokes: NFL Players Brainwashed by Video Game: Must Kill!
The Greatest Geek Upset in Football History
More Funny HogWild Rants and Jokes

Now go watch my Expert Dating Advice videos! Woo-hoo!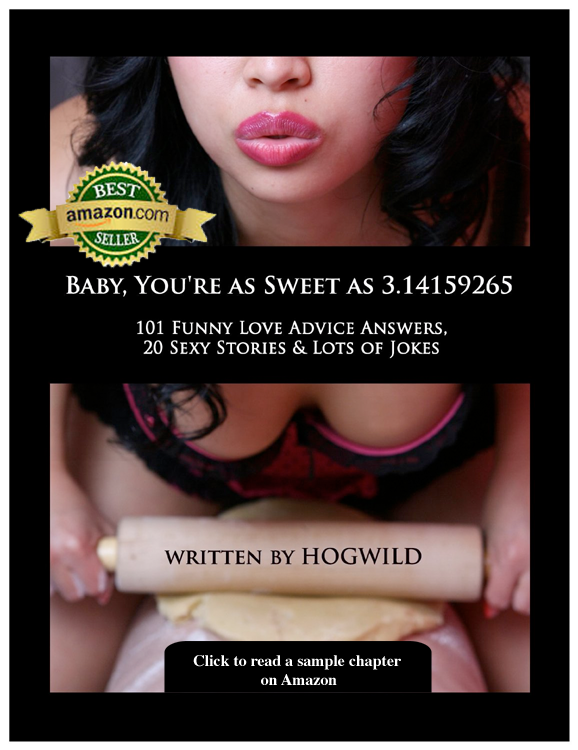 Watch my helpful and hilarious Expert Dating Advice videos!