Dating Advice: Conversation Topics: Current Events
by me, HogWild
If you want to be seen as "relationship-material" it really helps to be a good conversationalist. Because in a relationship, you will be together a lot and you need something to do before and after sex!
GUY'S DREAM RELATIONSHIP
Before Sex: Woman makes him sandwich
During Sex: Woman invites another woman to make SEX sandwich
After Sex: BOTH women make him sandwiches
GIRL'S DREAM RELATIONSHIP
Before Sex: Man takes her shopping
During Sex: She gets to use all the new stuff she just bought including her business outfit, lingerie, hoo-ha stimulator, fancy chocolates and framed poster of Football's Most Valuable Player
After Sex: Man makes her a sandwich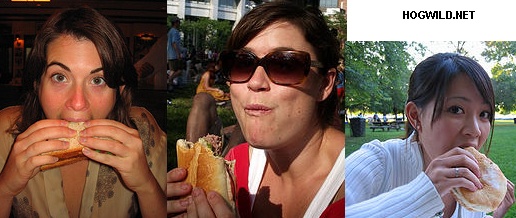 CONCLUSION: THE KEY TO A HAPPY RELATIONSHIP IS SANDWICHES!!! And kinky sex. hahahah
OK, back here on planet Earth, it helps to be able to talk on a variety of topics to attract a quality mate.
REDNECK GUY: Yee-ha! That's how I got MY lady-friend! We talked for hours about a VARIETY of chewin' tobacco flavors! There's Menthol and Regular, and Wintergreen and Mint, and Vanilla Blend for the lady-folk and Apple and Wintergreen and Grape and Wintergreen and Cherry Flavor -- that one's for the kids. And Wintergreen. Yeeee-the-inside-of-my-bottom-lip-has-some-tasty-tumors!
One easy way to pick up conversation topics to discuss is to take 10 to 15 minutes a day to acquaint yourself with the day's current events.
If you know about the big stories, it will make you seem intelligent and aware of the world around you (even though most news is a huge waste of time, but that's a whole other thing!) Be aware of the major headlines and read deeper into the topics that actually interest you.
So when you're talking to that attractive person, discuss your intelligent opinion on these current events as they fit into the topics of the conversation.
YOU: But how can I work in that story of the war in Uzibulletistan into my conversation?
You don't! Try to stay away from depressing stuff and seriously troubling topics UNLESS, you have something really smart to say about it and you are skilled at making a remark that says something good about you.
For instance, if there is a news story about famine, only bring up that depressing topic if you end that bit by saying something like:
- No one should go hungry. Especially children. That's why I make a donation to that charity every year. I wish I could do more. (Then quickly bat your eyelashes.) hahaha
or
- This famine is about politics. The government of that country is withholding food to keep power. I think war is terrible but this is a cause worth fighting for. If I was in that country and my family was starving, I would take up arms to save them.
or
- Famine sucks. Hey, I hear the Chinese Bamboo Hut is having an all-you-can-eat buffet! Let's eat for those who can't!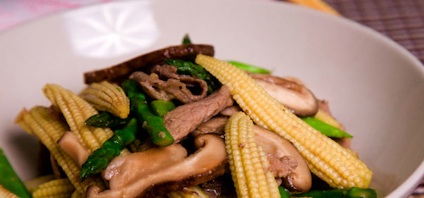 HINT: Don't say that last one. Aaah, what the hell. Why not?
To bring up current events, all you need is to fit it into the very broad topic you are discussing.
For example, if you're talking about relationships, you can easily bring up...
This is taken from my Premium Members section where I post my new videos.
Here are some more tips, but only Premium Members get the entire video + access to over 500 full dating and relationship videos in the Video Vault!
- When using current events in your conversation, remember the point is not to debate. The point, in the context of being attractive to this other person, is to highlight your intelligence by showing you are well-read and thoughtful in your opinions and that your REACTION to the news story shows something POSITIVE about your character.
- When discussing current events in a conversation on a date, here are 7 positive traits you can demonstrate about yourself to attract the other person...
Only Premium Members have access to this Video!
1 - Learn more about the Premium Membership
or
2 - You realize Life is Short, get the relationship you deserve and Join Now!
Need one-on-one coaching? Contact
Dating Coach
HogWild for help!
Latest HogWild Dating Advice


Click here to Get Greater Dating Confidence + Increase your Relationship Skills
"The most important part of any relationship... is choosing the right person... in the first place." - HogWild
With your Premium Membership, I'll show you WHY that is true... and HOW to choose the right person for you.
HogWild's dating advice and comedy has been viewed by over 2 million people on YouTube. They have written thousands of positive comments thanking him for his coaching.
He has won awards for his outstanding teaching abilities and stand-up comedy and has been featured on PBS, Mad Magazine, Clear Channel Radio and more!
He has premium members learning from his dating advice from all over the globe including the United States, United Kingdom, Germany, Denmark, Ireland, Egypt, Mexico, Australia, and Canada. Yes, even Canada! :)
Become a paid member and you get INSTANT access to over 500 dating advice videos that will help you answer such questions as...
"How to be mega-confident"
"How can I become more desirable?"
"How to conquer the Fear of Rejection"
"How to Approach"
"How to get hotter sex"
"How to read the secrets of body language to know if someone REALLY likes you"
"How to keep a person loyal to you"
"How to tell a story so it increases attraction to you"
"4 Great Places to Meet your next Girlfriend/Boyfriend"
"How to Get over your Ex. Completely."
"How Flirt Effectively"
"How to Destroy Negative Thoughts"
"How to Immediately Screen out the Psychos"
"#1 Mistake that makes Conversations with new People Boring"
"7 Ways you are being Unattractive"
"8 Tips for the first time you have sex with a person of the sexy sex"
"How to deal with being hurt"
"How to bring out your inner-awesome"
And so much more!
You will finally feel control over your dating life and you will get the relationship you really want.
HogWild's dating advice makes it easy!
Become a member and get INSTANT access to the videos that will change your love life forever!
***
This article is for people who need help with:
how to talk to women
how to talk to men
conversation topics
conversation skills
how to talk to girls
how to make conversation
talking to men