Why do Married Men Flirt (and Married Women, too)
by me, HogWild
J in Houston writes...
Hey Hog,
I love your dating advice videos. My question is, why do married men flirt? I am single and this happens to me all the time. These men and I clearly have chemistry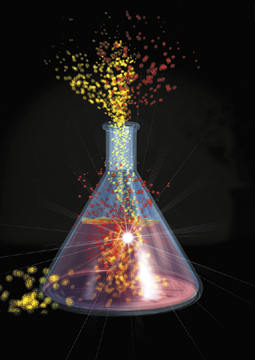 and then I notice the RING... Ugh, WTH! I feel like kicking them in the balls. Why do men do this?!
- J in Houston
You can't just go around kicking people in the groin-danglers. Although that would make life more interesting.
YOU: Hello?! I ordered MUSHROOM toppings!
PIZZA GUY: Awww! You kicked me in the anchovies!

-
YOU: Hey! You're a professional grocery bagger! And you squished my bread!
OLD MAN BAGGER GUY: Awww! I'm an old man. My balls are further down. You kicked me in the penis!
-
YOU: Hey you across the street! You're unnaturally ugly. Flying leg kick!
UGLY GUY: Awww!!
-
Ya know, married women flirt, too. Some people in relationships flirt to see if they've "still got it." They want to feel attractive. Sometimes if their partner is ignoring their hotness, they want to feel desired.
Some flirt just because they find it fun.
Some flirt because they want to dance in your pants! HINT: Don't let a married man wear your pants!!!
It IS frustrating. Plenty of guys know the feeling too when they're talking to a cute girl and she flirts back only to find out that she has a boyfriend. Or the girl who gets herself all hot looking and she goes out to the dance club with her girlfriends and flirts with a guy to get attention to make herself feel desired.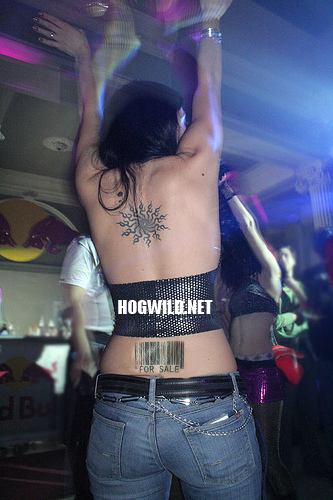 People should come with letters on their forehead: S for Single, M for Married, A for Annoying, D for Dirtbag, ... hmm.. and M.A.D. Married Annoying Dirtbag! haha And Single Annoying Dirtbag. S.A.D.! hahahah
YOU: I'm really enjoying this flirtatious encounter with you at this bar, Mr. Married Man.
THE GUY: Yes. And I like how now you're playing footsies with me and ooh, you're bringing your foot up to my crotch. You're wild, baby!
YOU: No. I'm just measuring out my shot.
THE GUY: What now? OWWWWWWW! You kicked me in the passion area! That hurt extra because I'm wearing boxer shorts.
For some married men (and married women) flirting is a way to...
This is taken from my Premium Members section where I post my new videos.
Here are some more tips, but only Premium Members get the entire video + access to over 500 full dating and relationship videos in the Video Vault!
- Some people consider flirting to be innocent and fun. It really depends on HOW they are flirting and what they are trying to do..
- If someone flirts with you and you discover they're married or in a relationship, here is exactly what to tell them...
Only Premium Members have access to this Video!
1 - Learn more about the Premium Membership
or
2 - You realize Life is Short, get the relationship you deserve and Join Now!
Need one-on-one coaching? Contact
Dating Coach
HogWild for help!
Latest HogWild Dating Advice


Click here to Get Greater Dating Confidence + Increase your Relationship Skills

Become a paid member and you get INSTANT access to over 500 dating advice videos that will help you answer such questions as...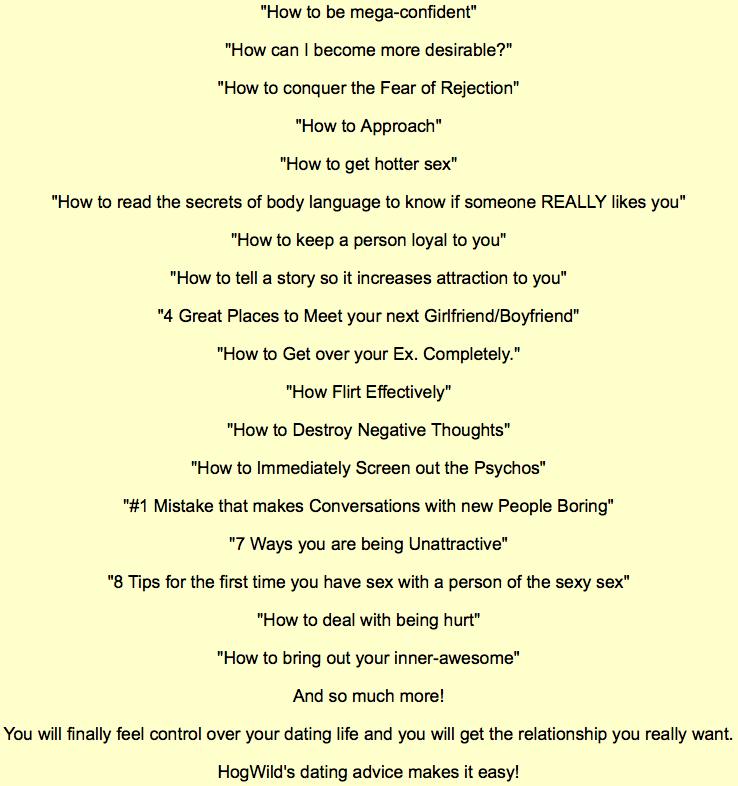 Become a member and get INSTANT access to the videos that will change your love life forever!
***






This article is for people who need help with:
should I get back with my ex
should I wait for my ex
how to get my ex back
get my ex boyfriend back
ways to get my ex back
get back your ex
get an ex back